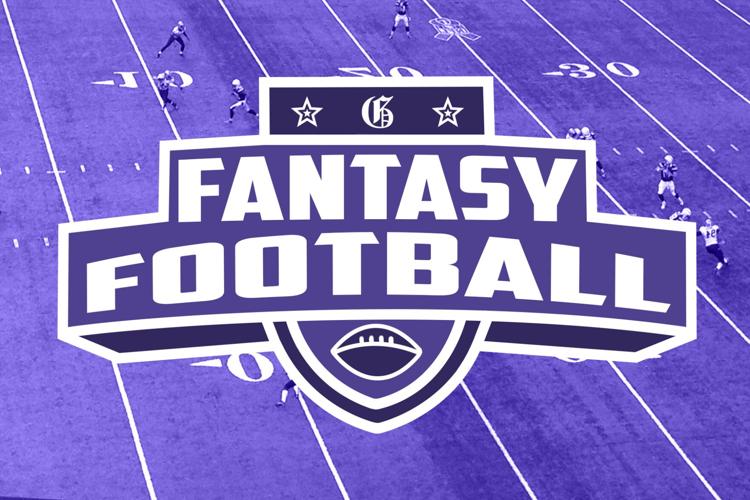 Although things seem bleak for fantasy owners sitting at 1-7 or 2-6 in their leagues, the Gazette is here to tell you that there's still hope for a playoff appearance.
At week nine, most fantasy leagues have around six weeks left until playoffs begin. To have a chance at a postseason spot, it's likely that last-ranked fantasy owners will have to win out.
If we're talking about any of your teams, we've got a few players you should consider starting, sitting and picking up on the waiver wire and in free agency.
The Gazette is still standing at a net of 66.24 fantasy points, after eight weeks of picking players who you may be on the fence about. We're confident we'll maintain positive net values as your teams head into the weekend.
Here's week nine of the Gazette's fantasy football picks.
Start 'em
Justin Herbert has proven that he can put up strong fantasy points, scoring an average of 24.50 points per game since his first start in week two. Herbert and the Los Angeles Chargers are up against the Las Vegas Raiders this Sunday, whose defence ranks 25th in the league against quarterbacks.
3rd down Passer Rating:1. Justin Herbert 138.22. Patrick Mahomes 132.0All other QBs: 120 or lower pic.twitter.com/viOgJs1MCa

— PFF (@PFF) October 27, 2020
Will Fuller has consistently performed well, never scoring less than 12 fantasy points in any of the games he's played in. Fresh off of a bye week, Fuller and the Houston Texans look to take on the Jacksonville Jaguars on Sunday afternoon. The Jaguars are 18th in the NFL against receivers.
Chase Edmonds scored 21.50 fantasy points against the Seattle Seahawks in week seven before the Arizona Cardinals had their bye week this past weekend. The Seahawks are the 15th ranked defence in the league against running backs which is much better than their next opponent who rank 26th — the Miami Dolphins.
Sit 'em
Ezekiel Elliott looked like a promising fantasy player in the first few weeks of the season but has since slumped in his last three games. The Dallas Cowboys running back has averaged 8.80 fantasy points since week six and will likely continue the downward streak going into the weekend when they face the Philadelphia Eagles. The Eagles are the second best defence against running backs, which will be the toughest competition the Cowboys' running game will face to date.
Live look at Ezekiel Elliott, Amari Cooper, CeeDee Lamb, and Michael Gallup managers pic.twitter.com/CSnVPFMo3X

— PFF Fantasy Football (@PFF_Fantasy) November 2, 2020
Ryan Tannehill scored 17.32 fantasy points against the Cincinnati Bengals in week eight, whose defence ranks 16th against quarterbacks. Tannehill could see a dip in his performance in week nine as they take on the fifth best defence against his position this season — the Chicago Bears.
Mark Andrews has had an inconsistent season so far and has only scored a total of 10.30 fantasy points in his last two performances. Andrews and the Baltimore Ravens will have to tighten up against the Indianapolis Colts if they want any production because the Colts defence is the best in the NFL against tight ends.
Waiver wire pickups
Jordan Reed will soon be taking over the reigns as the starting tight end for the San Francisco 49ers due to George Kittle's week eight foot injury. Although he is listed on the team's injured reserve list, it's worth noting that the 49ers will likely activate him within the next two weeks and possibly for this Thursday's game against the Green Bay Packers. Reed is a great option on your bench for more depth at the tight end position.
49ers' HC Kyle Shanahan on George Kittle's injury timeline: "They told me eight weeks. Kittle says two, but that's how he rolls. That's why he'll go on IR and if it's better than what they're saying, he'll have a chance to come back this year, but eight weeks is eight weeks."

— Adam Schefter (@AdamSchefter) November 3, 2020
Corey Davis is another hidden gem who has scored at least 11 fantasy points in each of the games he's played. Davis was on the Tennessee Titans COVID-19 list when he tested positive for the coronavirus on Oct. 7; however, his two week absence while quarantined did not appear to have an effect on his game.
Damien Harris was a bright spot in the New England Patriots loss to the Buffalo Bills in week eight, scoring 16.20 fantasy points. He could be a good option for your team in a flex position in week nine, when they take on the winless New York Jets.
Week eight's picks did not perform to the level we expected. Teddy Bridgewater went down with an injury against the Atlanta Falcons, Kareem Hunt was underwhelming against the Las Vegas Raiders and Matthew Stafford just had to have his best fantasy performance in week eight.
However, we are happily surprised that our "Waiver wire pickups" outscored our "Sit 'em" selections by 10.46 fantasy points on the strength of Jamaal Williams and Brandon Aiyuk's solid performances.
It's safe to say that Halloweekend spooked our fantasy predictions into a pit of mediocrity and misfortune.
In other news, the Gazette extended the current winning streak to two games as we remain undefeated in our fantasy football competition against the Queen's Journal sports section. We won week eight's matchup 52.76 - 14.28.
Another week, another convincing #FantasyFootball W against @queensjournal x @QJsports with a score of 52.76 - 14.28 to go up 2-0 in the series. #QJvsWGWe're starting to see a trend, much like @westernuFB's storied (dominant) history with @Queens_Football. 💜>💛 pic.twitter.com/I1nBy6OVXI

— Gazette Sports (@SportsAtGazette) November 3, 2020
Bring on week nine.