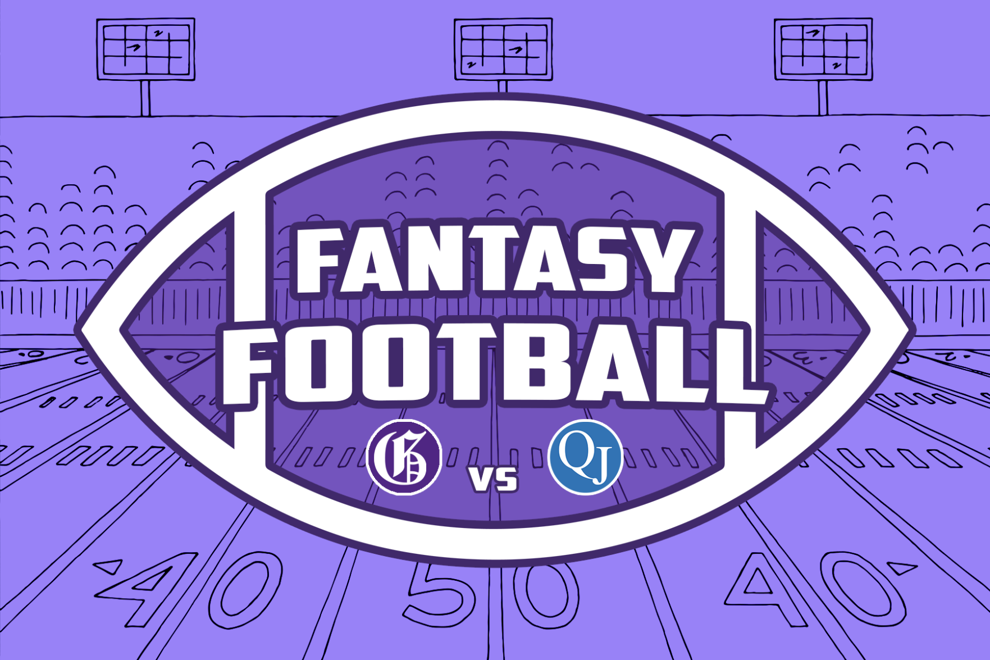 Ten down, eight more to go.
As the season continues, more injuries strike the top running backs in the league, creating weeks full of upsets for top teams. 
Our fantasy football series is now tied up 5–5 against the Queen's Journal but this week, we're coming for another win.
The Los Angeles Rams and Denver Broncos may be sitting this week but we've still got your top start and sit picks.
Start
Patrick Mahomes II: Kansas City Chiefs versus Dallas Cowboys
Week 10 was the week that Patrick Mahomes II has been waiting for.
Mahomes II redeemed himself in Sunday's blowout of the Las Vegas Raiders after three weeks with only two touchdowns.
35/50.406 yards.5 TDs.Statement performance. @PatrickMahomes pic.twitter.com/dMGwPZZARG

— NFL (@NFL) November 15, 2021
The quarterback recorded 406 yards and five passing touchdowns in their 41–14 win. Mahomes II didn't get sacked or throw an interception — which he has yet to do since preseason.
Najee Harris: Pittsburgh Steelers at Los Angeles Charger 
Although the Pittsburgh Steelers weren't expecting last week's matchup against the Detroit Lions, Najee Harris still managed to pick up 133 yards.
Najee Harris said he didn't realize there are ties in the NFL until a teammate told him. pic.twitter.com/mVer1MZKOw

— NFL on ESPN (@ESPNNFL) November 15, 2021
Week after week, he has shown the threat he poses in the rushing and passing game, averaging over 100 yards per game. 
The running back is scheduled to go up against the Los Angeles Chargers defence, who have allowed the most rushing yards per game in the league. 
Najee Harris Fantasy Football managers: pic.twitter.com/8HZo0V2yZa

— CBS Sports (@CBSSports) November 9, 2021
CeeDee Lamb: Dallas Cowboys at Kansas City Chiefs
The Dallas Cowboys are entering this week on their high horse after an impressive 43–3 win against the Atlanta Falcons.
CeeDee Lamb recorded 106 yards and two touchdowns in the Cowboys' week 10 win, even though he sat for the second half of the game.
CeeDee Lamb vs Falcons⭐️ 7 catches⭐️ 106 yards⭐️ 2 TDs⭐️ 29.6 PPR fantasy points pic.twitter.com/lfhgXgdkaG

— PFF Fantasy Football (@PFF_Fantasy) November 14, 2021
The wide receiver was only sidelined because of cramping, allowing him to play without concern against the Kansas City Chiefs.
Lamb is expected to carry last week's momentus win and put up some yards against an inconsistent Chiefs defence.
Mike Gesicki: Miami Dolphins at New York Jets
The Miami Dolphins marked a huge win against the Baltimore Ravens last week. Mike Gesicki didn't record a single catch so this week, he's sure to be looking for redemption.
It's a good week for Gesicki to get his form back, going up against a shaky New York Jets defence. Expect starting quarterback Tua Tagovailoa to link up with the tight end for some big plays in their Sunday afternoon game. 
Cleveland Browns defence versus Detroit Lions
The Cleveland Browns are set to host — and dominate — the Detroit Lions in week eleven. 
Cleveland's defence hasn't been anything special this year but going up against the winless Detroit Lions? We're expecting to see a low number on the scoreboard.
Myles Garrett leads the Browns defence, looking to add to his number of sacks — which he happens to be the league leader of. 
Sit
Matt Ryan: New England Patriots at Atlanta Falcons
Matt Ryan and the Atlanta Falcons have been inconsistent this year.
The New England Patriots are known for their defence, creating the perfect recipe for disaster. With Calvin Ridley still out of the lineup, Ryan will be struggling offensively in week eleven.
Saquon Barkley: New York Giants at Tampa Bay Buccaneers
Saquon Barkley and the 3–6 New York Giants have not been producing as much as they'd like to.
The running back has suffered yet another injury this season, struggling with consistency. As the Giants face the Tampa Bay Buccaneers defence, they'll be trying to give the Buccaneers their first loss at home this season — but we don't think Barkley will do much.
Tyler Lockett: Seattle Seahawks versus Arizona Cardinals
Is there more of an inconsistent wide receiver than Tyler Lockett?
Tyler Lockett has to be one of the most boom or bust fantasy players ever

— Tashan Reed (@tashanreed) November 14, 2021
His week ten performance confirmed it. Lockett was unable to help the Seattle Seahawks over the Green Bay Packers, only recording 23 yards and catching two out of eight targets.
The Seahawks wide receiver is going up against the mighty Arizona Cardinals defence who will be looking to shut down Lockett and his teammate, D.K. Metcalf.
Darren Waller: Las Vegas Raiders versus Cincinnati Bengals 
Okay, let us explain.
Darren Waller hasn't been his most productive self lately. The tight end hasn't had a touchdown since week four, despite his great start to the season.
Darren Waller fantasy managers rn pic.twitter.com/6alxNg6fft

— Steven Cheah (@StevenCheah) November 15, 2021
As much as his fantasy owners would love for him to have a big game – for once – we don't think you can expect much from him this week. 
Houston Texans defence at Tennessee Titans
The fourth team in the AFC South is going up against the division leader — Houston, we have a problem.
The Tennessee Titans, in the midst of a six-game win streak, are on fire right now. Not to mention, the lowest points the Titans have put up all season is 13. 
As for the Houston Texans, they're currently 31st in the league for points given up per game, averaging an allowance of 28.7.