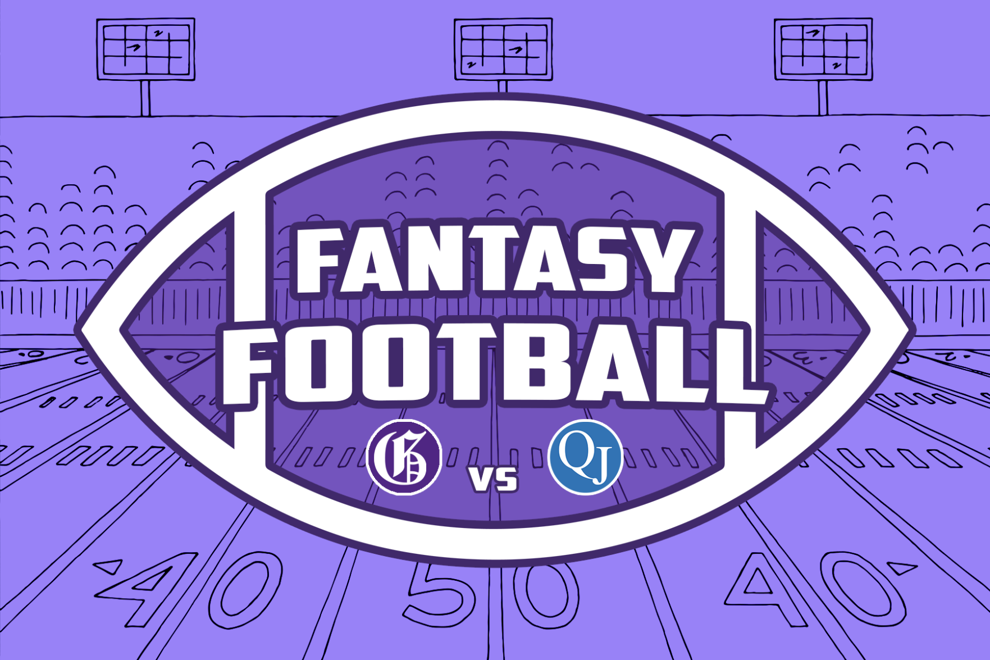 This NFL season has provided its fair share of drama thus far, on and off the field. But there are still six weeks to hash out the playoff picture, as well as decide the Gazette's fantasy football series with the Queen's Journal.
Here are the Gazette's picks for week 12.
Start
Dak Prescott: Dallas Cowboys versus Oakland Raiders
It's been an up and down campaign for the Dallas Cowboys star. He will be looking to rebound after a poor showing against the Kansas City Chiefs last week with a visit to the turbulent Las Vegas Raiders.
Whether it be the firing of their former head coach Jon Gruden over leaked emails, or Henry Ruggs III's fatal car crash that left a woman dead, it has been a nightmare season for the Raiders all around.
Somehow, Las Vegas has held it together in spite of these incidents and remains above water with a 5–5 record. But the Cowboys offence is capable of putting up gaudy numbers — in half of their games they have broken the 30-point mark.
With the Las Vegas defence ranking 26th in the NFL in points allowed per game, it seems likely Prescott and his offensive unit get their act together and put some crooked numbers up on the vulnerable Raiders.
Jonathan Taylor: Indianapolis Colts versus Tampa Bay Buccaneers
Usually, picking an offensive player against the defending Super Bowl champs is a recipe for disaster, but Jonathan Taylor has been a different beast over the last handful of weeks.
The Indianapolis Colts rusher has broken the 100-yard rushing mark in each of his last three games, the most impressive of which was his last: a 185-yard, four touchdown explosion against one of the best defences in the league — the Buffalo Bills.
Taylor has looked almost unstoppable over the last few weeks, and there is no reason for this hot streak to stop in Tampa Bay, where the Colts will need every yard they can get to compete with the high-powered Buccaneers.
Jonathan Taylor joins the 50+ @NFLFantasy Club 🔥 @JayT23 pic.twitter.com/hlN5fYqd3o

— NFL Throwback (@nflthrowback) November 25, 2021
CeeDee Lamb: Dallas Cowboys versus Oakland Raiders
This pick is obviously related to the Prescott selection since CeeDee Lamb will be in line for a lot of looks as always. With fellow Cowboys receiver Amari Cooper out for the game against Las Vegas, it stands to reason that Lamb's number will be called even more often than usual.
Lamb's last game against the Chiefs was just as poor as the rest of his team's performance, but the Raiders offer an opportunity for the sophomore wideout to bounce back and duplicate his form from week 10, where he exploded for 94 yards and two scores against the Atlanta Falcons.
Rob Gronkowski: Tampa Bay Buccaneers at Indianapolis Colts
Rob Gronkowski has become one of the only secure options at a position that has continually disappointed this fantasy season.
Tom Brady's long-time safety blanket is still putting up consistent numbers in a reduced role compared to their days in New England, and is a more consistent option than his peers. Gronk made his return from the injured list last week against the New York Giants, and while he was held out of the end zone, he still gathered six receptions and 71 yards.
The yards after catch may not be there anymore, but Gronkowski's hands are still as dependable as ever, and that's all you can ask from a fantasy tight end this year.
It's nice to see Gronk back to dragging defenders again.pic.twitter.com/fHb6u2KVDY

— Dov Kleiman (@NFL_DovKleiman) November 23, 2021
Defence: New England Patriots versus Tennessee Titans
Contrary to popular belief, the New England Patriots are not dead yet.
Bill Belichick's squad may have lost many of the members from the dynasty that ruled the past decade, but they still have one of the league's best coaching staffs at their disposal.
The Patriots have allowed just 15 points per game throughout 2021, the best in the NFL through 11 weeks. They go up against the 8–3 Tennessee Titans, who are without star running back Derrick Henry and are coming off an upset loss against the lowly Houston Texans.
The matchup has all the hallmarks of a New England surprise win and it would be foolish to count Belichick and his team out after all they have accomplished since Brady's departure in 2020.
Sits
Ryan Tannehill: Tennessee Titans at New England Patriots
Ryan Tannehill is coming off of a four interception game against the 2–8 Texans, where he looked out of sorts all game long without Henry.
Tannehill has been underwhelming the last three weeks, with a three to five touchdown to interception ratio against some poor defences.
This week, the Titans QB will have to contend with a Patriots unit that has been on lockdown for the majority of the season. Without a running back to shoulder much of the offensive load, it will be on Tannehill to push the tempo and throw more than usual — a recipe for disaster, as seen last game against Houston.
Ryan Tannehill in the huddle without Derrick Henry, Julio Jones or AJ Brown pic.twitter.com/jzaM8OZms8

— FantasyPros (@FantasyPros) November 21, 2021
Ezekiel Elliott: Dallas Cowboys versus Oakland Raiders
Ezekiel Elliott has long been part of a dynamic duo in the Cowboys backfield with Prescott, but this year, Elliott's usage has been much more up and down than usual.
Head coach Mike McCarthy has seemed content to cut Elliott's carries — Zeke is on pace to not break the 1000-yard rushing barrier again this year, a mark he easily eclipsed three times before McCarthy's arrival.
The most telling statistic is comparing Elliott's 2017 and 2021 seasons. Due to injury, Elliott only played 10 times in 2017, amassing 242 rushing attempts and 983 yards. Through his 10 games in 2021, he has only gotten 151 carries for a total of 695 yards.
While his averages are quite similar, it is clear that Zeke is not getting the same volume of carries as he did in years past.
A.J. Brown: Tennessee Titans at New England Patriots
A.J. Brown is one of the brightest young receivers in the NFL, but a lot of his value is tied to his quarterback.
While Tannehill has done enough to keep the Titans above water, he isn't the type of gunslinger that would get the best out of a deep threat like Brown.
Over his last three games, Brown has not finished with more than 50 receiving yards and has been kept out of the end zone in all three contests.
That is a perfect storm for a fantasy receiver, and things don't get any easier this week, as the Titans travel to Foxborough to deal with a New England defence who has been hot all season long.
T.J. Hockenson: Detroit Lions versus Chicago Bears
T.J. Hockenson is similar to the rest of his tight end cohorts , in that you don't know what you're going to get from him week to week.
On one hand, you have a six-foot-five  target who frequently gets thrown at six times a game. On the other hand, Hockenson has not reached the end zone since the preseason, significantly limiting his value.
The Detroit Lions can't seem to score, and with Hockenson caught in that mess, he just isn't reliable enough to count on right now.
TJ Hockenson's yards after the catch per reception by year:2019: 6.32020: 4.92021: 3.6Average depth of target by year:2019: 7.52020: 7.02021: 6.8He's seeing shorter targets and doing less with them after the catch. pic.twitter.com/uv59NnaoIU

— Dave Kluge (@DaveKluge) November 23, 2021
Defence: Miami Dolphins versus Carolina Panthers
The Miami Dolphins aren't good at anything.
The offence is bad, the defence is bad and a season that was once filled with promise has given way to an unfortunate rehash of every Dolphins season since their heydays of the 70s and 80s.
Miami's defence sits in the bottom 10 for points allowed and yards allowed, and while the Carolina Panthers offence has been poor as well, they are just slightly more put together.