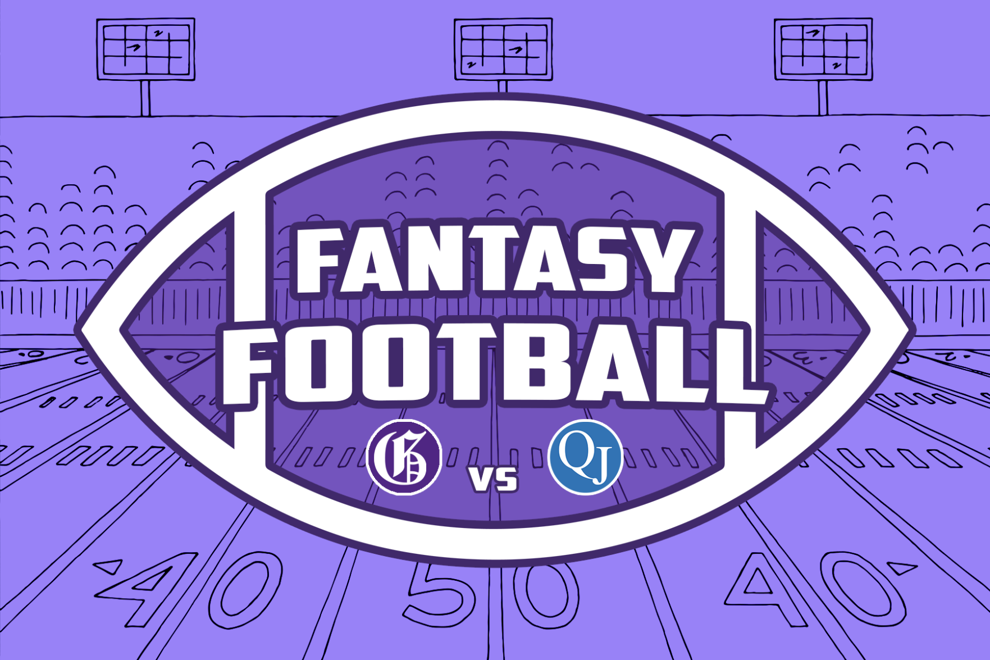 A few things are inevitable in life: death, taxes and first-round fantasy running backs getting injured when you need them most.
Earlier this season it was Derrick Henry. This week it was Dalvin Cook and Christian McCaffrey.
Who's it going to be next? Will it be Alvin Kamara, who doesn't have the most built frame amongst running backs? Will it be Jonathan Taylor in a breakout season behind the Indianapolis Colts' dominant offensive line? Ezekiel Elliott? Najee Harris? Austin Ekeler?
The list goes on and on.
No one knows who the next domino to fall will be. But fantasy owners can take away two lessons from the major running back injuries this year: draft handcuffs for your star running backs to protect your first-round investment and consider drafting non-running backs in early rounds.
As the fantasy season enters the home stretch, pay attention to your players' playoff matchups, the league's waiver wire and your starts and sits.
And pray your star running back stays healthy.
Start
Lamar Jackson: Baltimore Ravens at Pittsburgh Steelers
Yes, Lamar Jackson threw four interceptions last week. And yes, because he played on Monday night, he'll have a short week to prepare for the Pittsburgh Steelers.
But he's Lamar freaking Jackson. He'll find a way.
The Lamar Jackson-Mark Andrews connection was STRONG on these two plays 💯(via @NFL)pic.twitter.com/bylTSPis43

— Bleacher Report (@BleacherReport) November 29, 2021
Alexander Mattison: Minnesota Vikings at Detroit Lions
The perfect handcuff.
Cook went down last week and Alexander Mattison is a more than capable replacement. This isn't new territory for Mattison — he's filled in for Cook admirably in the past.
Despite Kene Nwangwu's kickoff return heroics, no Minnesota Viking should challenge Mattison for carries this weekend. Considering the winless Detroit Lions stink and  the Vikings have had at least a seven-point lead every game this season, the game should flow in a way that puts Minnesota in the lead and allows them to feed Mattison to run out the clock.
Stefon Diggs: Buffalo Bills versus New England Patriots
The picture of consistency, Stefon Diggs has been impressive again this season in his second year with the Buffalo Bills.
With receivers in standard scoring, you look for touchdown potential in your wide receivers — Diggs has four scores in the last three games. He's good for a floor of 60 yards, too, only falling under that number once all season.
Stefon Diggs receiving this season🎯 99 targets🎯 1 drop pic.twitter.com/3bqUpw4g9o

— PFF Fantasy Football (@PFF_Fantasy) November 28, 2021
George Kittle: San Francisco 49ers at Seattle Seahawks
It hasn't been the season George Kittle wanted, missing three games in the middle of the season with a calf injury.
But Kittle's been a great fantasy asset since his return. He had three touchdowns in his last four games. He put up a dud last week, only catching one pass for 13 yards but given his raw skill, a bounceback against a broken Seattle Seahawks team is likely.
Tampa Bay Buccaneers defence at Atlanta Falcons
The Tampa Bay Buccaneers are armed with pass rushers, including stud linebacker Shaq Barrett.
The Atlanta Falcons had the league's 30th ranked offensive line after week 10, according to Pro Football Focus, and haven't proved them wrong yet. This game is a mismatch in the trenches and should be a party in the backfield for the Bucs.
Sits
Russell Wilson: Seattle Seahawks versus San Francisco 49ers
The Seahawks are a tire fire.
Once the pride of the NFC, they've now fallen to 3–8 after a failed two-point conversion against the Washington Football Team cost them a chance at overtime. Russell Wilson has played a role in their demise.
Wilson didn't target D.K. Metcalf until it was too late last week. The team only scored 15 points, 13 of which came on offence. The morale of the team might just be too far gone to recover as their playoff dream fades.
For the first time in years, there are legitimate chinks in Wilson's armour.
Saquon Barkley: New York Giants at Miami Dolphins
Saquon Barkley hasn't put up numbers a player of his caliber would be proud of since he returned from injury. Two games, zero touchdowns and 65 total rushing yards is the kind of production you expect from an eighth-round running back — not the running back you want to pin your season's successes on.
It's not all Barkley's fault. The issue is he's not running behind a great offensive line, Daniel Jones and the passing game aren't good enough to get them close to the goal line and the whole team falls behind in games, which takes away from Barkley's carries.
Whatever the reason, it's worth it to avoid starting Barkley if your depth allows for it.
All 13 carries for Saquon Barkley on Sunday pic.twitter.com/hHZNdKeazx

— Bobby Skinner (@BobbySkinner_) November 30, 2021
Allen Robinson: Chicago Bears versus Arizona Cardinals
Allen Robinson is coming off an injury. The quarterback throwing him the ball will be either Justin Fields, who also didn't play over American Thanksgiving against the Detroit Lions, or Andy Dalton.
That's a recipe for disaster.
Robinson is a number one wide receiver. But that on-field success hasn't translated into the fantasy realm. That's what happens when you are drafted by the Jacksonville Jaguars then sign with the Chicago Bears. Staple him to your fantasy bench until his surroundings change.
Kyle Pitts: Atlanta Falcons versus Tampa Bay Buccaneers
Kyle Pitts is oozing with potential. He just needs some time – and a better team – to reach his ceiling.
The Falcons don't get in the red zone all that frequently. But when they do get there, Pitts' one touchdown in 11 games proves Matt Ryan doesn't appear to be looking for Pitts once they get there.
This year's sixth overall pick will make fantasy owners proud one day. Just don't count on it being this week.
Kyle Pitts had one red-zone target in November.

— #AskFFT (@daverichard) December 1, 2021
Atlanta Falcons defence versus Tampa Bay Buccaneers
Tom Brady versus a depleted Atlanta defence? Where do I sign up?
This is an absolute mismatch. Tampa Bay is one of the league's best offences. The Falcons defence is a mess. You probably don't own them anyway but avoid Atlanta this week.