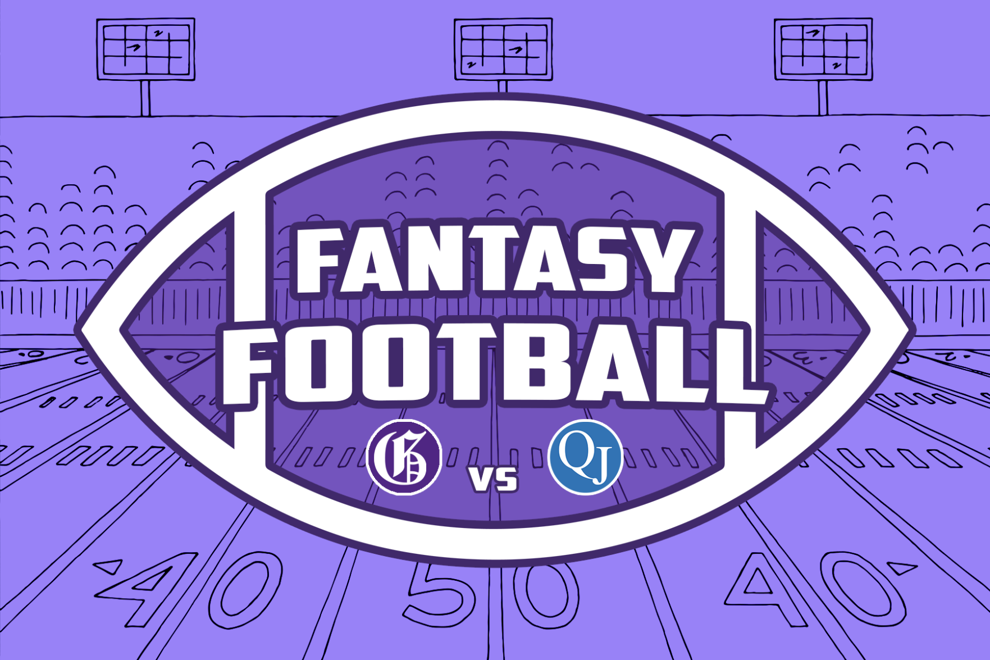 Like the Western football team, the Gazette's sports editors are no longer undefeated.
The Gazette lost their first fantasy football matchup against the Queen's Journal this year 11.98 to -7.42 but we still have a winning record of 2–1 going into week four.
Three weeks into the season, a lot of the questions from the beginning of the year are starting to be answered. Sleepers and busts have begun to emerge and identify themselves.
On the flip side, injury season has begun. The absences of Christian McCaffery and Dalvin Cook had a substantial impact on last week's winners and losers. Plugging those holes are key to stringing together enough wins to make the playoffs.
For the players who aren't injured, follow this advice to get the most out of your roster in week four.
Start
Matthew Stafford: Los Angeles Rams versus Arizona Cardinals
Sean McVay mortgaged the Los Angeles Rams' future to acquire Matthew Stafford in the offseason, trading two first-round draft picks, a third rounder and quarterback Jared Goff. He hoped that Stafford was the missing piece that would take the Rams over the top.
So far, it doesn't look like he was wrong.
Stafford has led L.A. to a 3–0 start, picking up plenty of fantasy points along the way. He's in the top five in the National Football League in passing yards and touchdowns.
Stafford's spicy matchup against Kyler Murray and the Arizona Cardinals has all the makings of a shootout.
Aaron Jones: Green Bay Packers versus Pittsburgh Steelers
Aaron Jones was a fantasy hero in week two, stealing fantasy owners wins with a 35.5-point performance on Monday Night Football. He followed that up with a 15.6-point game last week against the San Francisco 49ers — one of the league's best defences.
Jones' week four opponents, the Pittsburgh Steelers, have had a rough start to the year. Expect the Green Bay Packers to get out to a big lead and run the ball to avoid T.J. Watt's pass rush and to wind down the clock.
"Raise your hand if Aaron Jones ruined your fantasy football week during Monday Night Football" pic.twitter.com/bqzkVsgnIt

— Barstool Sports (@barstoolsports) September 21, 2021
Mike Williams: Los Angeles Chargers versus Las Vegas Raiders
Although Mike Williams has been one of the breakout stars of the 2021 season, his success didn't come out of the blue.
Drafted seventh overall in 2017 out of Clemson University, the start to his career has been stunted by injuries. Williams only played 10 games in his rookie season and was a starter only six times throughout his first two seasons. He had 1000 receiving yards in 2019, a great year for the young wideout, but disappointed fantasy owners again last season.
What helped him find that success again this year? Justin Herbert.
The sophomore quarterback has targeted Williams 31 times in three games, leading to Williams being ranked in the top 10 in receptions, receiving yards and touchdowns. As long as he's healthy, Williams is a must-start.
Travis Kelce: Kansas City Chiefs at Philadelphia Eagles
The Kansas City Chiefs have surprised everyone with a 1–2 start to the season. But even in their two losses, the offence continues to produce. They put up 35 fantasy points in week two against the Baltimore Ravens and 24 against the Los Angeles Chargers, with Travis Kelce putting up over 100 yards in both weeks.
Expect a touchdown or two from Kelce to propel him to being the top fantasy tight end this week as he plays against a weak Philadelphia Eagles defence.
TRAVIS KELCE WOULD NOT GO DOWN 💪(via @NFL)pic.twitter.com/WWMXF8LguZ

— SportsCenter (@SportsCenter) September 20, 2021
Tennessee Titans defence at New York Jets
The New York Jets were shut out last week against the Denver Broncos. Zach Wilson threw six interceptions in the last two games.
This pick is less about the Tennessee Titans being strong and more about the Jets being weak. Expect the boos to rain down on MetLife Stadium this Sunday.
Sit
Ben Roethlisberger: Pittsburgh Steelers at Green Bay Packers
Father time has caught up with quarterback Ben Roethlisberger.
His inability to throw the ball downfield has stifled the Pittsburgh offence. Big Ben can't make the most out of the plethora of weapons the Steelers have provided. Even if he could, the Packers have one of the league's best cornerbacks in Jaire Alexander who could lockdown his primary option. Expect two turnovers and no more than two touchdowns from the aging quarterback and a place on the waiver wire for the rest of the season.
Browns, Bengals and Ravens fans watching Ben Roethlisberger look washed up. pic.twitter.com/32nERnusLI

— SB Nation (@SBNation) September 26, 2021
Myles Gaskin: Miami Dolphins versus Indianapolis Colts
Myles Gaskin has all the opportunity in the world as the best running back on a team missing their starting quarterback.
But the Miami Dolphins have adopted a clear pass-first mentality, with their quarterbacks getting 40 or more passing attempts and running backs getting 20 or fewer rushing attempts in each of the past two weeks. Gaskin also has to split carries with Malcolm Brown.
Even though Gaskin is averaging 5.2 yards per carry, averaging nine carries a game simply won't lead to you enjoying the fantasy success that an RB2 should have.
Calvin Ridley: Atlanta Falcons versus Washington Football Team
With Julio Jones no longer an Atlanta Falcon, Calvin Ridley was supposed to be able to replace him as Matt Ryan's go-to receiver. But he's failed to top 65 yards in any of his games so far this year.
Maybe it's the aging Ryan who can't put the ball in his hands. Maybe Jones' shoes are too big to fill. For whatever reason, Ridley is on watch as a player who can't fulfill the fantasy opportunity presented to him.
Calvin Ridley didn't want the first down pic.twitter.com/u6CUuIvXyo

— Bobby Skinner (@BobbySkinner_) September 26, 2021
Darren Waller: Las Vegas Raiders at Los Angeles Chargers
Darren Waller was week one's fantasy star, catching 10 passes for over 100 yards and a touchdown. But he couldn't replicate that magic in week two or three.
Tight ends can be hit or miss and with Waller on a streak of underwhelming performances, it's tough to rely on him to be the elite fantasy tight end he was hyped up to be in the preseason.
Houston Texans defence at Buffalo Bills
The Buffalo Bills are one of the league's best offences and the Houston Texans are one of the league's worst defences. Josh Allen rose to become one of the NFL's premier quarterbacks last year and the Texans simply don't have the pieces to stop them.