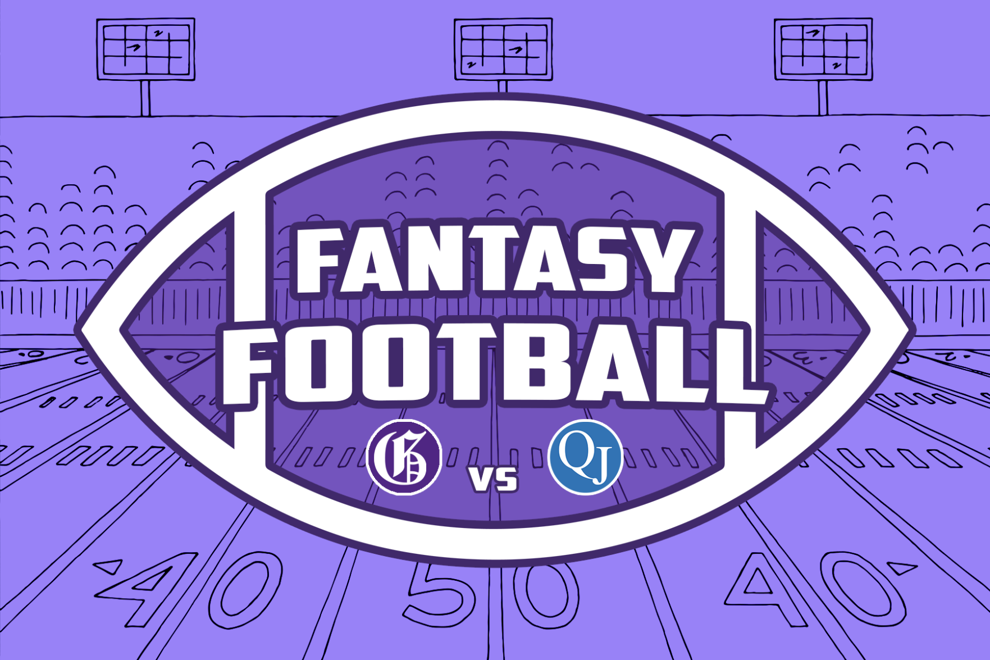 If there's anything that Western students can unite behind, it's beating Queen's — at literally anything.
For the second year, the Gazette has challenged the Queen's Journal to a fantasy football competition. The sports section from each newspaper will submit a weekly roster of players they believe will over or underperform expectations for the week, and compare the results to determine a winner.
The Journal came away victorious last year. We won't let that happen again.
We interrupt our #NFLPlayoffs coverage to inform you that the @uwogazette lost the inaugural #QJvsWG fantasy football series this season 6–5. 🏈It was a great series and we applaud @QJsports for their victory.As the great @RSherman_25 once said, "can't be too mad." 💍 pic.twitter.com/Arhph9qPZF

— Gazette Sports (@SportsAtGazette) January 10, 2021
Rules
Each newspaper will submit a "Start" roster and a "Sit" roster, each of which will contain a quarterback, running back, wide receiver, tight end and team defence. At the end of each week, points will be calculated by taking the fantasy points from each team's "Starts" roster and subtracting fantasy points earned from their "Sits."
The newspaper with the biggest difference between the two rosters wins. The competition will use the standard scoring system, so no fantasy points will be awarded for receptions.
Start
Aaron Rodgers: Green Bay Packers at New Orleans Saints
An angry Aaron Rodgers is a force of nature. Last year, pundits called him old and washed, to which he responded with a Most Valuable Player award. 
This year, Rodgers felt disgruntled with his place in the organization and he'll be on the hunt to prove his worth in what is possibly his last year quarterbacking the Green Bay Packers. 
That journey should start with the New Orleans Saints. Marshon Lattimore versus Davante Adams is a matchup that is cause for concern, but a suspension to David Onyemata and the off-season loss of Trey Hendrickson could leave the Saints short on the defensive line.
Perfection doesn't do this throw justice...Aaron Rodgers' accuracy >>> pic.twitter.com/xrKXXZc6gN

— Eli Berkovits (@BookOfEli_NFL) September 7, 2021
Nick Chubb: Cleveland Browns at Kansas City Chiefs
This one is about how much faith you should have in the Cleveland Browns offensive line, which is arguably the National Football League's best. Nick Chubb is a solid running back and should be able to get going against a Kansas City Chiefs defence that is far inferior to it's Patrick Mahomes II-led offence. 
The biggest concern is the Chiefs' run up the score, meaning Kareem Hunt would get late game snaps on obvious pass plays over Chubb. But look for Cleveland to go to the ground and pound early in the game to take the ball out of Mahomes II's hands, meaning Chubb should rack up some first half stats in the process.
DeAndre Hopkins: Arizona Cardinals at Tennessee Titans
The Arizona Cardinals versus Tennessee Titans game should be an absolute shootout. There's offensive firepower everywhere. Derrick Henry, Kyler Murray, Julio Jones, and A.J. Brown should make the game a ton of fun. 
Best of all? The defences aren't very good, which means high scores and lots of touchdowns.
DeAndre Hopkins should get a piece of the action because he's the second-best receiver in the NFL and a massive red zone target for Murray, But you could easily have gone with any of the previously mentioned players and feel confident that they'll be able to find the endzone.
Yeah, D-Hop looks ready for the season to start 👀 @DeAndreHopkins @AZCardinals (via dougsanders/IG) pic.twitter.com/J8iNmPHRO3

— The Checkdown (@thecheckdown) July 21, 2021
Noah Fant: Denver Broncos at New York Giants
The Denver Broncos' offence isn't much to write home about, which might actually be beneficial for Noah Fant. He only has to compete with Jerry Jeudy and Courtland Sutton for targets.
Teddy Bridgewater's arm strength is a weakness and Fant thrives in the intermediate passing game. Look for them to find each other in the pass game this week.
San Francisco 49ers defence at Detroit Lions
Joey Bosa is licking his chops at this matchup. 
The San Francisco 49ers have one of the NFL's best defenses, so they should be able to feast on the Detroit Lions' weak offence. This is Jared Goff's first game in Lions' blue and Anthony Lynn's first game as his offensive coordinator, so they'll have some kinks to work out that the 49ers can capitalize on.
Without a receiving corps Goff can trust, look for the Niners to stymie the Lions in the pass game and shut down their offence.
Sit
Dak Prescott: Dallas Cowboys at Tampa Bay Buccaneers
Dak Prescott missed 11 games last year due to an ankle injury and sat out all of preseason with a shoulder injury as well. Questions still remain about the strength of his shoulder and about how it might have affected his preparation for the season.
If Prescott comes out rusty, the Tampa Buccaneers' defence will feast on him. The Dallas Cowboys' offensive line was already shaky then came the news Zack Martin contracted COVID-19 and will miss this game as a result. Shaquil Barrett, Jason Pierre-Paul and the other Tampa Bay pass rushers should have a field day and slow down the Cowboys' passing attack.
Dak Prescott is expected to play in the season opener, per @RapSheet. pic.twitter.com/k1QRH4imX8

— FOX Sports: NFL (@NFLonFOX) September 3, 2021
David Montgomery: Chicago Bears at Los Angeles Rams
David Montgomery's fantasy value stems from his bell cow potential with the Chicago Bears, not from his skills and abilities as a running back. His situational value plummets this week because the Los Angeles Rams have one of the NFL's best defences.
Aaron Donald should wreak havoc in the Bears' backfield. An Andy Dalton-led offence will struggle to get the team into the red zone, keeping Montgomery out of the endzone.
Allen Robinson: Chicago Bears at Los Angeles Rams
If you plan to bet on Allen Robinson winning a one-on-one matchup with Jalen Ramsey, you would be braver than most. Ramsey often shadows the other team's best receiver, which, in this case, is A-Rob.
As well, if you find yourself in a situation where you're being covered by one of the NFL's best cornerbacks, you don't want Dalton throwing you the football.
Allen Robinson vs. Jalen Ramsey 🍿 Who has the advantage?PFF's NEW WR/CB chart is LIVE ‼️➡️ https://t.co/ekHWyh6wsO pic.twitter.com/jljznkdKQj

— PFF (@PFF) September 7, 2021
Mark Andrews: Baltimore Ravens at  Las Vegas Raiders
Mark Andrews will be fascinating to watch this year. Despite drafting wide receiver Rashod Bateman in round one, the Baltimore Ravens lack very many alternative passing targets.
But expect Lamar Jackson and the Ravens to try to run the ball. Baltimore should be able to lead early and lean on their rushing attack to run down the clock, taking opportunities away from Andrews in the passing game.
Dallas Cowboys defence at Tampa Bay Buccaneers
Tom Brady and the defending Super Bowl champions should have the upper hand when they face off against Dallas to start the season.
The Cowboys simply don't have the defensive prowess to line up against Chris Godwin and Mike Evans, especially not when they have arguably the greatest player of all time throwing them the ball. The Bucs should be able to put up points, which means the Cowboys could finish the night in the negatives.