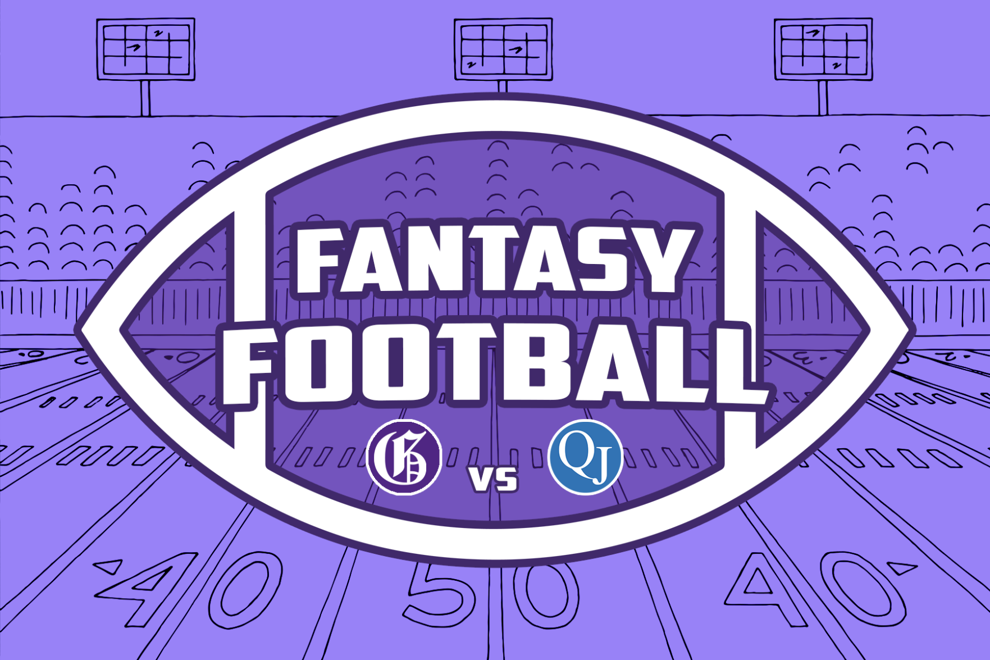 So about last week.
Week five was another loss for the Gazette in what could have been a rebound weekend. That makes it three weeks in a row the Journal has taken a victory over us and the pressure is on with the series sitting at 3–2.
Here are the players the Gazette will rely on to turn our fortunes around in week six.
Start
Tom Brady: Tampa Bay Buccaneers at Philadelphia Eagles
"Touchdown Tom" has started his 22nd season in the National Football League on fire. His latest performance against the Miami Dolphins last week was his best this year — he torched Miami for 411 yards and five touchdowns with no interceptions.
His touchdown to interception ratio has been a perfect 11–0 in his last four games.
It's always a long game when Brady is on the other side but the Philadelphia Eagles defence will especially have a hard time containing all of the weapons Brady and the Tampa Bay Buccaneers have at their disposal.
How does Tom Brady continue to do this?▪️1,767 Pass Yards (1st in NFL)▪️15 Pass TD (2nd in NFL)▪️149 Completions (1st in NFL)▪️44 Years Old (really old) pic.twitter.com/b5Utr5x3Pj

— NFL on CBS 🏈 (@NFLonCBS) October 11, 2021
Najee Harris: Pittsburgh Steelers versus Seattle Seahawks
The rookie running back out of the University of Alabama has impressed through his first five NFL games. Najee Harris started slow to find his footing but in the last two games, he rushed for 184 yards and two touchdowns, looking much more comfortable in the process.
The Seattle Seahawks defence has been a mess, ranking in the bottom three of the league in total yards allowed, passing yards allowed and rushing yards allowed. There's a good possibility that this will be Harris' breakout performance.
DeAndre Hopkins: Arizona Cardinals at Cleveland Browns
Arizona Cardinals head coach Kliff Kingsbury's patented "air raid" offence has been torching teams all season long, with quarterback Kyler Murray taking deep shots downfield constantly.
This is the perfect situation for DeAndre Hopkins to thrive in and he has feasted on opposing defences so far, leading the Cardinals in receiving yards and receiving touchdowns.
The Cardinals offence is dynamic — it can explode for over 30 points on any defence in the league. If that happens this week, Hopkins will rise to the top.
Deandre Hopkins says: "They don't like one-on-one matchups with me no more." pic.twitter.com/MIhfWU1f70

— sportsthread (@sportsthread) October 13, 2021
T.J. Hockenson: Detroit Lions versus Cincinnati Bengals
T.J. Hockenson has quietly put together a solid start to his sophomore season on a struggling Detroit Lions team. The last three games have been a bit of a slump for the tight end but he has amassed over 60 yards and a touchdown in each of his last two games.
Hockenson is an important part of the offence and the Lions have looked better than their 0–5 record. There's a good chance Hockenson gets back on track against the average Cincinnati Bengals defence.
Pittsburgh Steelers defence versus Seattle Seahawks
Quarterback Russell Wilson is out for five weeks after having surgery on an injured finger last Friday.
This leaves the Seahawks with former New York Jets second-round pick Geno Smith as the starting quarterback. Smith had a decent outing when Wilson went down last week but he hasn't started a game under center since 2017.
The odds he comes in and dominates against a competent Pittsburgh Steelers defence are not in his favour.
Sit
Ryan Tannehill: Tennessee Titans versus Buffalo Bills
Ryan Tannehill benefits as a passer from having a lethal one-two punch at receiver, with Julio Jones and A.J. Brown both among the premier wideouts in the NFL.
But in order for these two to make their presence felt, the ball has to get to them. Enter the elite Buffalo Bills defence, who lead the league with the least yards allowed through week five.
It will be a tall task for Tannehill to maneuver around the several stars on Buffalo's defence. The Tennessee Titans may choose to play it safe and hand off the ball to Derrick Henry if things go south early.
Ryan Tannehill on every snap pic.twitter.com/3fwaqKmIi2

— Austin Huff (@AustinHuff) October 10, 2021
Aaron Jones: Green Bay Packers at Chicago Bears
Aaron Jones has had a relatively good year so far, putting up 103 yards rushing against Cincinnati last week. But he has had some average games where he seems to fade out of the offensive focus slightly.
In week four against the Steelers, Jones only put up 48 yards rushing, while quarterback Aaron Rodgers sliced up the Steelers defence.
Davante Adams leads the league in receiving yards and there's a chance that Jones either doesn't get a chance to get into the game or gets totally lost in the patented Rodgers passing attack.
D.K. Metcalf: Seattle Seahawks at Pittsburgh Steelers
Yet another case where the player in question is being hurt by who is throwing them the ball.
D.K. Metcalf usually has Wilson's cannon-like arm targeting him but for the foreseeable future, he will have to work with Smith.
Metcalf relies a lot on his freak athleticism to create massive plays downfield. While he can still do all that and more, it will be a lot harder for Smith to get the ball to the places Metcalf needs it to be in order to make plays.
Noah Fant: Denver Broncos versus Las Vegas Raiders
Noah Fant has been largely relegated to short yardage plays in his first five games as a pro, with his longest play of the season coming in game one, netting 25 yards.
Denver Broncos quarterback Teddy Bridgewater has used the six-foot-four-target as a checkdown option, which limits his receiving capabilities. He has two touchdowns on the year but he just hasn't been able to put together a lot of yards and score in the same game.
Got Noah Fant in 2 leagues and he got 0 in the 1st half pic.twitter.com/YZjEKhG5TK

— Mac 🇵🇷 (@macaulay_pintor) October 10, 2021
Washington Football Team defence versus Kansas City Chiefs
It's always a scary sight for any defence to see the Kansas City Chiefs on the schedule. With Patrick Mahomes II, Tyreek Hill and Clyde Edwards-Helaire among downfield threats, it's almost impossible to contain everyone on the Chiefs offence.
Add in the fact that the Washington Football Team's defence has given up the sixth most yards in the NFL, it could be a shootout at Arrowhead Stadium on Sunday afternoon.