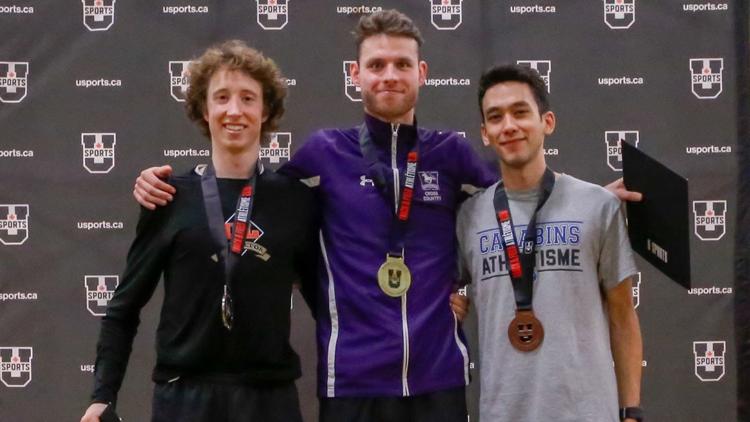 After incredible performances at the Ontario University Athletics championships at the end of February and the U Sports Track and Field Championships last weekend, the Western Mustangs track and field teams finished their season nationally ranked as third and fourth in the women's and men's divisions, respectively.
The Mustangs put up what head coach Vickie Croley called "an almost perfect performance" at the OUA championships to propel them toward success at the national meet, where the women's team won bronze by 11 points and the men's team placed fourth, only 7.5 points behind the host Manitoba Bisons. 
Four fifth-year athletes finished in the top four of their respective events, bringing home two medals that highlighted the performances of the women's team. Graduating athlete Sara Villani, who established a school record at the Bison Classic in January, broke her own personal best by 26 centimetres with a throw of 15.45 metres in the shot put to win a silver medal. Another senior, long-distance runner Kristina Popadich, won her first national medal with a second-place finish in the 3000-metre event.
Sprinter Caroline Stricelj improved upon her personal best to finish fourth with a time of 38.83 seconds in the 300-metre race and also ran the fastest splits in both the 4x200 metre and 4x400 metre relays, finishing fifth and sixth respectively. Both high jumper Emilia Grala and rookie weight thrower Hannah Diebold contributed to the team's strong showing with their own fourth-place finishes in their respective events.
The depth of the women's team was a strong factor in their success as well, as an additional nine top-eight finishes were achieved by shot putters Emily Good and Ashley Amofah, triple jumper Paige Doyle, weight thrower Rachel Campbell, pole vaulter Amanda Reid, runner Kate Current and the relay teams in the 4x200 metre, 4x400 metre and 4x800 metre events.
"Our women moved up significantly in the rankings, where they were tied for sixth going in, and coming away with the bronze medal; that was just outstanding," said Croley on the women's team's performance.
The Mustangs men's team finished fourth overall, also using their depth to finish 10 points above the Alberta Golden Bears. Pole vaulter Dan Gleason placed third with a height of 4.90 metres, just 10 centimetres behind the Guelph Gryphon's Brennan Seguin, while triple jumper Scott Billings won a bronze with a personal best of 14.52 centimetres.  
Seven additional top-eight finishes came from long jumper Matt Indome, shot putter Stuart Cameron, sprinter Adam Nalywaiko, heptathletes Ryan Evans and Jared Hendricks-Polack, long-distance runner Isaiah Frielink and the 4x400 metre relay team.
"I think on the men's side, overall we performed OK," said Croley. "We had some exceptional performances, but we also had a little bit of bad luck with one of our top athletes who was competing in three events who came down with the stomach flu. That hurt, and that probably made the difference in our men finishing fourth instead of third, losing that bronze for the men's team. So from a team perspective, I think we were a little bit disappointed for the men not to come away with that bronze team medal, but overall both teams did perform well."
The big story from the men's team, however, was fifth-year runner Jack Sheffar, who won double gold in the long-distance events. After two previous U Sports national championship meets that were spoiled by bad luck (an early-rung bell in 2017 and the flu in 2018), the graduating senior finished his collegiate career on a high note.
"When you have adversity, I truly believe that it makes you better down the road," said Croley. "With Jack, this was his last shot at it, and he definitely had a great season, so there were signs showing that he was very capable of winning gold. His teammates, the coaching staff, his parents, even the track and field world, were happy for Jack."
While the school season is over, most of the athletes will continue to train and compete at meets with their own clubs over the spring and summer. However, the Mustangs team coming back in the fall will look very different, as new freshmen arrive and graduates leave. Croley highlighted Popadich and Sheffar as stars of the team who will be particularly tough to replace, although her program's recruitment for the upcoming season has been an improvement from previous years. 
"Kristina and Jack really are two of our Western all-time greats, they're almost irreplaceable," said Croley. "So what we need is a little bit more depth in some of the events that they're graduating from, and we'll work toward that with our current team members continuing to improve. We've also actually had an outstanding recruiting year so far, and we're hoping to sign a few more top recruits in the areas that we need."
After a great finish at the U Sports National Track and Field Championships that improved on their record from the previous year, the Mustangs will take the summer to improve upon their personal bests before getting ready to start the season again in late fall with a few new racers in the mix, and new heights, distances and times to reach.