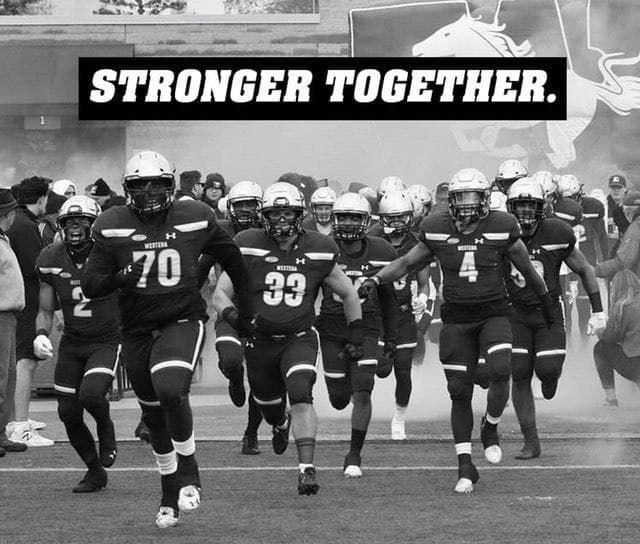 Almost 52 years have passed since Tommie Smith and John Carlos stood side-by-side on the podium holding their fists in the air, forming the Black power salute in protest during the star-spangled banner at the 1968 Mexico City Olympics.
The protest was a "cry for freedom," demonstrating against the lynchings of Black people and to protest the hypocrisy of the United States' anthem to uphold the freedom for all of its citizens, while ignoring the rights of African Americans.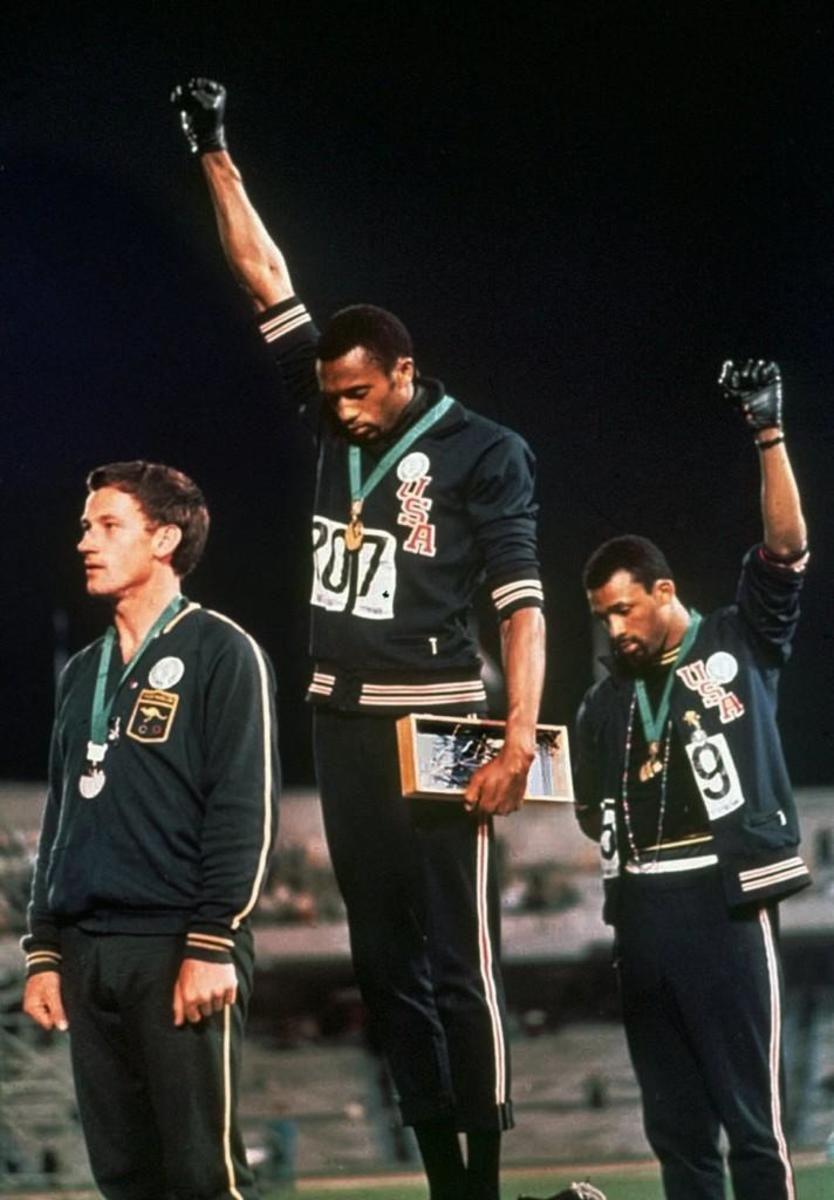 It's not 1968, but the racial injustices Smith and Carlos were protesting then are just as prevalent today. The recent deaths of George Floyd, Ahmaud Arbery and Breonna Taylor, in a long list of injustices, have opened eyes to many of the inequalities and double-standards faced by the Black community every single day.
Racism isn't an alien concept to Western University and is an active reality for Black students.
Four Black Mustang student-athletes have spoken out on the issue throughout the past weeks in hopes of igniting change within their own communities.
Social media campaigns for change
In the digital age, more people are taking to social media as a form of activism. Platforms such as Instagram, Twitter, Facebook, Snapchat and even LinkedIn have helped push the Black Lives Matter movement.
Mustangs football player Trey Humes expressed that his goal is to use social media to hold people in power, particularly white police officers, accountable for their racist actions.
"Cops are literally getting away with murder and the evidence is there, you're seeing the video footage," says Humes. "They get acquitted, they don't get charged, they just get fired or it's just a slap on the wrist. We've got to be the ones to keep pressing it, keep showing it and using our voice until it gets to a point where they're actually being held accountable."
Recently, Humes was involved in a heated Twitter exchange with a Western alumnus who threatened to pull his donations from the school if they continue to support Black Lives Matter.
Listen, I'm not your "Pal" and you're clearly not educated enough on the issues in the black community to converse with me, so keep your "truth" and your donations, WE don't need it

— Trey (@_dreams2success) June 1, 2020
"I know there's people who think like that but to actually put it out there and have it on the internet, I couldn't just see that and just let that go," he says. 
He believes alumni who are a part of the problem rather than the solution should not be allowed to donate to Western, as it would represent the university's acceptance of racism.
"[Western] would be adding to the problem," said Humes.
Aja Gyimah, a Mustangs women's volleyball alumna and current registered dietitian, said she is tired of the long history of police brutality and discrimination, in the U.S. and in Canada, against people of colour in sports, academia, health care and in her daily life.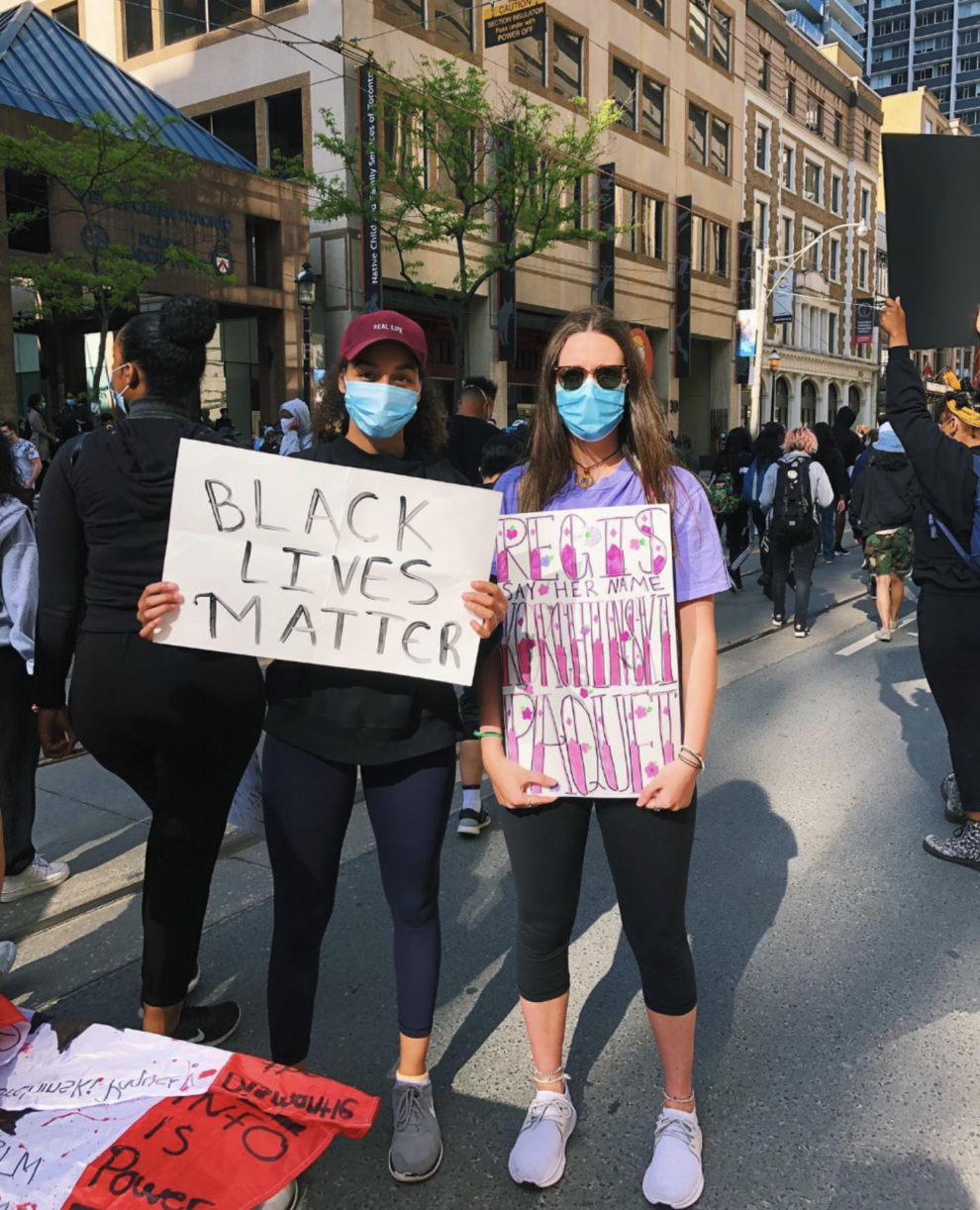 But, she is gaining hope for change as social media campaigns begin to educate those who will never understand the experiences Black people endure on a daily basis.
One of those social media campaigns was "Blackout Tuesday." Gyimah believes that the campaign was successful — but activism shouldn't stop there.
"Up until [Blackout Tuesday], there were some people who hadn't said anything on the matter … and then, all of a sudden, they post this black square with a hashtag saying 'Blackout Tuesday,'" says Gyimah. "For some people, that's not the extent of their activist work, but I know for others, that was definitely it. They just posted that picture and they were like, 'okay, that's enough for the day.'"
"What we need to make sure about is that action is followed up with truly meaningful action."
Wear a mask, eat your vegetables and empower your peers to make a difference.

— Aja Gyimah, RD (@ajagmh) May 29, 2020
Racism isn't just an American issue
Olivia Ghosh-Swaby, the quarterback and team president for the Western women's football team, has seen her fair share of racism in Canada. She's reflected on racial microaggressions as well as overt racism she has experienced.
She mentions, on one occasion, she was at an On Route while travelling within Ontario for volleyball and was yelled at by another traveler to "go back to [her] own country."
"I was literally just driving and they saw my skin tone and thought it was appropriate because they were frustrated about something completely different," says Ghosh-Swaby. "It always hits close to home because I'm a person of colour."
Mustangs men's football defensive back Alex Salytchev is also no stranger to direct racism.
He explained when he was a student-athlete, playing football and running track and field at the Taft School, a preparatory boarding school in Connecticut, he wasn't welcomed by the family of a female student he was casually dating at the time. He said that her parents were "offended" that she would be romantically involved with a Black man.
"Her family asked what I was like and she obviously explained that I am a Black man from Canada," says Salytchev. "Her parents interrogated her and they thought she could do a lot better."
"It all stems from a really outdated, hateful kind of mindset," he adds.
"RaCiSm DoEsN't ExIsT iN cAnAdA!!" This is what is happening in #Canada, what would you call this? ...... #Blacklivesmatter https://t.co/bpYMXwGEbX

— ✌🏽 (@0fftherip) June 1, 2020
Humes mentioned that some of the covert racism he's had to face growing up came when he showed how articulate and "well-spoken" he is. He explained how managers in job interviews expressed their "surprise" when Humes displayed his eloquence, just because of the colour of his skin.
"Sometimes you think, when you live in Canada, it's not as bad as the United States," says Humes. "There's no comparison of who has worse racism, it's the fact that it's always there."  
Racism bleeds into every aspect of life, from dating to work and even athletics.
Ghosh-Swaby is also disappointed by the overt racism that has been around university athletics. Racist tweets surfaced recently from a second-year McMaster University men's lacrosse player Steven Lachachan, whose Twitter account has been since deleted, reading that Lachachan doesn't trust his local doctor "because he's Black."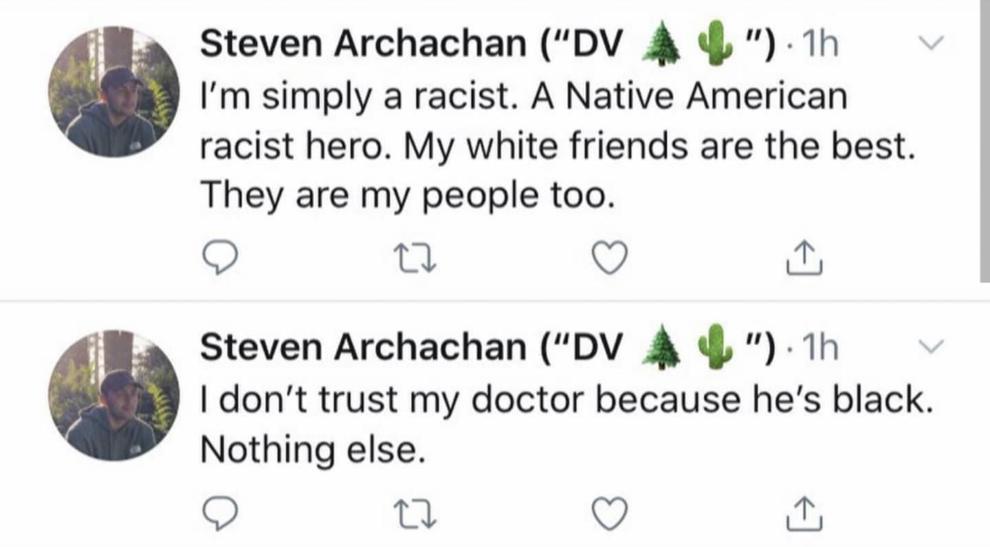 "[The racist tweets] are shocking to the core because, where [is Lachachan] coming from to be able to say something like that? [Does Lachachan] not understand the gravity of the words [he is] using?" says Ghosh-Swaby.
Lachachan, who has since been removed from the Marauders varsity lacrosse team, apologized in an interview with CBC News, saying he was dealing with mental health issues at the time of the tweets.
"I apologize for my tweets, that is never acceptable and that is one of the worst things I could say," Lachachan said to CBC News.
Systemic racism in academia
Ghosh-Swaby, outside of captaining the women's football team, is a PhD candidate at Western studying neuroscience. She admits there are very few other Black students in her graduate program.
"It's hard for me to find a role model or someone I can identify with, especially when I'm looking at faculty," says Ghosh-Swaby. "We need more faces of colour, especially from the Black community, in academia in order for a young kid to be able to say, 'hey, that's what I want to be. I want to be a scientist. I want to be able to teach in lecture at a university level or I want to be a doctor.'"
I'm tired... I'm frustrated...I'm scared... I'm worried for myself, my friends of colour, my loved ones, my future children... The system is designed to oppress, its not a broken system...it's an UNETHICAL one

— Olivia GS (@ogoshhsw) May 30, 2020
Although she hasn't had as much mentorship from the Black community as she hoped, Ghosh-Swaby is ensuring that the Black Canadian scientists of tomorrow won't go without inspiration to pursue careers in science, technology, engineering and math.
In the summer of 2018, the quarterback was a part of a mentorship program at the University of Toronto that brought in Black and Indigenous high school students to learn more about the opportunities they have in the field of science.
Gyimah studied nutrition at Western and Ryerson University to eventually become a registered dietitian, opening up her own practice, Compete Nutrition. Gyimah was one of three Black students in her nutrition master's program at Ryerson and has been working to become a mentor to other people of colour in her career path.
"When I worked with the Scarborough Center for Healthy Communities, I was working with a lot of people of colour and I felt like that was enough of an exchange to be considered activism," says Gyimah. "Sometimes, it's really just showing up and being a role model, a mentor and just helping the people that we help."
Drew Brees comments and the professional field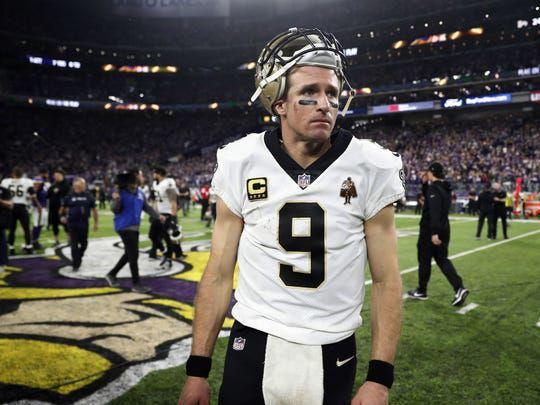 If there's racism on Western's field, then it's in the arenas and stadiums of professional sports.
In recent National Football League news, New Orleans Saints quarterback Drew Brees made controversial comments in an interview with Yahoo Finance.
In 2016, Colin Kaepernick, with the advice of Army Green Beret Nate Boyer, started a protest against police brutality and racial injustices that face the Black community by kneeling during the U.S. national anthem.
Brees, in the interview stated that he "will never agree with anyone disrespecting the flag of the United States of America or our country."
Highlight: @readdanwrite asks @drewbrees what the star NFL quarterback thinks about "players kneeling again when the NFL season starts."@drewbrees: "I will never agree with anybody disrespecting the flag of the United States of America or our country."Full exchange: pic.twitter.com/MpCkFyOMed

— Yahoo Finance (@YahooFinance) June 3, 2020
The NFL quarterback was faced with severe backlash from the football community as well as the city of New Orleans and eventually apologized for his "tone-deaf" and "ignorant" remarks after having a private call with a number of his Saints teammates.
While Black players make up 20 per cent of the 2019-2020 Mustangs men's football team roster, 70 per cent of the NFL's players in the 2019 season were African American. Salytchev believes that Brees' statements were ignorant but mentioned he's hopeful Brees was educated by his teammates and others in the predominantly Black league.
"For Brees to say that, it really undermines the other side of the equation where Black people at that time were forced to fight for a side that might not even have their best interest; a country that they could fight for and come back and still not have their full freedom," said Salytchev.
Fox News anchor Laura Ingraham chimed in on Brees' comments, saying Brees "is allowed to have an opinion on what the flag means to him…. He's a person."
These comments come after Ingraham previously mentioned in 2018 that National Basketball League all-star LeBron James should "shut up and dribble" after James expressed opinions on politics and how he perceives U.S. President Donald Trump.
Laura Ingraham to LeBron and KD: "Shut up and dribble!" To Drew Brees: "He's allowed to have an opinion." 🧐 pic.twitter.com/PtEBHdPh7o

— Complex Sports (@ComplexSports) June 4, 2020
Ghosh-Swaby said this "hypocrisy" is one of the main causes for white privilege in the U.S. and north of the border. She is hopeful that the rising amount of Black student-athletes on the women's football team's roster will help to educate the rest of the players and coaches on the issues and double-standards that face the Black community.
What we need to do next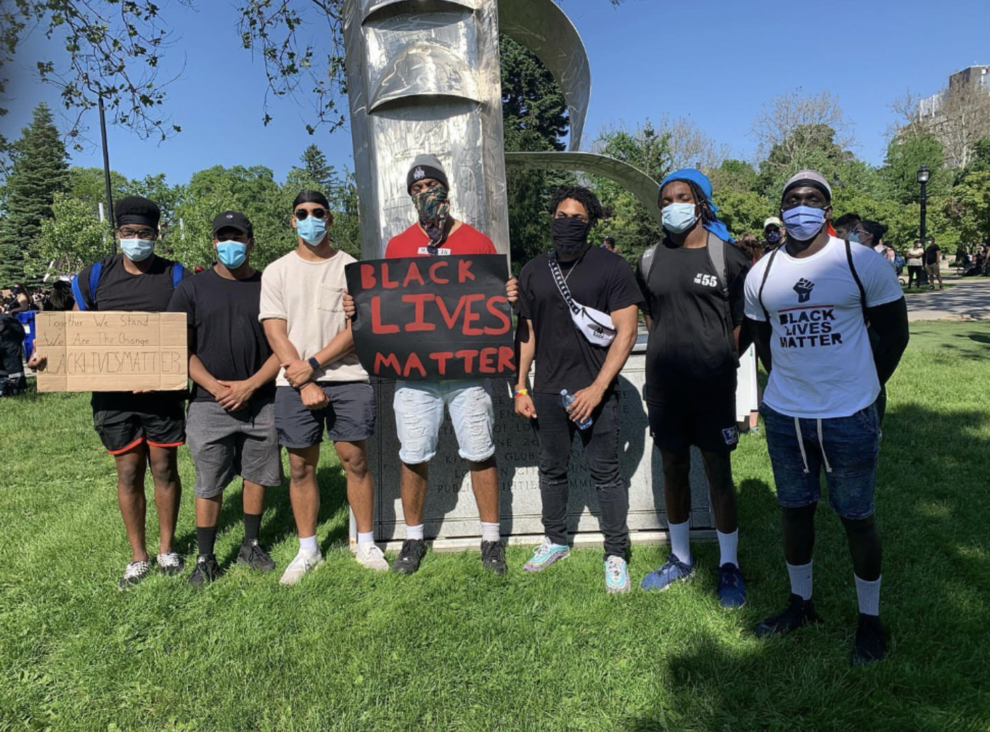 Gyimah emphasizes white and non-Black people need to do more than post on social media.
She advises that along with educating everyone on racial injustices around the world, people should be signing petitions, attending protests, donating to U.S. and Canadian organizations and creating awareness.
Humes has a similar agenda, imploring everyone to show their support for the Black community by taking a firm stand against racial injustices when they happen in their own communities.
"It's not enough to just be an ally with the Black community and stand by and say 'I hear you,'" explains Humes. "It's having those difficult conversations, taking the time to understand why we feel this way and why we feel so strongly about these issues."
"Support it and not just as a trend but because you genuinely don't agree with what's going on and you want to help."