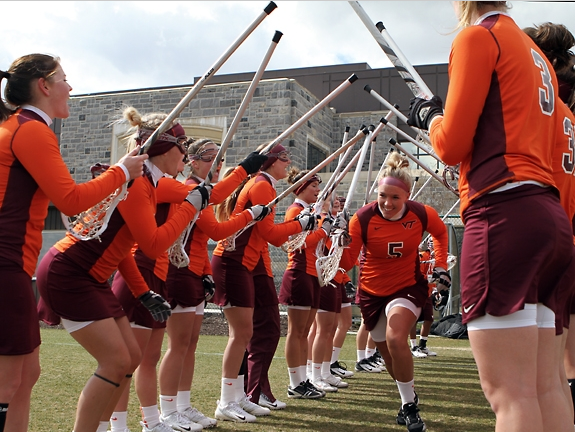 Women's lacrosse player Taylor VanMoerkerke used to play against Western; now she helps coach the team.
The Whitby native joined the the coaching staff of the Western Mustangs women's lacrosse program after a playing career that saw her play at Virginia Tech University in Blacksburg, Virginia, and at the University of Ontario Institute of Technology in Oshawa. She was also a member of Team Canada at the 2011 Federation of International Lacrosse U19 World Championships in Hanover, Germany, where she was eventually named to the All-World Team after Team Canada took home the bronze medal.
VanMoerkerke's lacrosse career began as a youngster in Whitby, where she played lacrosse with her friends in the summer. 
"It was pretty common for a summer sport to play either lacrosse or soccer," said VanMoerkerke. "I played soccer and then also started playing lacrosse. There was a point where I was playing both, and then I ended up absolutely loving [lacrosse] and stuck with [it], kind of choosing it as my main sport."
She quickly became an elite lacrosse player, eventually heading south of the border to play for the Virginia Tech Hokies. After two years in Virginia, she returned home to attend UOIT. Initially her plan was to step away from lacrosse and focus on completing her degree. But she was familiar with the UOIT Ridgebacks' coaching staff from her youth lacrosse days, who convinced her to join the program.  
The decision proved fruitful, as VanMoerkerke was a major part of the women's lacrosse team earning their first Ontario University Athletics Final Four appearance in program history. She scored five goals in the Ridgebacks' 11–9 win over the Laurier Golden Hawks to book UOIT's ticket to the final four. She also had three goals in the Ridgebacks' bronze medal loss to the Toronto Varsity Blues.
After graduation, VanMoerkerke wanted to remain involved with coaching lacrosse, giving back to the game that gave so much to her. When she moved to Tilsonburg, Ontario, with her husband, she approached the Mustangs coaching staff to jump on as an offensive coach.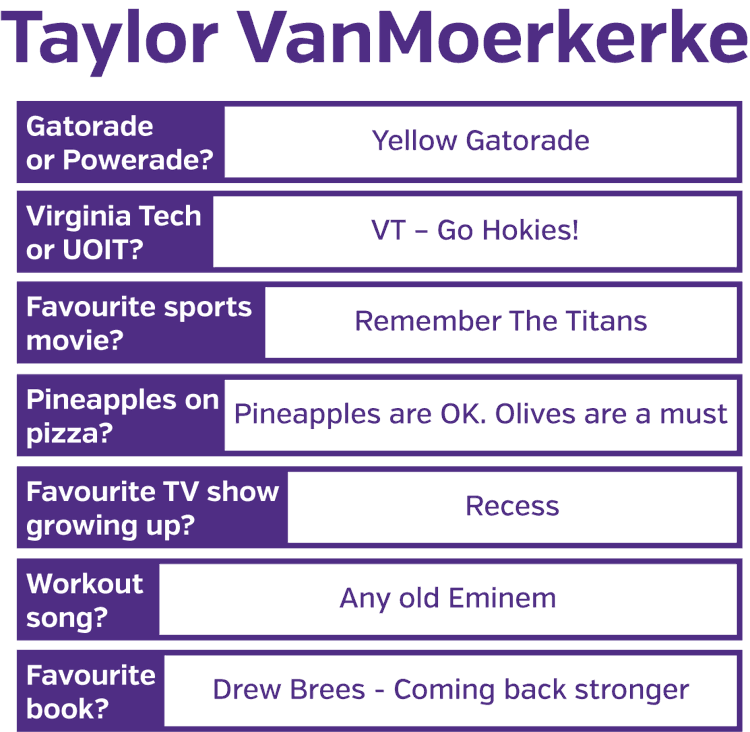 "I ended up playing against Western in college, and when I moved out to the Tilsonburg area with my husband, I figured it would be a good way to continue being connected to the sport somehow," said VanMoerkerke. "I actually reached out to the coaches and they were excited to welcome me to the coaching staff."
VanMoerkerke is a valuable asset to the Mustangs program, with her offensive expertise as a lethal scorer during her college career and her knowledge of elite sports training proving instrumental to the success of Western women's lacrosse. She also has experience in both the American college game and in the OUA game and has seen the Canadian university lacrosse product improve year after year.
"I think Ontario college lacrosse is definitely progressing," she said. "Obviously, the U.S. programs get all the funding they have, and their sports are usually at a much higher level. But it's really nice to see the college game growing here."
These days, besides being a coach, VanMoerkerke is also a business owner. VanMoerkerke and her husband, Luke, opened two Athlete Farm Training locations — facilities dedicated to a hybrid method of weight training, speed training and sport-specific drills. Along with a 4,200 sq. ft. facility in Brantford, the couple also just recently opened a location in Ingersoll, Ontario, where they currently live.
While it can be a busy life driving all over Southwestern Ontario for her job and coaching role, VanMoerkerke is passionate about lacrosse and excited about the gradual evolution of the Western program.
"I think Western is a really good example of that progression," VanMoerkerke adds. "We have a ton of great players and do so much recruiting to bring more talent in."