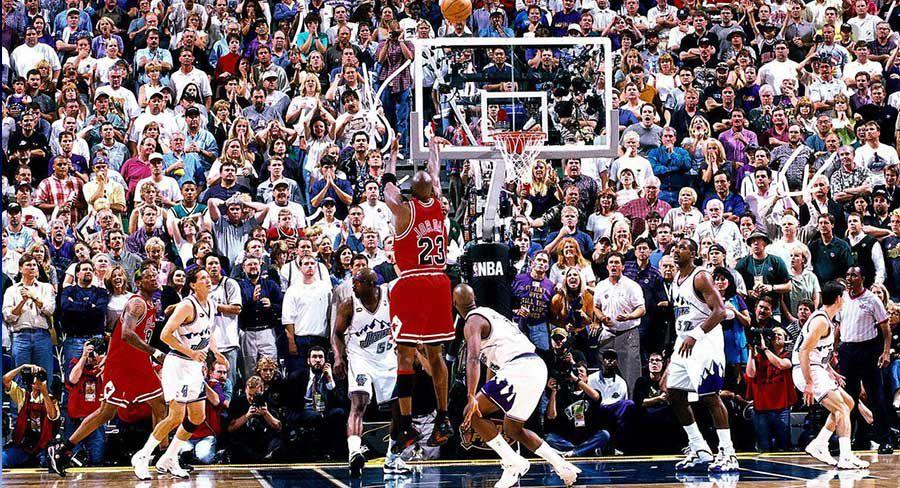 Through the lens of Michael Jordan and The Last Dance, the world has court-side seats to watch as inner turmoil, bullying, fraught relationships and, above all else, the do-anything-to-win attitude became the driving forces of the Chicago Bulls' six championships.
The final two episodes of the highly-anticipated documentary aired on May 17, and four members from both the men's and women's Mustangs basketball teams shared their thoughts on the series.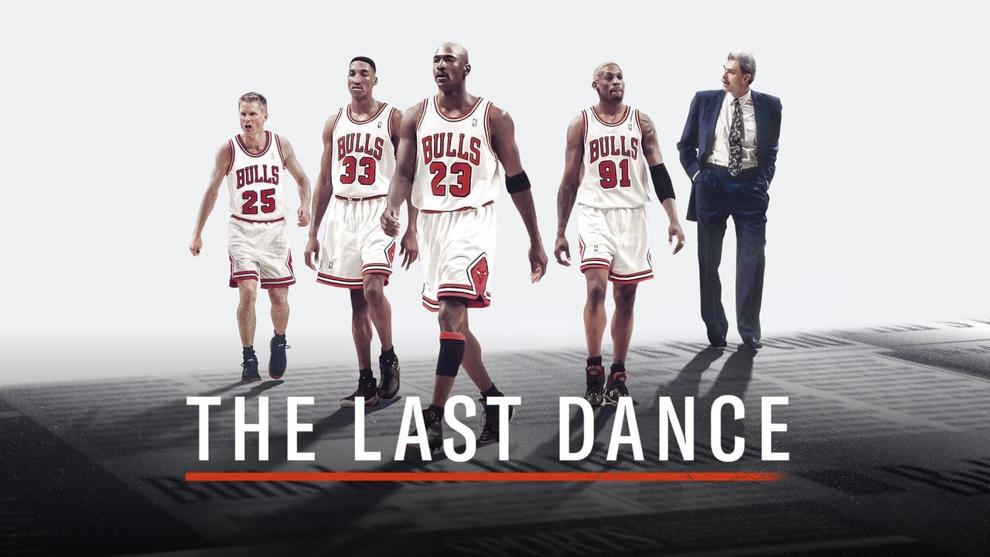 The Last Dance is a 10-part documentary miniseries surrounding the National Basketball Association career of Jordan and the drama that followed the Bulls during the 1980s and 1990s, featuring exclusive footage of the Bulls dynasty along with its many personalities.
The series became the most watched documentary in history, amassing an estimated 5.6 million viewers. It was co-produced by ESPN and Netflix, airing from April 19 to May 17.
Mustangs players and coaches alike acquired many play-by-play insights from the series. Each learned more about external and personal pressures, the importance of each role on the team and the fatigue of establishing one of sports greatest dynasties.
Michael: "the bully"
Jordan's domineering leadership style was exposed throughout the documentary. Former teammates such as Horace Grant, Scott Burrell, Steve Kerr and Will Perdue mentioned in interviews how Jordan was a "bully" and a "jerk" on the court.
But the documentary didn't include everyone's side of the story. According to an interview on KNBR's Tolbert, Krueger and Brooks Podcast with Sam Smith — longtime Bulls reporter and author of The Jordan Rules — on one occasion when Grant didn't have a good game on the road, Jordan wouldn't let him eat on the plane back to Chicago.
.@ShannonSharpe on his call with Horace Grant:"Horace told me: 'If you didn't confront Mike, he would ride you every day, all day, all the time. You had to stand up for yourself. I didn't have a problem with Mike the player, I had a problem with how he tried to motivate me.'" pic.twitter.com/ScfxCQxaMx

— FOX Sports (@FOXSports) May 8, 2020
Jordan mentioned in the series that his teammates may have seen him as a "bad guy," but he still defended his leadership style with a monologue, wrapping up the seventh episode.
"Winning has a price …. I challenged [teammates] when they don't want to be challenged …. You ask all my teammates, the one thing about Michael Jordan was, he never asked me to do something that he didn't fucking do," said Jordan, according to Jordan Greer of Sporting News. "When people see [the documentary], they're gonna say, 'Well, he wasn't really a nice guy. He may have been a tyrant.' …. I don't have to do this. I'm only doing it because it is who I am …. That was my mentality. If you don't want to play that, don't play that way. Break."
Western women's basketball head coach Nate McKibbon expressed that Jordan's leadership methods wouldn't work on his team.
He mentioned Los Angeles Lakers star LeBron James and how he may be a better fit. James is a three-time NBA champion who has long been in the conversation with Jordan as one of the greatest players of all time. He is known to forge personal relationships with teammates first rather than adopt the always-demanding traits of Jordan.
"If you put someone with Michael Jordan's temperament on my team, I'm not sure that they'd respond the same way that the Bulls did," said McKibbon. "The NBA was a fist fight back in the '80s and '90s. Even the style of play was completely different. I think [James] would be much more capable of connecting with the athletes that I have on my team."
"I believe MJ was a leader, being the best player on the team, but he was also a bully. I don't believe MJ fought Kerr to see if his team could make shots in the 4th quarter, but to see if they were tough enough & could count on them to be around in the 4th." — @ShannonSharpe pic.twitter.com/zLqD27Cnz1

— UNDISPUTED (@undisputed) May 11, 2020
Forward Aaron Tennant, who will be entering his third year this fall, said he would prefer Jordan as a leader on his basketball team rather than be led by James' less demanding leadership style. He attributes his preference to his life back home with his competitive siblings and family members.
"I like to be held accountable for things," said Tennant. "When you make a mistake, you know you made a mistake, but having that person on you, making sure you don't make the same mistake again, helps."
The end did justify the means. It's win at any cost, it's 6 championships in 6 tries. I haven't heard one of those players in that documentary say they hated Michael. More @Undisputed, now on FS1 https://t.co/iV0tkgupzQ

— Skip Bayless (@RealSkipBayless) May 12, 2020
Flu game 
Before the show aired in April, it was believed that Jordan played with the flu in game five of the 1997 NBA Finals against the Utah Jazz.
From then on, the night was called "the flu game."
But, it was revealed in episode nine that Jordan and his former personal trainer, Tim Grover, believed the symptoms that Jordan was facing were not from the flu. He was believed to have had food poisoning.
Not only did he play most of the game, but he put on a performance that no one would soon forget. He scored 38 points with seven rebounds and five assists.
Watching the episode unfold, fourth-year guard Omar Shiddo admitted he played with a case of bronchitis in the last game of the 2018-19 regular season against McMaster University and then again in the following Ontario University Athletics playoff game against Brock University.
"Unless you're bedridden and you can't move, if you put your mind to it, you can get to where you can get through the game," said Shiddo. 
McKibbon said there were members of his former Juel League team who would step up on a weekly basis and perform no matter their plight.
They just wanted to compete.
"We had a series of players who would definitely push the limits of what was acceptable to play with and what wasn't," said McKibbon. "They loved each other so much that it didn't matter. In a big game, you knew you were going to lace up those shoes and you're going to go play no matter what."
Phil vs Jerry
The coach-general manager relationship was also a focal point. Episode one recounts the moment when former Bulls general manager Jerry Krause announced legendary head coach Phil Jackson would be let go following the Bulls 1997-98 season, despite a sixth championship run.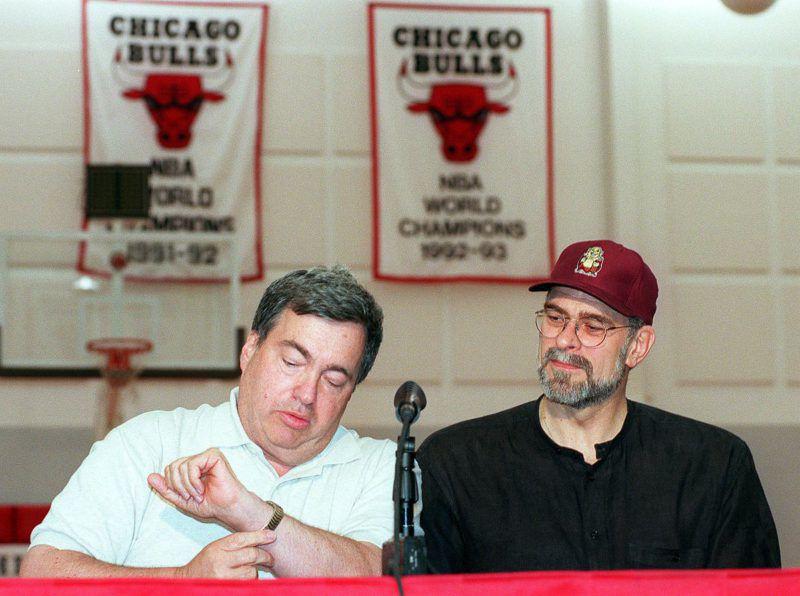 Former Bulls players and staff said in the documentary that the decision to fire Jackson is the reason why Jordan left Chicago, ultimately ending the six-time champions dynasty.
McKibbon said he believed the coaching transaction stemmed from a "power dynamic change" that was occurring in the NBA that saw head coaches being paid more than general managers.
"The documentary talked a little bit about 'little man syndrome' and Krause. [Krause] wanted way more credit than what he was given through that [championship] run," said McKibbon. "As Phil [Jackson] gained more power within that organization, especially with the players, I think there was definitely some resentment [from Krause] there."
Phil Jackson vs Jerry Krause: Skip Bayless on the feud that broke up 'The Last Dance' BullsWatch now: https://t.co/gDKhyCqbfy pic.twitter.com/o18qTmWDKh

— UNDISPUTED (@undisputed) May 17, 2020
Diverse personalities
Shiddo, who tied for first in points on the team this season, with 391, compares himself to Jordan "with a little bit of [Scottie] Pippen." He expressed how he may not have a leadership style parallel to Jordan's, but he does have a similar killer instinct in him that made the Bulls legend so dominant.
Kerr, a former Bulls guard and current Golden State Warriors head coach, was always thought of as a role player who could come off the bench and support the team with his particular skill set; a sharpshooter who could make critical baskets when called upon.
Both Tennant and third-year guard Tyler Thomson believe they emulate Kerr's characteristics on the court as players who can provide offensive support in many different ways if needed.
"I think [Kerr] is a good relation for me," Thomson said. "[Kerr] realized that he did have a role to play and that was a big part of our team this year. Everyone realized that was going to be something that we needed to know; to go out there and do our role."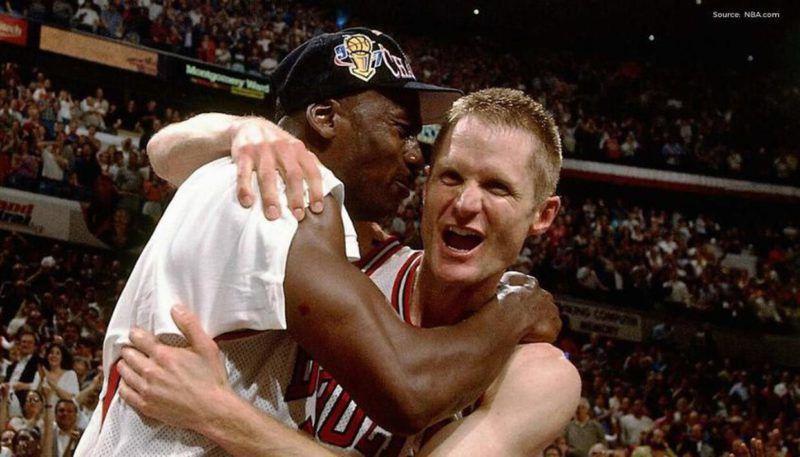 Dennis Rodman is another legendary former Bulls player who was best-known for his physicality, aggressive defence, and rebounding, not to mention his flamboyant and "bad boy" antics on and off the court.
According to Thomson, the men's basketball team has a Rodman-type player, fifth-year guard Eriq Jenkins, who's physical and known to get in the face of his opponents.
"[The series] talks about Rodman's ability to defend is unparalleled in what he was willing to do," he said. "I think we see that a lot in the way [Jenkins] plays. He has that something to his game that you can't really put a name on it. [Jenkins] can just go out there and lock anyone up."
Who's the GOAT?
Whenever the name Jordan is talked about, the GOAT — greatest of all time — debate is almost subconsciously brought up. Names like LeBron James, Kobe Bryant and Bill Russell come to mind when experts and fans start speaking of who could rival Jordan as the best to ever lace them up.
McKibbon grew up during the Jordan era. He believes that Jordan stands alone as the greatest NBA player of all time, especially after watching the documentary.
"I don't think there's anyone of our generation who can claim [the GOAT], or the later generation." said McKibbon. "Kobe [Bryant] was pretty good and LeBron [James] is pretty good but I don't think either one of them is anywhere close [to Jordan]. Shaquille O'Neal, for a time, was the most dominant player that I've ever seen, but I don't think he sustained it and obviously, didn't have the type of commitment to winning that I think Jordan had."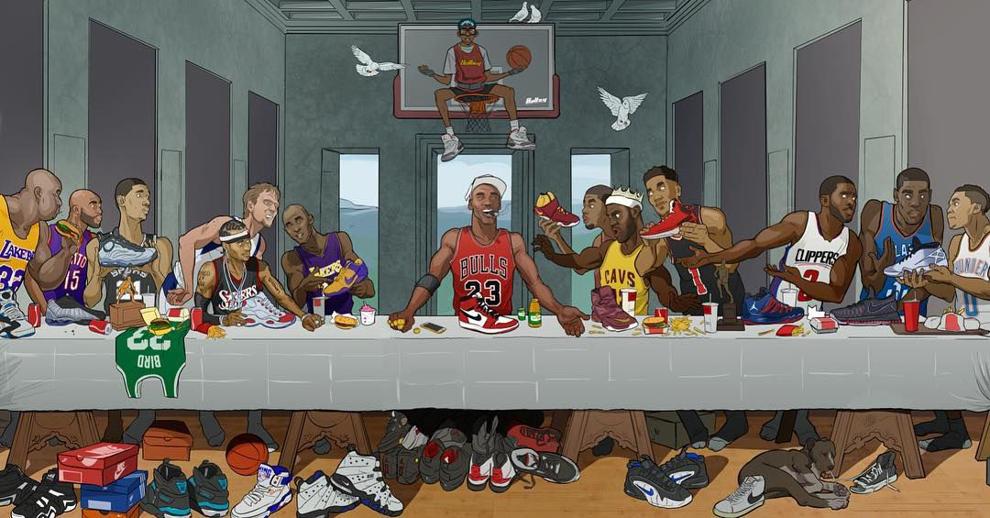 Shiddo disagreed with McKibbon's opinion. Even after getting an inside look of Jordan through the series, Shiddo still thinks that James deserves the GOAT title.
"My GOAT is LeBron James and it's still LeBron James," said Shiddo. "When you hear about Michael Jordan, you hear about him being 6–0 in the finals, him winning six championships and how that's the barometer when people measure for the GOAT. I think you need a little more context for the individual player based on their impact on the court. I feel like [James'] impact on the court makes me think, if I had to pick a player to be on my team today, I'd pick [James] first."
The Last Dance proved to be so successful that ESPN has decided to produce a new documentary based on the National Football League career of Tom Brady. The series, titled The Man in the Arena: Tom Brady, is set to air in 2021.