The Western Mustangs will finish their season on Saturday against the Laurier Golden Hawks at TD Stadium. An annual special matchup, the game will give the Mustangs a chance to finish their second consecutive undefeated regular season on Homecoming.
The Mustangs are currently 7–0 on the season. They've been ranked first in the U Sports national ranking all season long and currently lead the Ontario University Athletics in points per game, total yardage and points allowed per game. They've been dominant on both sides of the ball and look poised to make a run at a second straight Vanier Cup, which would be the school's first back-to-back Vanier Cup run since 1977.
With all their success, quarterback Chris Merchant admitted that, while it may not be paramount at the moment, the chance for another perfect season has definitely crossed his mind.
"We try not to focus on that," explained Merchant. "But it's always in the back of your mind. To go undefeated again is always our goal. We're doing everything we can to make sure that happens."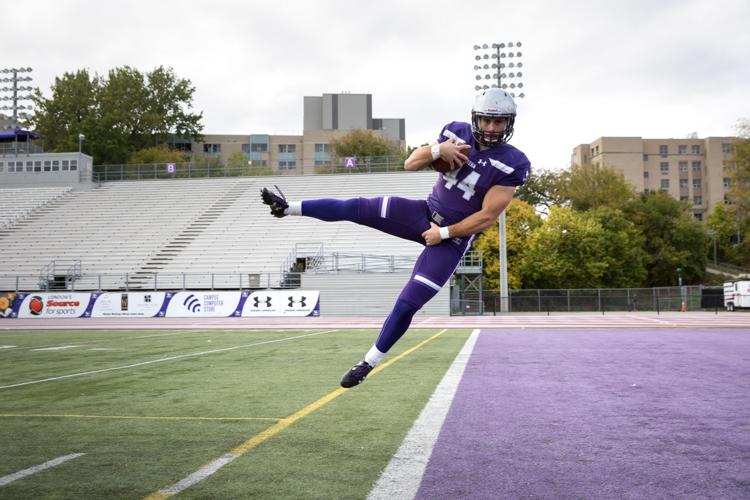 It won't be an easy victory at home, though, as the Laurier Golden Hawks are a talented team in their own right. Currently, the Golden Hawks are tied for fourth in the OUA standings with the McMaster Marauders, Waterloo Warriors and Guelph Gryphons, who all have 4–3 records.
The Golden Hawks and Mustangs have been the two most consistent programs in the province over the last half-decade. Laurier stunned Western to win the Yates Cup in 2016 before the Mustangs got revenge last season. With their immense success on the football field and in recruiting circles, the Mustangs and Golden Hawks have become fierce rivals. And Laurier provides the perfect foil for Western's Homecoming game.
Playing at home in front of a packed Homecoming crowd adds excitement for the team, eager to impress current students, fans, family and alumni. 
"It's amazing," running back Cedric Joseph said of the Homecoming crowd. "Homecoming here is always a great time; lots of fans and families and students come out to the game, come out and show their support for the boys."
Merchant added that while the game will not affect their position in the standings, these games will always be a special memory.
"When you get to play in front of the students and alumni and stuff like that, it's something to be proud of and it's something special," said Merchant. "Those are always the events that you remember when you look back at your experience at Western. So it's gonna be fun."
More than just a good memory, big Homecoming crowds can often be a good practice session for the team gearing up for a brutal postseason schedule that will draw similar crowds. 
"Being that close to playoffs, I think it does prepare us," explained Merchant. "Going into a big crowd — it's probably not hostile — but it's definitely huge, if we have home field advantage, it helps us and gets us used to what we're gonna play with. We're really excited for it, obviously. Hopefully the fans come out and support us."
Discussions of heritage and history are never far from the Homecoming football game. Western has developed a reputation as a powerhouse of Canadian university football through the years, compiling 31 Yates Cups and seven Vanier Cups.
The chance to play in front of former champions and legends of Western football is not an opportunity that the current team takes lightly.
"It's a pretty surreal moment," said running back Cedric Joseph on the chance to play in front of former Mustangs players. "The heritage of the university, you really get to see it and live it at Homecoming. I'm super excited to be able to play for all the people who've played Western football before. Super grateful to be able to be part of the tradition and hopefully to be able to continue the winning tradition that we have at Western."
The Mustangs have a number of key seniors who will be hanging up their cleats at the end of the season. Mustangs like Alex Taylor, Cedric Joseph, Harry McMaster and Fraser Sopik have left indelible marks on the game of football. Their last Homecoming is sure to be a monumental occasion.
With a win at Ottawa last weekend, the Mustangs have secured a first round bye and home field advantage throughout the playoffs. If they can get past the Golden Hawks, Western can extend their win streak to 20 games including last season. Then it's on to the playoffs, and another run at the top prize in the country.