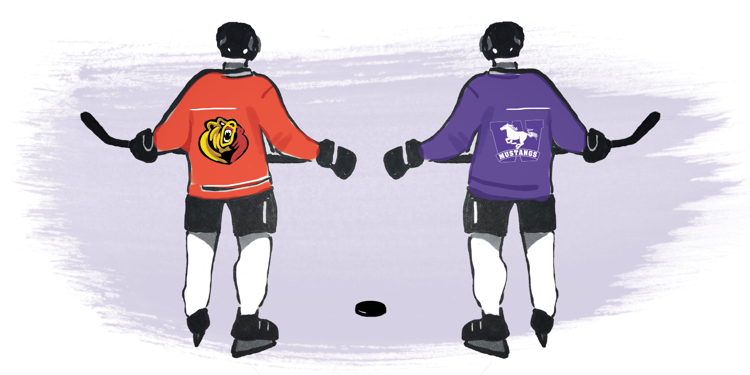 From the Ontario Hockey League to U Sports, Cordell James and Ethan Szypula have continued to build chemistry on and off the ice.
The pairing, who have both been pivotal to the Mustangs scoring attack over the last two seasons, played together on the Owen Sound Attack of the OHL. James was a fixture on the Mustangs offence last season, finishing second on the squad in goals (9) and points (19) to teammate Trevor Warnaar. Szypula played in the OHL last year, but has had a similar offensive explosion in his U Sports rookie year this season, currently sitting second on the team scoring list to Anthony Stefano in both goals (7) and points (15).
Earlier this season the first-year winger explained that building off old chemistry has helped him make the transition to U Sports.
"Me and Cordell used to be linemates,… so it's good to kind of be back with him too and work with that chemistry we got," said Szypula. "I've been very fortunate to kind of be where I am. [Head coach Clarke Singer] has given me great opportunities. I'm very fortunate, and that's a big thing for us. Luckily, we can keep it going and roll forward."
The chemistry between the two has also shifted the play of James slightly. While the centreman has scored just three goals this year, he has also connected on nine assists — just one back of his season total from last year, with eight games still in hand.
Additionally, the second-year player has brought his defensive game to new heights, becoming a mainstay on the incredibly successful Western penalty kill. Add this all together and assistant coach Patrick Ouellet isn't very concerned about the centre's lack of goal scoring. 
"Obviously we see Cordell as being a big offensive threat," explained Ouellet. "The goals haven't been coming, but he works hard; he does a lot of little things well. [He] plays well defensively, and he's rarely out of position. He takes his man down low as a centreman in the D-zone coverage. He's always there on the back check."
"Of course, we want him to be on top of our scoring and playing leaders and stuff, but that's going to come, it's going to come," he added. "I'd rather him be hot in February and March, rather than October and November."
If their assistant coach expects increased production in the playoffs, perhaps it's promising that the former Attack players have already experienced sparks on playoff runs.
James was traded from the Barrie Colts to the Attack in 2017 as part of a trade deadline push for the Memorial Cup.
In 17 games of the Memorial Cup playoffs that season, the duo combined for seven goals and 15 points. Unfortunately, the Sound were bounced from the playoffs in the third round by the eventual OHL champion Erie Otters, who were led by NHL prospects Dylan Strome and Alex DeBrincat.
The Owen Sound products will likely have another chance to charge into the playoffs this year with the Western Mustangs, in a different league but with the stakes still high. 
Until they are allowed an attempt to avenge their lost championship in Owen Sound, James explained that he is just happy to have a close friend with him on the team.
"Me and Ethan are good friends," said James. "We played in Owen Sound for a couple of months there. Playing with him is nice. We were good friends back in Owen Sound, we're good friends here. So we got good chemistry and it's fun playing with him."