Vanier Cup
The stage is set for a memorable Vanier Cup clash

HAMILTON — The last time the Western Mustangs won a Vanier Cup in 1994, the idea of a football program at Laval University was just beginning. 
At the time, no francophone universities in Quebec offered varsity football programs, forcing the province's elite gridiron stars to take their talents to English schools, often in Ontario and the Maritimes.
Enter Jacques Tanguay, the scion of Ameublements Tanguay, one of Quebec's leading furniture companies. Tanguay invested his time and, more importantly, his capital into building the Rouge et Or football program. His goal was to create a powerhouse Francophone team that would take advantage of the burgeoning passion for football in the province.
In 1996, two years after Western University's 50–40 triumph over the Saskatchewan Huskies to win their sixth Vanier Cup, the Rouge et Or kicked off their inaugural varsity football season.
It only took them four years to win their first national championship. In the 21 years since the program's inception, Laval has won a record nine Vanier Cups.
On Saturday in Hamilton, at Tim Horton's Field, the Mustangs and Rouge et Or will meet in the 53rd Vanier Cup. With narratives abounding — Western's 22-year title drought versus Laval's perennial dynasty, the nouveau-riche status of the Rouge et Or versus the old money tradition of the Mustangs — the stage is set for one of the great clashes in the history of Canadian college football.
It will also be a matchup between a defensive juggernaut in Laval and an offensive powerhouse in Western.
The Mustangs offence, which was the best in the nation all year, prepares to meet a dominant Laval defensive unit that allowed the fewest points in the country during the regular season while also ranking second in the nation in total yards allowed (304.8 per game), second in rushing yards allowed per game (99.4, and fourth in passing yards allowed per game (205.4).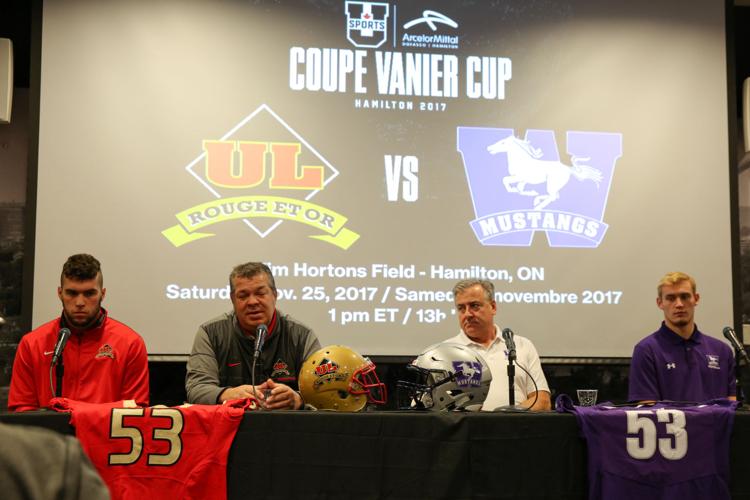 Mustangs head coach Greg Marshall, who has two Vanier Cup rings as an assistant on the Western coaching staff in 1989 and 1994, attributes Laval's dominant defence to a great coaching staff.
"I will say this; that the one thing on film is, they're well-coached," said Marshall on the Laval coaching staff. "They've created a culture that supports student-athletes. They've created a model that should be looked up to across the country."
The Rouge et Or defence is led by a foursome of Quebec Student Sport Federation conference all-stars in defensive end Mathieu Betts, tackle Vincent Desjardins, linebacker Adam Auclair and halfback Gabriel Ouellet.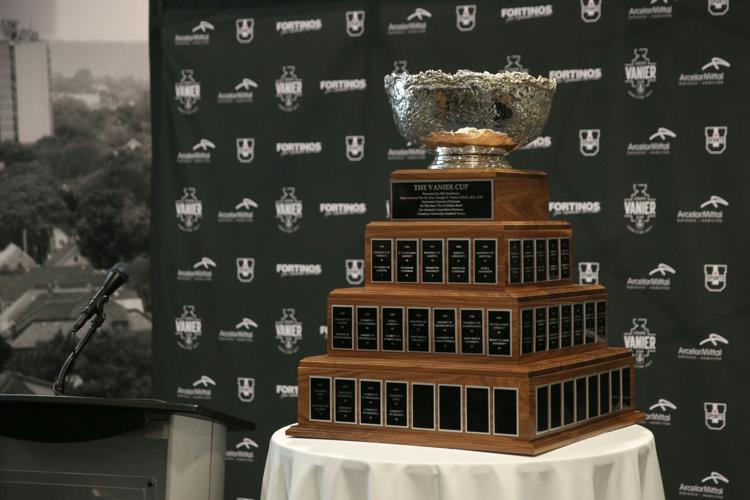 For quarterback Chris Merchant and the Mustangs offence, the key to competing with Laval on Saturday will be to balance their offensive attack and limit turnovers.
"They have a lot of great athletes, and they play fast," said Merchant. "They play with great technique as well. They're the most technical team we'll play this year and obviously they have one of the best defensive linemen in the country in Betts. We just need to make the simple plays, and I need to let the great athletes around me do what they do."
Merchant is coming off an MVP performance in last week's Uteck Bowl, where he threw for 200 yards on 10-of-11 passing and two touchdowns, while rushing for 54 yards and another two majors on the ground.
Constantine and the Rouge et Or coaching staff are prepared to face the dynamic Mustangs offensive attack. In the defensively-minded Quebec conference, they haven't come close to facing an offence like Western's. 
"They run the ball very well; people always say that but they do it exceptionally well," said Constantine. "Their offensive line is well coached, they do a real good job. They create extra gaps and out leverage you, and we need to go stop the run. But we also can't overcommit to the run because obviously they have a good quarterback and good athletes."
On the defensive side of the ball, the Mustangs will need to shut down Laval quarterback and 2016 Vanier Cup MVP Hugo Richard. Richard completed 70.3 per cent of his passes during the regular season and was named the Mitchell Bowl MVP after a 258 yard, two touchdown performance in a 35–23 win over Calgary.
For Mustangs linebacker Jean-Gabriel Poulin and the Western defence, limiting mistakes in the secondary and forcing Laval to run the football will be their key to success.
"Hugo is a great quarterback, and if we make mistakes, he's gonna take advantage and expose us," said Poulin. "I think it's going to be a defensive effort, and if our defensive line plays well then he's going to face pressure, and his balls aren't gonna be as great."
The Mustangs exorcised their demons in their Yates Cup win over Laurier. They annihilated the Acadia Axemen in their 81–3 Uteck Bowl victory. But with a program built on six national titles and a pantheon of Mustangs legends, the game that really counts will be played on Saturday, on national television, for the greatest prize in Canadian university sport.
"When we committed here, everyone in our recruiting class, we said let's get a Vanier," said Poulin on the significance of Saturday's title clash. "You don't come to Western to win Yates Cups; you come to Western to win Vaniers.