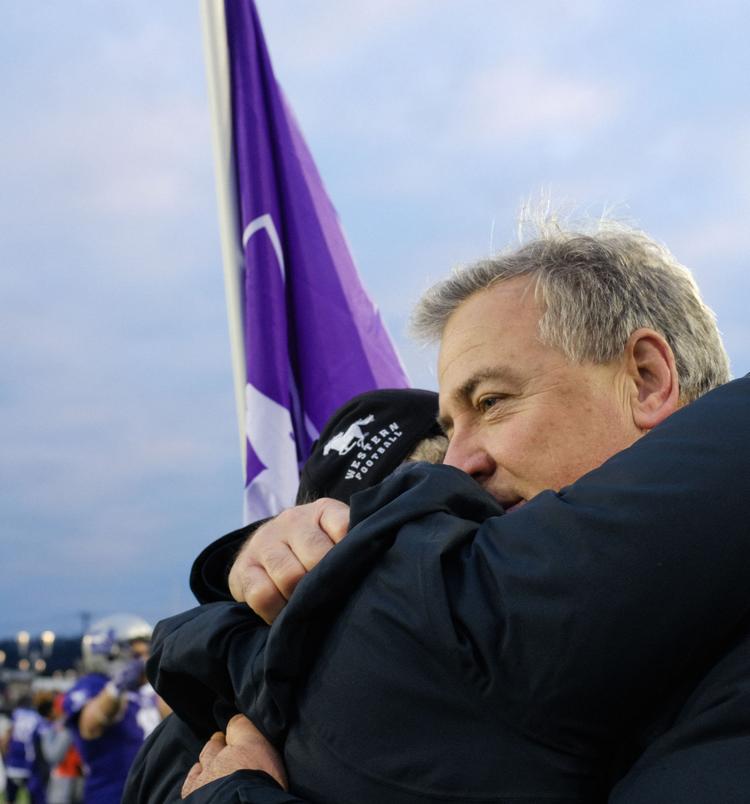 Since assuming the role of head coach of the Mustangs in 2007, Greg Marshall has led the team to a cumulative record of 115-28 (including playoffs). At an .804 winning percentage, the coach has dominated Ontario University Athletics.
Looking at this insane record, it's unsurprising that other teams have poached Marshall's coaching staff — they want to extract some wisdom from the best coach in OUA history.  
This season has provided plenty of examples of how Marshall has impacted other programs through his 13 years with Western University: across nine games this season, six have come against head coaches that either played for, or served under Greg Marshall at some point in their careers.
Two of those games, against Queen's University and Windsor University, came against coaches that left Marshall's ranks within the last year. Steve Snyder — former offensive coordinator for the Mustangs — and JP Circelli — Western's former offensive line coach — both dropped losses to their mentor.
The opposing coaches lost to the Mustangs 40—23 and 58–25, respectively. However, the Mustangs coach never took an opportunity to gloat after taking down his former disciples.
After handily defeating Synder's Gaels in September, the coach was given the opportunity to brag — but instead praised his former offensive coordinator.
"You know, I care a lot about Steve and he's a good coach and I think he's proud of the way his guys hung in there and didn't fold," said Marshall in early September.
"I care a lot about Steve and I'm really proud of the job that he's doing at Queen's."
After defeating Chris Bertoia (who served as the Mustangs offensive line coach from 2009-2014) and his Waterloo Warriors in a playoff game this past weekend, Marshall again opted to praise his former assistant.
"Bert, I'm proud of him," Marshall said last weekend at the tail end of a long winded answer about Warriors quarterback Tre Ford. "His team fought like I expected them to do. It was a close game, a great game. They should be proud of what they did, certainly I'm proud of our guys."
Marshall's undefeated run against his former players or coaches has resulted in a collective score differential of +81. Like a wise sensei, at every opportunity, the head coach has reminded these coaches that he is the master and they're still his students.
But, perhaps fittingly, the head coach's run through former coaches will come to a head during the Yates Cup. The Mustangs will take on the Marauders for a chance to crown themselves champions of the OUA.
McMaster University is where Western's bench boss earned his first head coaching job. And after learning that he'd host his former squad in a battle to decide the OUA, the veteran couldn't help but admit that it will be special.
"It's been a while since I've been at Mac and I've brought some of their coaches over here. So, we're starting to outnumber the Mac originals. We've got maybe three of their guys here," a smiling Greg Marshall explained.
"But, you know what, yeah — it's special. You know what, I loved my time there. The people that I coached and coached with and played for me, I loved them there. Yeah, it's pretty special."
"[Marauders head] coach Ptasek is a good man and a very good coach. So, it's gonna be a great challenge."
With a win against his former employer on Saturday, Marshall would capture his third straight Yates Cup and third consecutive year with a perfect OUA record.
It has been an unpredictable season for the Mustangs — cobbling together an undefeated record amid a season Marshall has labelled a rebuilding year. And if the head coach is able to turn that unpredictability into a Yates Cup — and earn his 168th career win against the Marauders — he'll only further cement his case as the best head coach in OUA history.