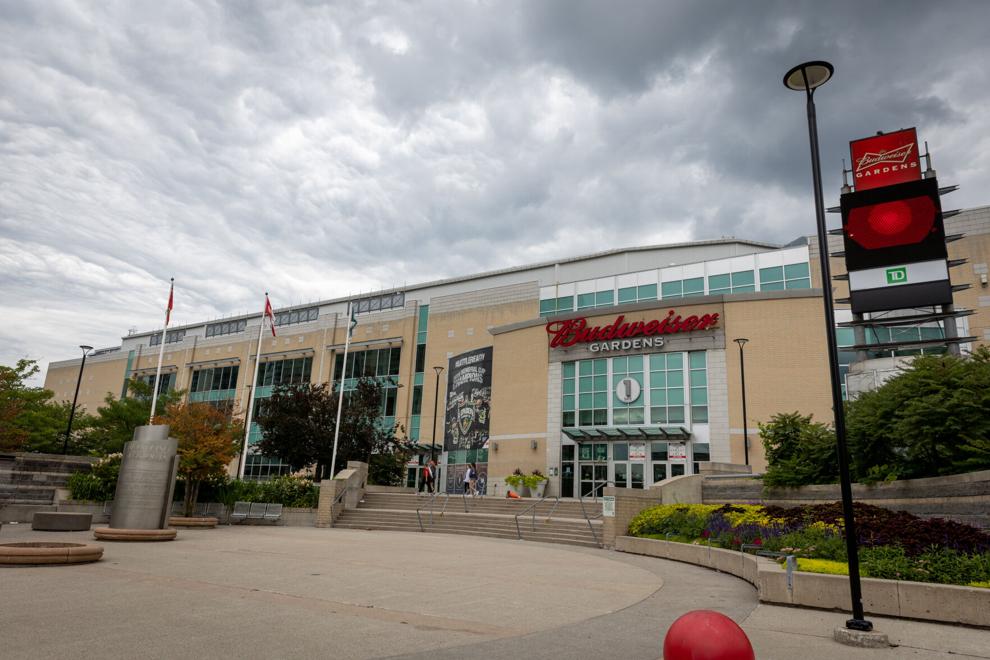 The men's national curling championship is back in London for the first time in 12 years.
The competition — known as the Tim Hortons Brier — is taking place from March 3 to 12 at Budweiser Gardens in downtown London. One of the most prestigious curling events worldwide, teams are competing for the chance to represent Canada at the world championship in Ottawa, Ont. in early April.
The field consists of 18 teams: one representing each province and territory including northern Ontario and three wildcard teams determined by their standings in the Canadian Team Ranking System. Team Brad Gushue, last year's champions, will be competing at the Brier as Team Canada. 
Separated into two pools, each team is set to play eight games, with the top three advancing to the playoffs. Each draw has four games occurring simultaneously, with playoffs beginning March 10. The final is set for March 12 at 7 p.m.. 
Mikaela Cheslock, a second-year Law student at Western University and Mustangs women's curling team vice, is volunteering for the Brier alongside a few of her teammates. Hailing from northern Ontario, this will be the first in-person Brier she has attended, since many curling championships are held in bigger cities.
"I've always seen it on TV. The fact that I'm now able to go in and watch games when I'm not volunteering is pretty exciting for me, because at one point in time, all curlers, especially younger ones, go 'I'm going to be in the Brier,'" she says. "Seeing that level of competition and knowing one day that could be you, inspiring your own curling and development, is pretty exciting." 
The last major curling event to occur in London was the Continental Cup in January 2020 at the Western Fairgrounds. The Continental Cup had 12 men's and women's teams from around the world competing for a cash prize as Team North America or Team Europe. 
Zanth Jarvis, the director of sport tourism with Tourism London, estimates the Brier will bring in between $10 to $15 million for the economy. He says that London hosting the 2006 Scotties Tournament of Hearts — the women's national championship — and the 2011 Brier, along with the 2018 and 2020 Continental Cups, is the community showing they are big curling fans, making hosting this event a no-brainer.
"This event is widely regarded as the top curling event in the world," he explains. "It's bigger than the World Championships, in terms of community engagements, ticket sales and attendance. It's the best of the best in Canada, who are going on to probably be favoured at the World Championships and all these international competitions."
Cheslock notes that watching a draw at the Brier is similar to the feeling you get when your hockey team scores — but that feeling is amplified throughout the whole game. 
"You wouldn't expect it but it is loud. People come with cowbells and they're cheering for their teams," she explains. "You're watching all of them at once. You feel that [excitement] throughout the entire game as teams are making shots and the whole arena just roars."
The event doesn't stop after the last rock is thrown. The Brier hosts the Original 16 Patch down the road at RBC Place, which features live concerts from local London talent and off-ice games. The Patch has free entry, and offers food and alcohol for purchase. Players may come to mingle and sign autographs, offering attendees the chance to meet new people and drink with the athletes. 
The Patch is hosting a college and university pub night on March 8, and Jarvis says the entertainment will be "geared towards the student lifestyle." 
"It kind of has an Oktoberfest vibe," he says. "You never know who you can see at the Patch on any given night."
While Cheslock's childhood dream of going to the Scotties Tournament of Hearts has been put on the backburner because of law school, she's excited to watch curling and learn more strategy for the Mustangs varsity team. She'll also be bringing classmates to games she's not volunteering for and she's looking forward to introducing the game to them.
"I genuinely haven't met somebody who has ever told me 'I've never tried curling,' and then gone curling and not enjoyed it," Cheslock says. "Especially when you're new, watching some of the shots they make is just mind blowing, like 'how did they just do that?'"
"I think some people might gain a little bit of more of a love for curling than they ever thought they had before," she adds.
The first draw starts Friday at 7 p.m.. Tickets start at $23 and can be purchased on Curling Canada's website. 
— With files from Om Shanbhag