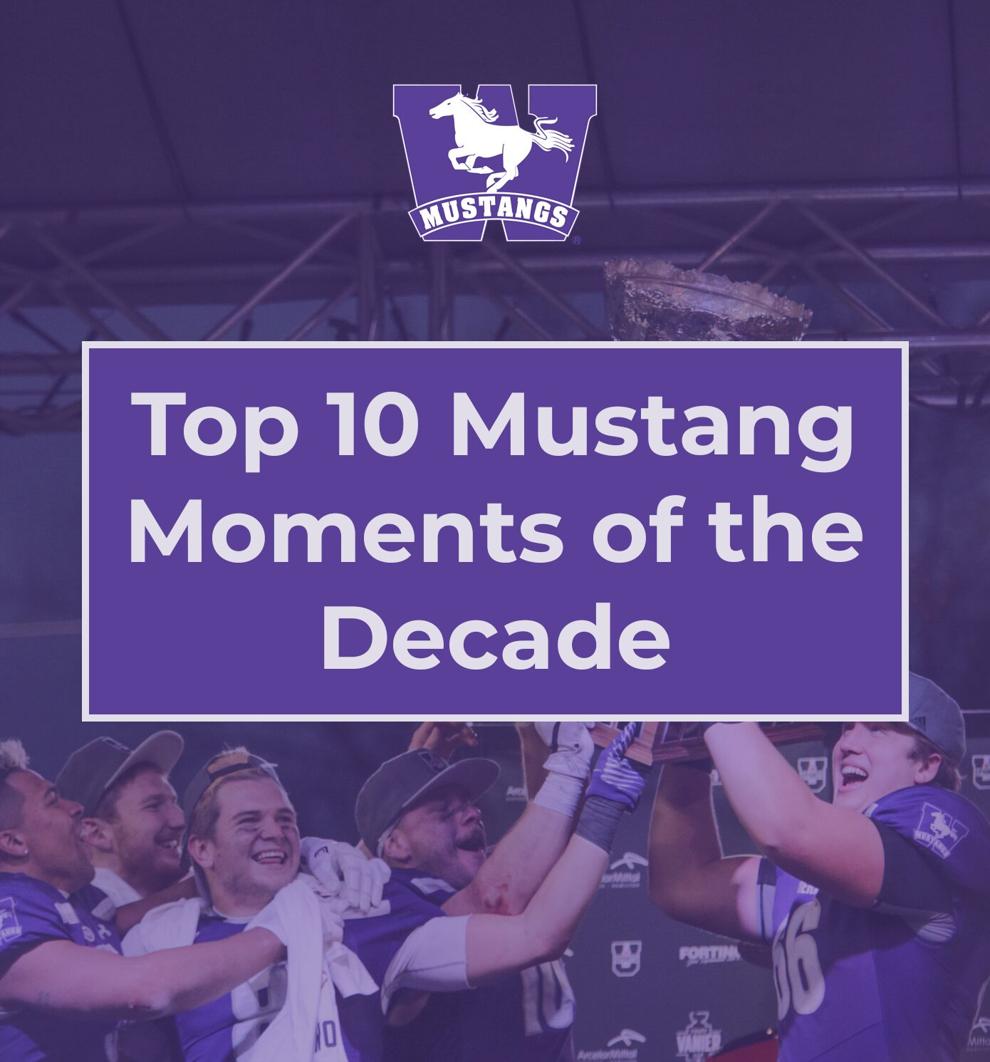 After a Mustang-wide vote that included current and former student-athletes, coaches and students, these are the top 10 Western Mustangs sports moments of the decade. 
No. 10: eSports makes its presence known on campus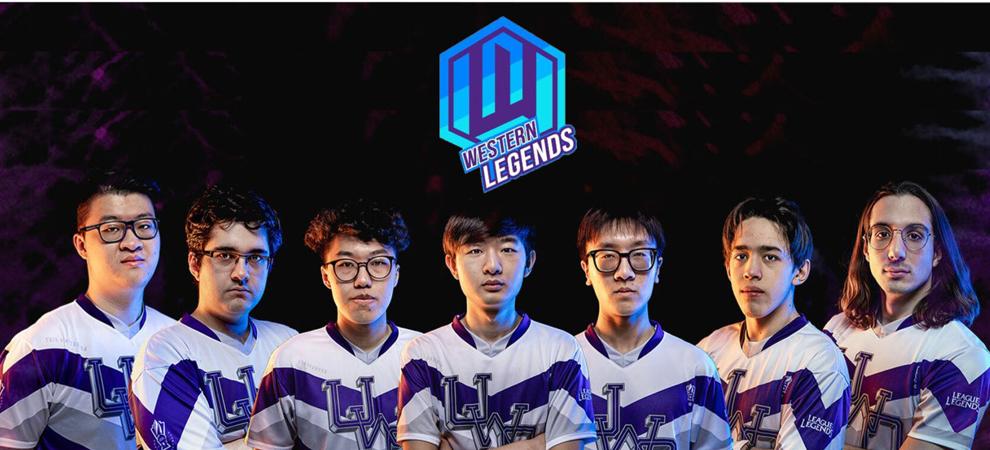 The future of eSports on campus looks bright as Western League of Legends Team continues to garner support since its inception in 2015.
The team is back-to-back Canadian League of Legends eastern conference champions — both 2018 and 2019. The Western U Legends currently compete in the Ontario Post-Secondary ESports league.
Back-to-back conference champions. Recognition from ESPN. North American Championship quarter-finalists in 2018, finalists in 2019 (out of 350+ schools). Broadcasts to 30,000+ viewers.One of the most accomplished teams at Western University is just a club.#THESEAREMUSTANGS pic.twitter.com/D25eqf6YKb

— Western Legends (@WesternULegends) February 22, 2020
Although popular, the team is not yet officially recognized by Western as a varsity team.
"I believe Western will solidify as the best institution both in academics and athletics through supporting the eSports team and many others who have shown great accomplishments," says team captain Danny Qiao.
He hopes that one day the Western U Legends team can gain an official varsity status.
"We want to be able to work with Western and develop something special for the future of eSports on campus," he mentions.
No. 9: 2012 men's track and field national championship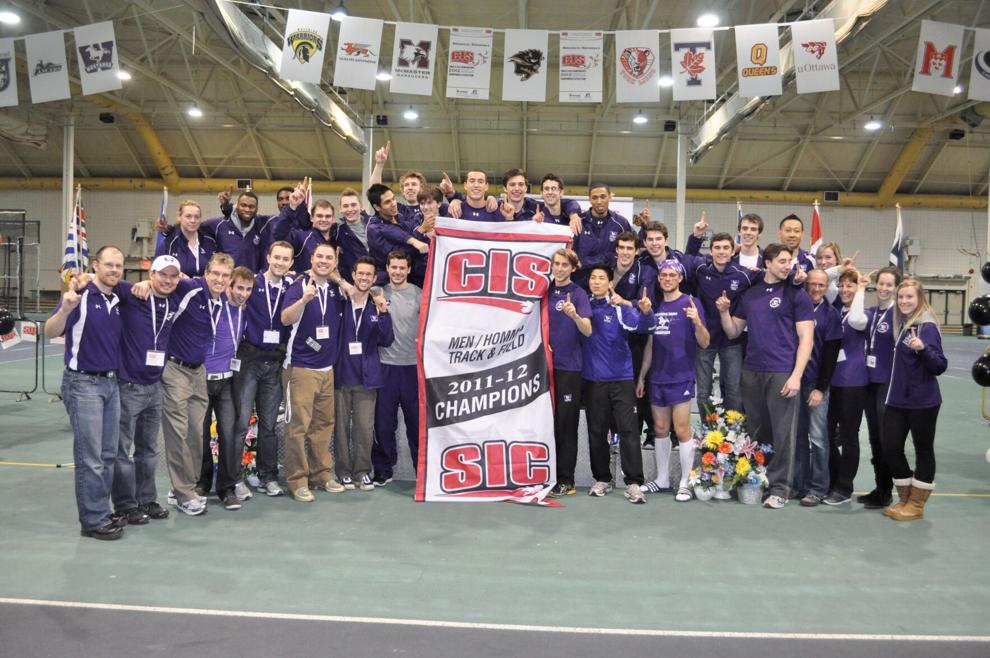 The men's track and field team's first national championship in 2012 was an emotional victory, says head coach Vickie Croley.
Western went into the national championship as Ontario University Athletics silver medalists after finishing just behind the University of Windsor.
"We were underdogs going in," recalls Croley. "We've been close many times over the years and for it to all come together in the way that it did made it much more special."
The four by 800 meter gold medal performance saw each of the Mustangs run personal bests, an event that set the precedent for the remaining championships. Croley mentions it was the lower-ranked Mustangs who stole the show and in the final hours, Western rose to the podium with 90 points.
"Championships aren't easy to win and all of the stars have to align," she explains. "They definitely did for the Mustangs that weekend."
No. 8: Women's basketball 2019-20 turnaround season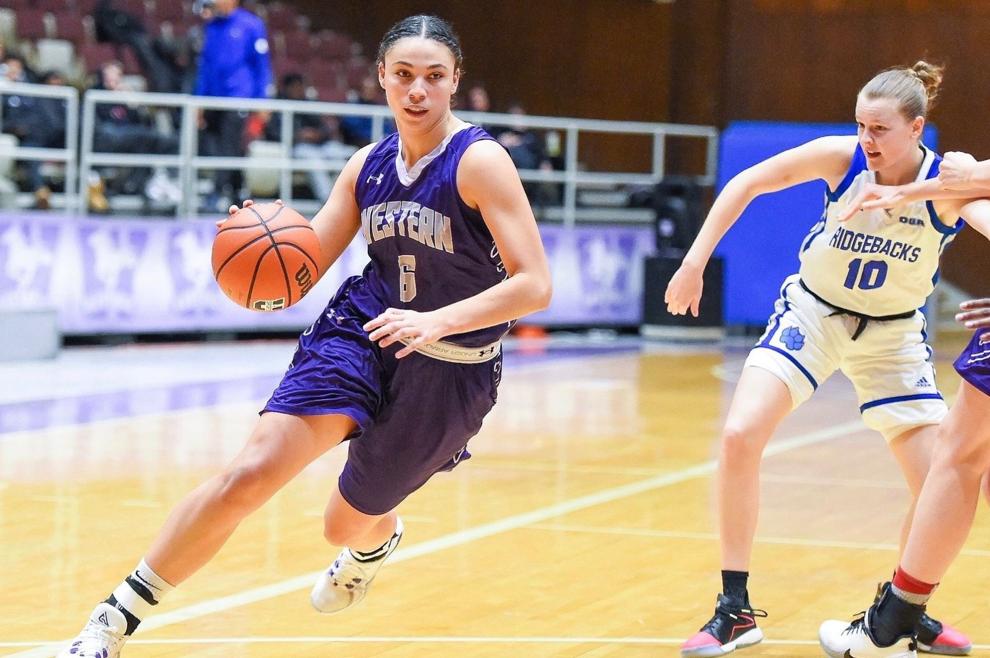 Western's women's basketball team finished the 2019–20 season with a 20–4 record — just one year after they went 5–19.
The Mustangs hired a new head coach, Nate McKibbon, in the off-season that preceded the team's turnaround. Their first game of the regular season on Oct. 23, 2019 saw a 94–68 loss to the Windsor Lancers.
"We made a commitment to be the most improved team by the end of the season," says McKibbon. "Coming out of that game, it seemed to really focus our attention. Even though we got beat pretty soundly, I had a feeling we would turn the corner and start to do some great things."
Western responded to the loss in Windsor with a 12-game winning streak that lasted into the new year.
No. 7: Nikola Farkic's overtime winner sends men's basketball to 2020 nationals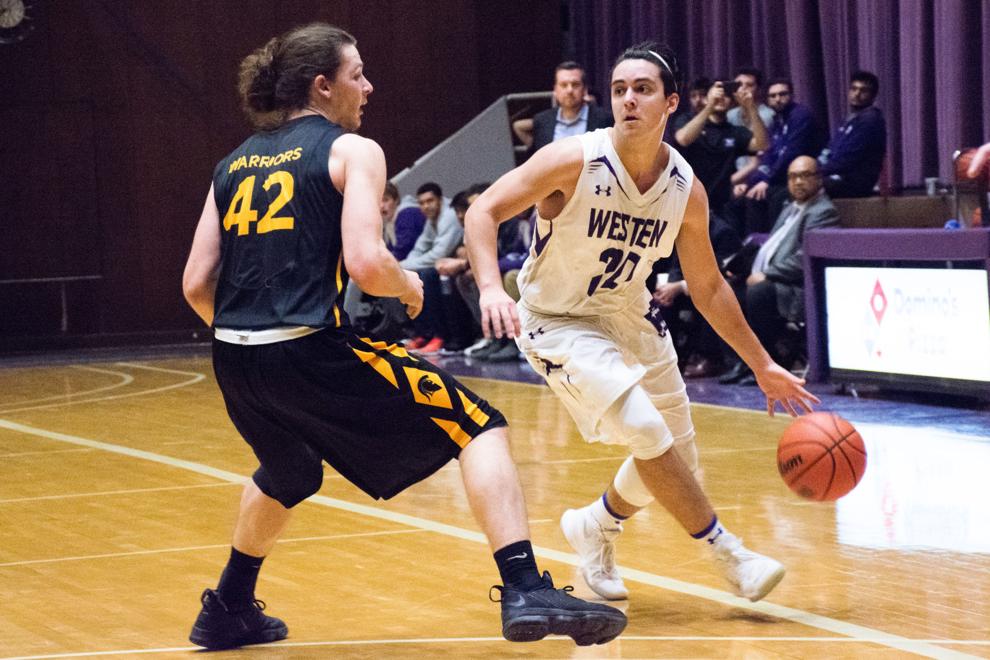 Feb. 26, 2020 will be a night that former Mustangs men's basketball guard Nikola Farkic and his team will never forget.
Western came into the Wilson Cup semifinal game against the Laurier Golden Hawks one win away from a berth in an OUA championship and the U Sports nationals tournament.
At the end of regulation time, the game was tied 94–94 and they were headed to overtime.
With under five seconds remaining in the extra frame, the Golden Hawks were up by two points, 103–101. With barely any time to spare, Eriq Jenkins inbounded the ball to Farkic and the guard fired a perfect shot from beyond the arc. According to Farkic, that wasn't the original plan.
"The possession before, I was talking to [Jenkins] and he said he wanted the ball," recalls Farkic. "But when I saw him inbounding the ball, I knew I was ready."
NIK FARKIC FOR 👌👌!!!! ALUMNI HALL HAS ERUPTED!!!! Timeout Laurier.Western 104 Laurier 103| OT 0:01 pic.twitter.com/w1QaX40XFL

— Western Basketball (@Mustangs_Bball) February 27, 2020
Western was up 104–103 and with just 1.6 seconds remaining in overtime, their defence stood strong enough to win the game.
"It was insane," says Farkic. "The crowd was, by far, the most electric I've ever seen at Alumni Hall. The support really did push us over the edge in that game."
No. 6: Women's rowing dominates decade with consecutive championships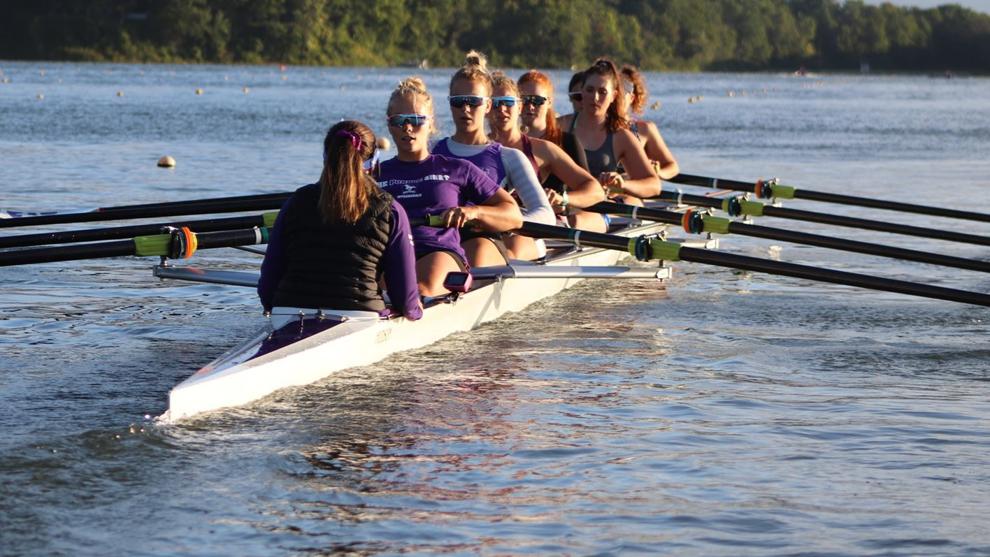 The Western women's rowing team won five straight Canadian University Rowing Association championships between 2013 and 2017. The Mustangs have also won every OUA provincial championship since 2013.
Head coach Matthew Waddell explains that although their winning formula has been its roster size and depth, the most important ingredient was their ability to consistently improve their performance after each event.
"If we placed third in the time trial, we find a way to place second in the final ... or if we were in a tight time trial and we found a way to come up with the gold medal," says Waddell. "It was that ability to see your competition in one race and then step it up for the next one."
#BannerSeason | 🚣‍♀️It was a record-setting weekend on the water for the @WesternMustangs, who not only earn the #OUA title, but do so for the seventh straight year; the longest streak ever on the women's side. 🏆📸 Stephen Leithwood#WeAreONE | #PurpleReign pic.twitter.com/kjhY5zTjmZ

— Ontario University Athletics (@OUAsport) October 26, 2019
One of Waddell's favourite memories during the championship runs was when former Mustang and current Canadian international rower Jill Moffatt raced her way to the podium for both the lightweight and heavyweight divisions, winning gold and bronze, respectively.
"It gave the team a spark and they managed to keep that positive energy going towards a national championship."
No. 5: Women's hockey wins first national championship in 2015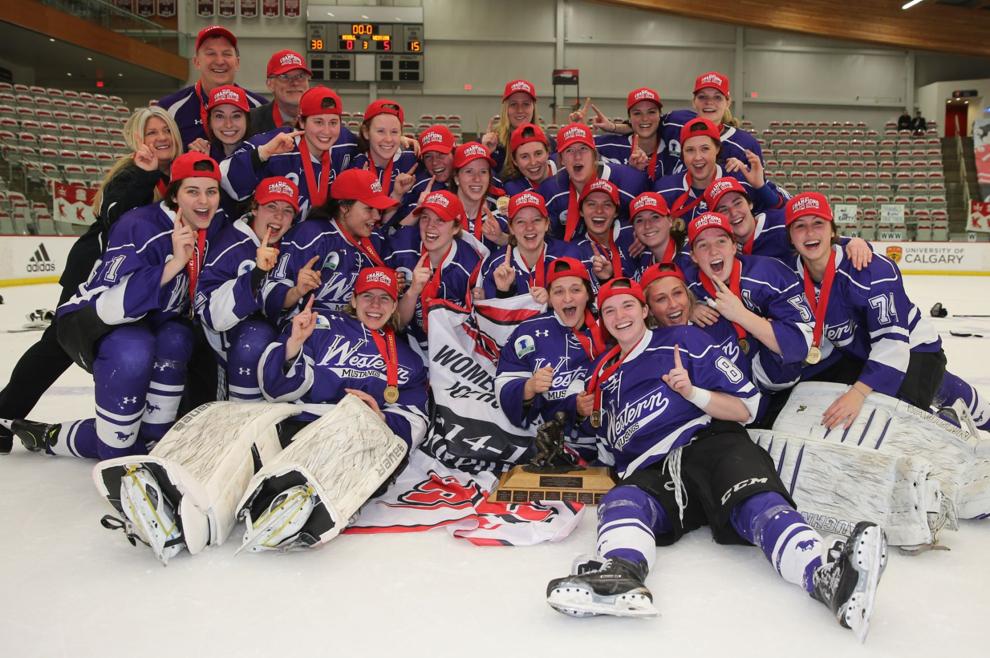 When former Western women's hockey head coach Chris Higgins took over coaching duties in 2010 after just one playoff appearance in team history, he told the university that they'd be competitive — and he was right.
The Mustangs won their first Golden Path Trophy national championship following the 2014–15 season. 
"As we went through each year with a group of players, everybody could see we were getting better," says Higgins. "So, when we finally achieved our goal, the kids were just as ecstatic as were the coaches and myself."
Higgins claims that before that fateful season, the hockey gods were against him in any given game — however, lady luck seemed to rear its head in 2015.
"In the national championship game, McGill came out and they were all over us but, for whatever reason, they couldn't score," he recalls.
McGill took a late penalty in the first period and Western capitalized, scoring the first goal of the game. Mustangs goaltender Kelly Campbell shutout McGill and the team celebrated a 5–0 victory.
No. 4: Men's lacrosse four-peat national champions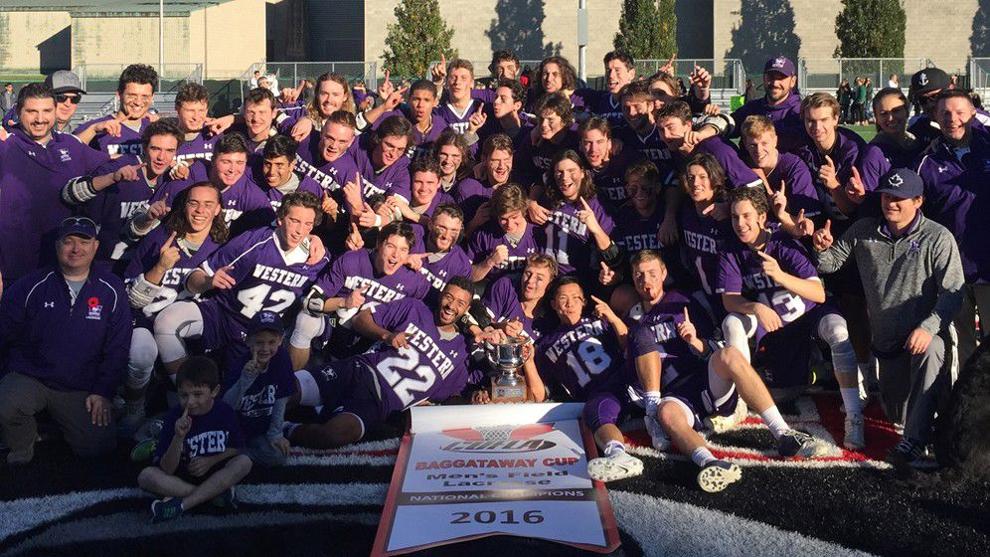 At the end of the 2019 season, the Mustangs men's lacrosse team received national championship rings featuring four diamonds — one for each of the last four Baggataway Cups they've won since 2016.
Head coach Jeremy Tallevi believes it was competitiveness and drive that got Western to the top in four consecutive years.
"We were blessed with great captains each year who knew the pulse of the team and pushed us to our limits," says Tallevi. "It was a selfless group with one goal — to win."
M🥍 The @MustangsMLax are FOUR TIME #BaggatawayCup champions. 🏆🏆🏆🏆🥇🥇🥇🥇They picked up an 8-5 win over @TrentExcalibur this afternoon.Congratulations Mustangs!!#WesternMustangs #RunWithUs #westernu #purpleandproud pic.twitter.com/hgr8sFRJkY

— Western Mustangs (@WesternMustangs) November 10, 2019
Each of the four championship years were special to Tallevi and the team in their own way. 
In 2016, Western won their first national championship since 2001. The fourth Baggataway Cup in 2019 was a big year, as the Mustangs worked through adversity throughout the season.
"We struggled during the [2019] year and battled with some key injuries but managed to peak at the right time and win with a huge performance from a freshman goaltender," explains Tallevi.
No. 3: Cheer captures third non-consecutive decade of national championships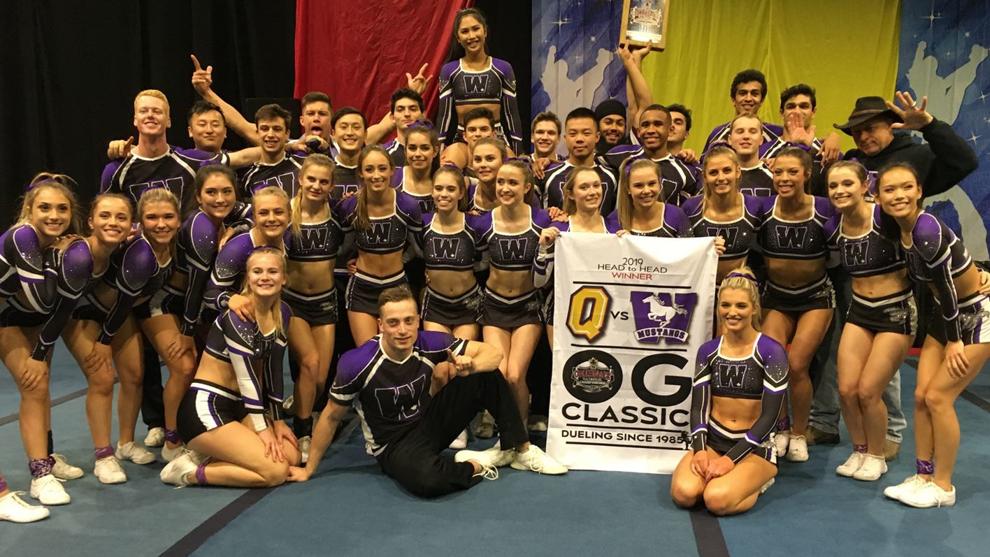 Western's cheer team has placed first since 1985, save one year — 2007— winning the team more national championships than any other Mustangs team, with 34 titles.
Head coach David-Lee "Trace" Tracey credits Western's reputation in the Canadian cheerleading sphere for its ability to consistently attract elite recruits. Although the Mustangs cheer squad had dominated their competition on paper, Trace says that seasons, like the 2011 Cheersport nationals, were far from cakewalks.
Western Lrg Co-Ed 🇨🇦 pic.twitter.com/PPQoWPj3HX

— CanadianCheerUpdates (@CACupdates1) November 25, 2017
"[Competing against Americans in Georgia] was a real thrill," says Trace. "I love beating up on the Americans in their homecourt. I know all the kids who were on the team at that time knew it was pretty special."
Once the league suspension is lifted for the next season, Trace's team will be looking towards another decade of title runs.
"With all of the restrictions we have, we're trying to keep the athletes active," he explains. "We'll go out next year hungry as heck and go straight into the next decade."
No. 2: Men's squash wins third straight decade of OUA championships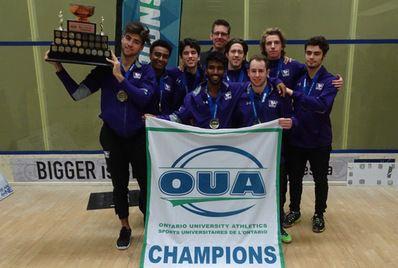 Since 1984, the Mustangs men's squash team has won 37 consecutive OUA championships and doesn't plan to stop dominating any time soon.
"It's been a great legacy," mentions former head coach and player James Van Staveren. "Hopefully it continues very far into the future."
Western has been able to compete in both the Canadian and American leagues in its storied history. Competing in the two countries has always been seen as an appealing part of the team.
The 36-year dynasty of Western Mustangs men's squash:https://t.co/9CmLY86wMR pic.twitter.com/jLia3i0iqy

— Western Gazette (@uwogazette) February 19, 2019
Over the last decade, Western's toughest competition has been the Waterloo Warriors. The Mustangs have been able to defeat the Warriors in Waterloo for OUA championships, which Van Staveren says were some of the greatest highlights of the last 10 years.
No. 1: Men's football goes undefeated in 2017 Vanier Cup season
The number one moment, as chosen by Western students and alumni, is the 2017 Vanier Cup championship.
Western had won six national championships prior but had not captured a Vanier Cup since 1994.
Head coach Greg Marshall explained that the success of the 2017 team came from a culmination of talent from previous years. In 2016, the Mustangs lost a second straight Yates cup but were poised to come back stronger the following year.
"It wasn't the most talented team that we've had, on paper, but the character on the team and the resiliency to come back and train and play was very rewarding," says Marshall. "If you look at that season, you can see that we got better every single week."
On a rainy Monday night that began with a 30-minute lightning delay in week two of the regular season, Western defeated the Guelph Gryphons in overtime, 41–34. Marshall saw that the team's ability to rise above adversity in that game was a testament to the rest of the season.
The Mustangs won the national championship game 39–17 against the defending Vanier Cup champions — the Laval Rouge et Or.
"It was a complete team effort," he recalls. "Our defense was huge in that game and, offensively, we dominated. It was as complete a game as we played all year."
WESTERN WINS VANIER CUP!#WesternU pic.twitter.com/1P5QJq5W4P

— Susana Gajic-Bruyea (@SGBruyea) November 25, 2017