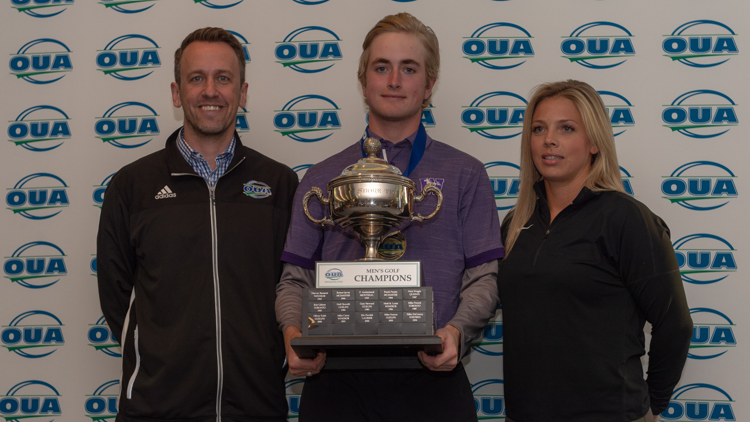 The Western Mustangs men's and women's golf teams competed in the Ontario University Athletics golf championship this weekend at Heron Point Golf Links in Alberton, Ont. Amid rain, winds and frigid temperatures, the men took second, and the women, fifth.
The men's team, which finished with a final score of 620 — just behind the Ottawa Gee-Gee's tournament-leading 618 — was led in large part by Mac Carter, who closed with the tournament's top score. Shooting a five-over-par, the fourth-year golfer led the field by a comfortable three strokes.
Despite tough conditions, Carter came out on fire to open his second round. Through nine holes, the Mustangs golfer shot a 34, putting him at two-under-par for the day.
However, Carter hit a speed bump going into the back nine. The golfer posted a bogey and two double bogeys to open the back half of his final round. However, each of the three holes had been notoriously difficult all tournament. 
Carter explained that the pace of play had a major effect on his hiccup over those three holes.  
"It was tough to keep focus on the back nine because the pace of play was very slow," said Carter. "I tried not to overthink things, but this gets tougher when you're waiting five to 10 minutes in between shots. Some thoughts of the chance of winning inevitably came into my head."
With confirmation that he was leading as he approached the 17th tee, Carter knew that he would likely need to finish with back-to-back pars to come out on top.
Carter flexed this mental toughness on the eighteenth hole. The final hole is a 392-yard par four with a wide stretch of water separating the tee blocks and the fairway. Carter was one of just nine golfers in a field of 163 to finish under par on this tough hole.
Carter, recounted how he was able to pull out an almost perfect hole to seal the victory.
"I hit one of the best drives of my week, which left me 110 yards to the pin," said Carter. "I hit a great [approach] shot.… I rolled a perfect putt and the feeling set in. I had always wanted to win this event; to do it in my final year makes it even more meaningful."
Rounding out the Mustangs men's scoring, Jackson Bowery finished with a 78 and 77, Joseph Burgess shot a 78 and 91, captain Charles Fitzsimmons posted a 77 and 79 and Tyler Nagano completed his 36 holes with an 87 and an 84. 
Interestingly, Bowery, Nagano and Burgess were all first-time competitors at the OUA championship. 
Finishing just two strokes back of defending their title, the team was understandably disappointed they couldn't pull out a victory.
"To lose by such a small margin is tough to digest," explained Carter. "I know the nature of the guys on our team, we will all use this loss to motivate us through the off-season and work hard for a strong finish at nationals in the spring."
Assistant coach Mike Tomlinson explained that there is still much to be proud of, despite the heartbreaking finish.   
"I think the most that I'm proud about is they are a team as opposed to individuals," said Tomlinson. "They supported each other, and so I think that's why they are a good team."
On the women's side, the Mustangs were led by fourth-year golfer Sarah Guerten, who shot an 85, putting her 10th overall for the day. Her teammate, second-year Mustang Amanda Kerr, wasn't far behind, finishing the first day in a tie for 13th place after shooting an 86.
"I was happy with the performance and the fact that the players battled hard and never gave up," said coach Brian Gallant. "The conditions were very challenging over the two days. It was a situation where players may not have realized that everybody was having a difficult event in terms of scoring and that they were actually doing better than they thought compared to the rest of the field."
Day one left the Mustangs sitting in fifth place, with a team score of 260, nine shots behind the third-place Windsor Lancers.
Neither the weather nor the Mustangs improved on the second day, ultimately finishing fifth overall, scoring a 536 over the tournament's entirety.
Second-year Mustang Jennifer Knox scored the lowest score of the second day for Western, shooting a 90. Her performance was followed by fifth-year Tasha MacDonald who shot a 93, proceeded by Guerten and Kerr who each shot matching 97s.
Tasha MacDonald the Mustangs' star for much of the season. She demonstrated skill and control throughout, shooting in the 70s in every tournament leading up to the finals.
The entire roster played well this season, as the Mustangs had a successful campaign despite their struggles in the season's final event.
"All 11 players contributed," said Gallant. "One of our goals was to have players play in more tournaments leading up to the OUAs. In the past, some players may have only gotten into one. All our players competed in at least two competitive rounds this season which is extremely important in terms of development."
With their finish, the Mustangs men will wait until the end of May for their next event, when they will compete in Golf Canada's Canadian University and College Championship from May 28 to May 31.