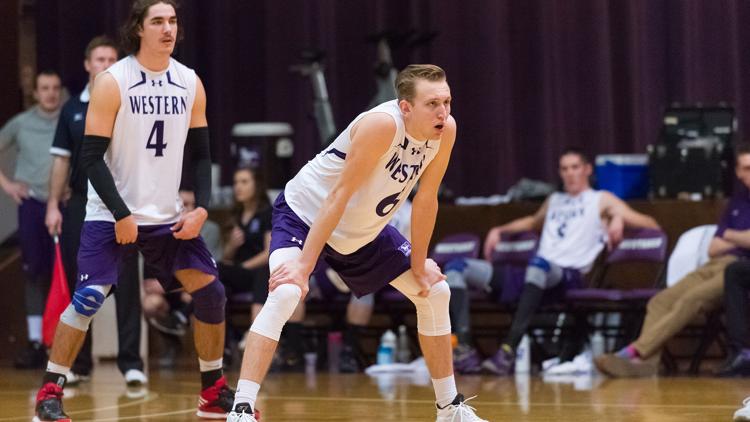 After a second consecutive quarter-final loss to the Ryerson Rams last year, the Western Mustangs men's volleyball team will look to their incoming recruitment class to elevate them to the next level.
This year's crop of incoming players looks promising, with rookies Eric Pierce, Brady Fidler, Ryan Scott and Evan Hochman joining the team.
"We like our veterans and feel we have a real shot at the final four and hopefully beyond," said Mustangs head coach Jim Sage. "Our OUA league and especially the West Division is what we need to focus on. The first years have fit in, and I really like our chemistry."
Fidler and Scott will both be joining the Mustangs from Lakeside, a competitive club in Oakville, Ont. So far, the duo looks promising.
"I wanted four of them from the same team, but got two," said Sage. "We managed to get Brady and Ryan, and they have worked out great so far."
Over the last few years, the Mustangs have done well with pulling two or more players from the same minor teams, ensuring that they have preexisting chemistry with at least one other player when they join the Mustangs. Last season, the team recruited Matt Stasiuk and Ben Hooker from the same junior team in Winnipeg. They joined Ben's older brother Matt Hooker, who had been on the team since 2014.  
"The [first years] might not contribute right away, but they give us great practice depth and competitive natures that really help our program," said Sage. "We hope that they are stars in two to three years. It's a big jump to OUA and U SPORTS volleyball, and they know that. Patience goes a long way in first year."
"We recruit based on our needs as a team and positional depth. We look for academic excellence, character and ability to work in a team setting and obviously skill," said Sage. "We look at club tournaments, high schools and provincial team rosters, as well as emails and videos from potential players."
The new recruits will get their first test when the Mustangs exhibition season gets underway at the Humber Cup this weekend, from Sept. 29 to 30. The regular season kicks off against Nipissing University at home in Alumni Hall on Oct. 10.