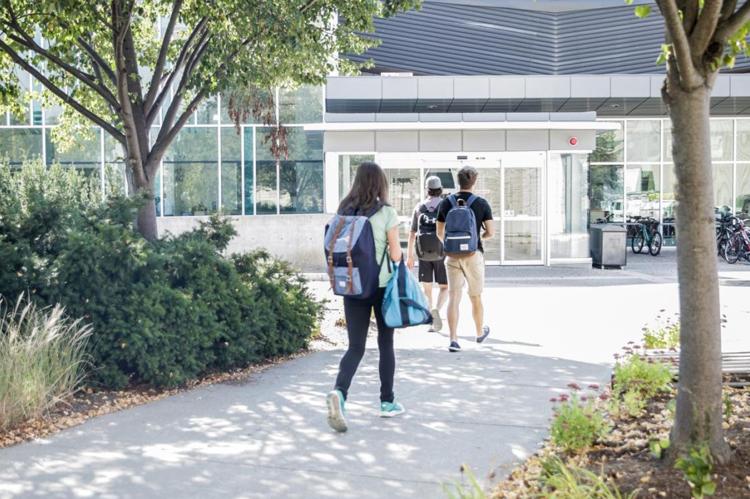 As gyms begin to allow customers during Ontario's third phase of reopening, Western is looking to invite students back. But this year, you won't be able to squeeze in an impromptu cardio session between classes.
Western University opened the Western Student Recreation Centre and Thompson Arena Sept. 7 for students, with faculty and staff allowed later in the semester.
According to Christine Stapleton, director of Sport and Recreation Services, the Rec Centre is following all provincial guidelines, meaning the gym will have reduced capacity and new safety protocols.  
Here's everything you need to know about working out on campus before you get there:
What to know before visiting 
As walk-ins are currently restricted, students will have to book a 60-minute block in advance to guarantee a "pod." The pods are individual workout spaces that allow you to exercise while social distancing.
The equipment in each pod will vary and details of what each one contains will be available upon booking. Each pod provides students with free weights and a mat, but the equipment desk will be closed.  
To book your pod, you have to go onto Western's Sport and Recreation Services Shopping website and click "Facility Reservation Access." From there, students can reserve their spot up to five days in advance.
Cancelations have to occur at least four hours prior to your selected workout time. First-time no-shows will receive a warning via email; repeat offences will result in a temporary suspension of membership.
If you prefer assistance while you work out, there will be an option to book sessions with personal trainers.
There are numerous services that will remain closed upon initial reopening, including change rooms, the pool, showers, massage therapy, towel service, lockers, equipment rentals and squash courts. Washrooms will be open and students can fill water bottles but drinking directly from water fountains will not be permitted. 
Western anticipates similar hours of operation as last year, but with adjustments for additional cleaning.
During your workout
Students are asked to arrive five to 10 minutes before their assigned workout period to work with physical distancing measures and the Rec Centre's reduced capacity. All students have to complete the coronavirus assessment on the Western app in order to be allowed inside.
Students are required to wear a mask and use hand sanitizer as they enter, as masks are required indoors across campus. Any student exhibiting coronavirus symptoms, such as a fever or cough, will not be allowed inside the gym.
Once signed in, students will be directed to their designated pods. There are physical distancing signs around the gym to help students remain distanced. 
Students are only permitted to remove their masks in their personal workout pod.
According to the World Health Organization, masks should not be worn while exercising, as it may hinder the ability to breathe comfortably. But, you will be required to put it back on if you leave your pod at any point.
Leaving the Rec Centre
Students will be given a 15 minute warning and notified at the end of their session when their time slot is coming to a close. Students will then be asked to sanitize the entire pod before leaving.
Before exiting the Rec Centre, all students have to scan their Western ONECard. 
Staff will also sanitize pods between workout sessions. The Rec Centre will be deep cleaned every night.
Still not completely sure?
Students who don't want to visit the Rec Centre in person can partake in virtual workout sessions. While these sessions have been available throughout the summer, they will continue throughout the school year on the Rec Centre's Instagram and Zoom.
"Campus Recreation will be using a hybrid approach, with a mix of in-person programming and online digital programming, to service both students on-campus and students who will be studying remotely in the fall," reads the Rec Centre's FAQ page.
Instructor-led fitness classes will also be available online and outdoors. Indoor classes will follow later in the semester, if physical distancing relaxes and the Rec Centre's capacity is increased.
---
This article is part of our annual Frosh Issue, read the full issue online.