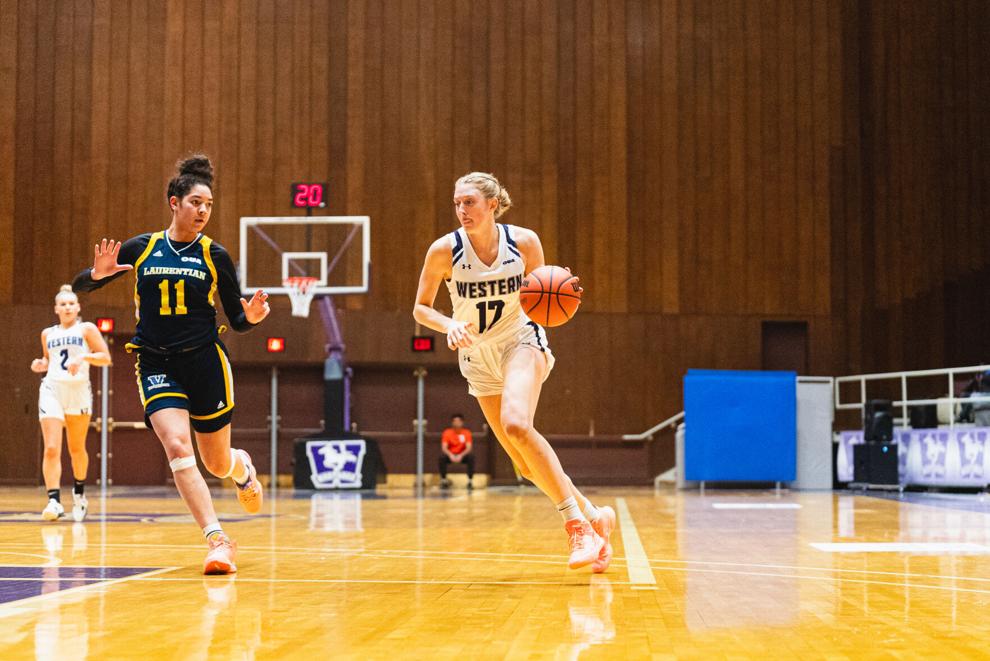 Mustangs fourth-year guard Ariane Saumure was calm talking to reporters after Friday's 72–51 loss to the Warriors, despite the team facing their third consecutive loss.
Saumure and fifth-year forward Brett Fischer tried to describe what exactly happened Friday as Western University lost their third game in a row, but it was clear how the team was feeling.
"It's a pretty tough loss," said Fischer. "We know we wanted it, especially because our record is not great either."
W 🏀 | FINAL SCOREThe Mustangs couldn't find their way back into this one as they fall 72-51 to the Waterloo Warriors. The Mustangs are next in action on Jan. 20th at 6pm in Oshawa as they take on Ontario Tech. WES | 51WAT | 72#RunWithUs #WesternMustangs #WESvsWAT pic.twitter.com/ZJ8ALcaJ3P

— Western Mustangs (@WesternMustangs) January 14, 2023
But the now 7–5 Mustangs haven't lost any confidence from their recent winless streak. According to the team, righting the ship will come from a combination of rest and course correction. Western is scheduled to have two days off following Friday's loss.
"It's going to be really important to take care of our bodies and refresh," Saumure said. "Watch the game, pick things out we want to work on, and things we did well."
One thing players said cost them the two points Friday isn't found on any box score.
"It just comes down to grit sometimes," Fischer said. "I think [the Warriors] had a bit more, unfortunately." 
On paper, the Mustangs and the University of Waterloo Warriors are two evenly-matched teams, with similar points per game numbers and win-loss records.
The Mustangs didn't have a good start — or end — to the game, being badly outscored in the first and fourth quarters. Waterloo took a commanding 18–9 lead in the opening frame off effective physical play and defence. The Warriors also outscored Western 24–7 in the final quarter.
W 🏀 | END OF 1ST QUARTERAriane Saumure helps keep the Mustangs in this one as they find themselves down 18-9 to Waterloo at the end of the opening quarter. WES | 9WAT | 18#RunWithUs #WesternMustangs #WESvsWAT pic.twitter.com/fJ6i7Kd0ST

— Western Mustangs (@WesternMustangs) January 13, 2023
The Mustangs only made four three-pointers as a team on 27 attempts. And from the field, they shot a mere 26.7 per cent. Comparatively, last week against the University of Windsor Lancers, the Mustangs shot 24 per cent from the three-point line and 31.3 per cent from the field.
Waterloo also out-rebounded Western, grabbing 49 boards with 16 in their offensive end. The Mustangs had just 37 total with 10 on offence.
Western gave up additional scoring opportunities as they got into foul trouble. The Mustangs recorded 18 personal fouls and gave the Warriors 22 free throw attempts in the game.
"I thought we had a good week of practice," said Mustangs head coach Nate McKibbon. "Some of the stuff we worked on didn't necessarily translate to what would happen on the court."
At the end of the day, having "grit" seemed to be the main difference between the Mustangs and Warriors, according to players.
"We beat ourselves," said Saumure. "I didn't find that [the Warriors] blew us out of the water. It comes down to ourselves and sometimes that's your worst enemy."
The Mustangs hit the road next week as they take on the Ontario Tech University Ridgebacks Friday and the undefeated Queen's University Golden Gaels on Saturday.
But Western said there's work to do before they touch the court again.
"We got a lot of stuff to work on," McKibbon added.