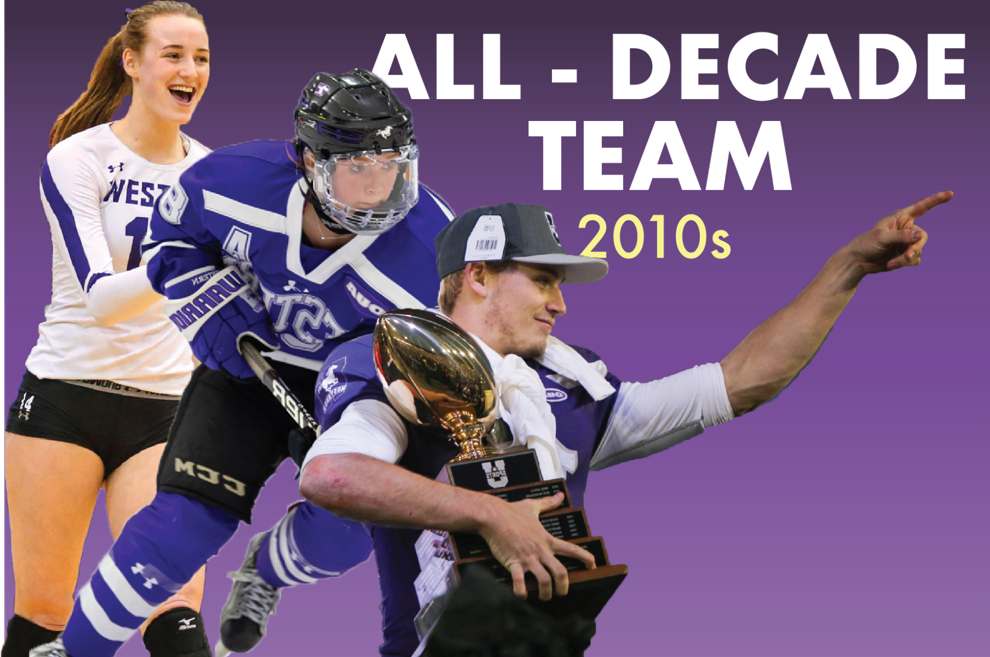 Since the 2010 season, the Western Mustangs men's football team has won its first national championship since 1994 and four Yates Cups — and those victories didn't come by chance.
Over the last 10 years, Western University has had more than its fair share of Ontario University Athletics All-Stars and U Sports — formerly Canadian Interuniversity Athletics until 2016 — All-Canadians.
Honouring the turn of the decade, Mustang athletes from the past 10 years will be amalgamated into a single All-Decade team. Each Mustangs All-Decade team will feature a First-Team and a Second-Team, showcasing the best athletic talent that Western has had since the 2010–11 season.
Each list of student-athletes will be carefully selected based on individual achievement — OUA All-Star, U Sports All-Canadian, Most Valuable Player awards, records — and skill within their primary position group. Championships, impact on high-caliber teams and Canadian Football League appearances will also be taken into consideration.
This week, it's football.
Offence and Special Teams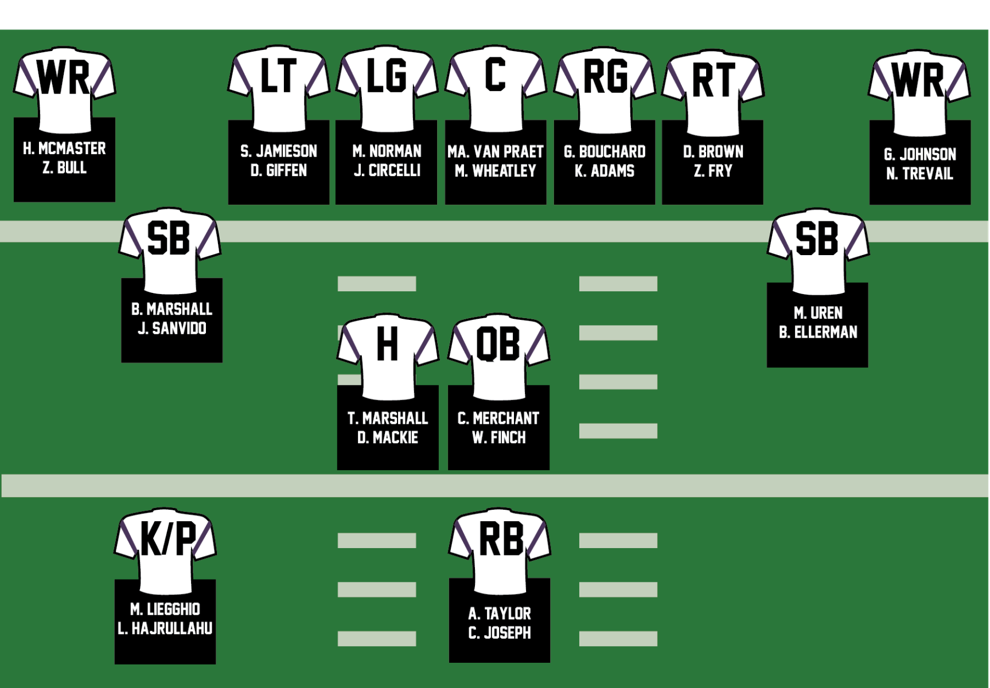 First-Team
Leading the group is quarterback Chris Merchant. Merchant's former Mustangs teammate, Alex Taylor, is taking care of the ground game at running back with Tom Marshall blocking and receiving at fullback. All three played together during the 2016 season when Western fell to the Laurier Golden Hawks in the 109th Yates Cup.
The best hoggies and brawlers on the offensive line in the past 10 years — from the left side to the right side of the line — are Sean Jamieson, Matt Norman, Matt Van Praet, Grégoire Bouchard and David Brown.
The @CFL pre-season is underway. Here is a look at our @westernuFB players. Harry McMaster, Alex Taylor, Jordan Beaulieu, Hakeem Johnson, Josh Woodman & David Mackie with @EdmontonEsks & @BCLions. Fraser Sopik in @calstampeders & Chris Merchant in @MTLAlouettes #westernmustangs pic.twitter.com/6aN5NVk5wU

— Western Mustangs (@WesternMustangs) May 31, 2019
The receiving corps includes Harry McMaster and George Johnson at the wideout spots with Brian Marshall and Matt Uren on the inside at slotback.
Marc Liegghio is the best kicker and punter since 2010. Liegghio has six Ontario University Athletics All-Star honours — more than anyone else in this article. The Winnipeg Blue Bombers selected him in the 2020 CFL draft.
Combined, the All-Decade First-Team offence has 37 OUA All-Star honours and 20 U Sports All-Canadian awards. Also, 10 players on this list have either been drafted or have signed a CFL contract.
Second-Team
The All-Decade Second-Team offensive players are led by quarterback Will Finch. His backfield is made up of some familiar faces with Cedric Joseph at running back and David Mackie at fullback. Both Joseph and Mackie were part of the 2017 Vanier Cup team.
The offensive line includes players from both ends of the decade, including Dylan Giffen, Joe Circelli, Mark Wheatley, Kadeem Adams and Zack Fry, who is the only current Western student-athlete.
Zach Bull, Justin Sanvido, Brett Ellerman and Nick Trevail make up the Second-Team for receivers. Ellerman is the most recent Mustangs alumnus, graduating after the 2019 season.
Lirim Hajrullahu is the second selection for kicker and punter out of all specialists during the last decade. In the 2010 season, his last-minute field goal in the Yates Cup won the OUA championship for the Mustangs. Hajrullahu has signed National Football League contracts with the Los Angeles Rams and the Carolina Panthers since summer 2020 but was recently released by Carolina on March 22.
#Panthers head coach Matt Rhule: 'Lirim [Hajrullahu] really impressed everybody at the workout' https://t.co/FhKOF0WXDM#Carolina l #KeepPounding l #NFL l #CFL l #USports pic.twitter.com/E50ePpRuyE

— Justin Dunk (@JDunk12) December 9, 2020
Of all these former student-athletes, there are 17 OUA All-Star honours, six All-Canadian awards and five CFL players.
Defence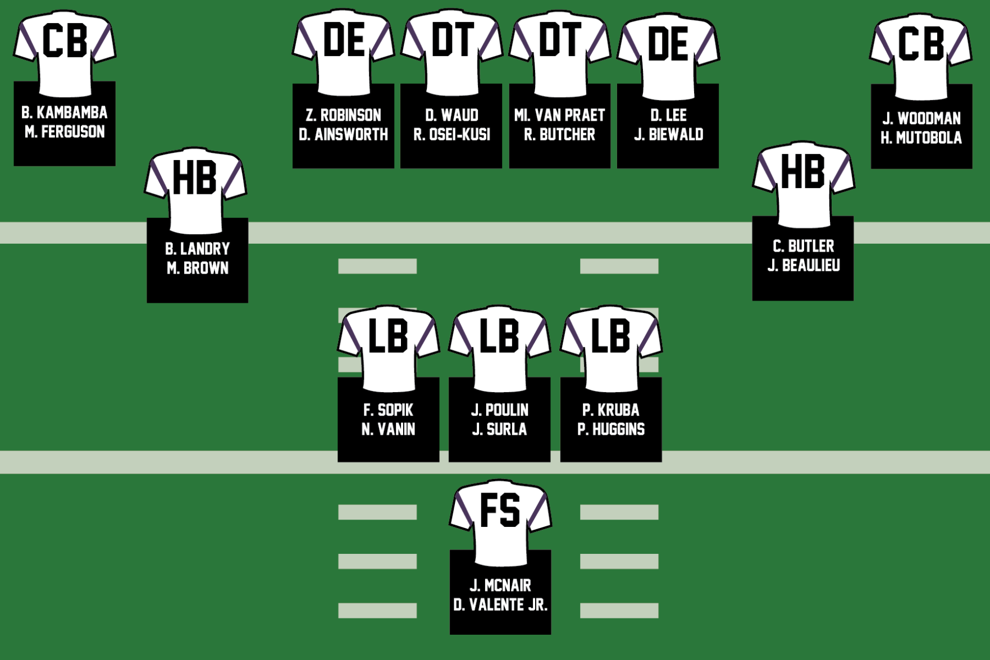 First-Team
The top defensive linemen from the past 10 years are Zander Robinson and David Lee at the defensive end positions with Daryl Waud and Mike Van Praet clogging up the middle at the defensive tackle spots. All four former Mustangs only played in the first half of the decade and Waud — a current National Lacrosse League player for the Philadelphia Wings — is the only one to have signed an NFL contract.
Former @TorontoArgos & @REDBLACKS D-lineman @dwaud99 has signed a contract in the @NLL!Snap | https://t.co/0FAeOiCXIB pic.twitter.com/8nPsDZngEz

— CFL (@CFL) August 6, 2019
Fraser Sopik, Jean-Gabriel Poulin and Pawel Kruba lead the defence as linebackers, calling plays and audibles with an established record of dominance. Sopik is currently playing for the Calgary Stampeders, Poulin is with the Montreal Alouettes and Kruba is a former Hamilton Tiger-Cat.
The best secondary Western can put together from the past decade is Bleska Kambamba and Josh Woodman at cornerback, Beau Landry and Craig Butler at halfback and Jesse McNair as the last line of defence at free safety. In the 2010 season, Butler won three OUA All-Star awards at three different positions — halfback, rush and cover and kick returner.
All together, the All-Decade First-Team defence includes 31 OUA All-Star honours and 15 All-Canadian awards. Ten of the above players have also been drafted or signed by CFL teams.
Second-Team
Dylan Ainsworth and John Biewald are setting the edge for the All-Decade Second-Team defence while Ricky Osei-Kusi and Rupert Butcher take up the middle. Osei-Kusi could play anywhere on the line and Biewald played both linebacker and defensive end during his career.
The next three best linebackers since 2010 include Nick Vanin, John Surla and Preston Huggins. Surla and Huggins both played in the CFL and Vanin is a former Top 8 Academic All-Canadian and the 2017 Russ Jackson award recipient for academic achievement, community service and athletic ability in U Sports football.
🗣Balancing playing 🏈 for an eventual Vanier 🏆 championship winning roster, studying for his medical science & community work isn't an easy task but @WesternMustangs' Nick Vanin finished out the 2017-18 academic & athletic season as the U SPORTS Russ Jackson 🏅winner 👏 pic.twitter.com/ok2XT6yDDL

— U SPORTS (@USPORTSca) January 29, 2019
The second grouping of the best defensive backs of the last 10 years starts with Mackenzie Ferguson — another Russ Jackson award winner — and Harold Mutobola at cornerback, Malcolm Brown and Jordan Beaulieu at halfback and Daniel Valente Jr. at free safety. Brown played with every player in this secondary other than Valente Jr..
For defence, the Second-Team has won 18 OUA All-Star awards, seven All-Canadian honours and nine have made their way to the CFL.