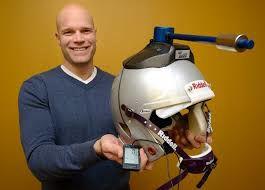 In February, London-based company TopSpin Technologies was awarded a huge honour from the NFL with the 1st and Future award. Theo Versteegh is the inventor of TopSpin360, the innovation that claimed this award for the company. The award came with a cash prize of $67,000 and two tickets to Super Bowl LIII. The TopSpin360 is a training helmet designed to strengthen the neck muscles of athletes to prevent whiplash concussions.
Versteegh was a Western University student and varsity football player. He received his bachelor's, masters and doctorate from Western, attributing much of his success to the School of Physical Therapy, which supported him throughout his doctorate and his journey in designing the helmet.
The idea for the helmet came about after Sidney Crosby suffered his second concussion in 2011. A few days after it happened, Versteegh found himself discussing the incident with friends after a game of beer-league hockey. 
"We were sitting down by the rink afterward, and given my physiotherapy background, I couldn't help but notice that if he had a stronger neck, he wouldn't have had such a violent concussion," Versteegh said. 
After discussing ideas with his colleagues, he attempted to design a helmet that would train neck muscles to absorb a blow and resist spontaneous movement. Months of building, remodelling and adjusting his approach lead to what is now known as the TopSpin360.
"It's a goofy looking version of a modified football helmet. It has a protruding arm that suspends a small weight. When the individual puts the helmet on, the coordinating contractions of the head get the weight to rotate, like a hoola hoop around the head," Versteegh explained. "The faster the weight spins, the more centripetal force is generated; therefore, the stronger the neck needs to be to keep it spinning and the faster the neck muscles must respond to stabilize the head against the spinning weight"
The helmet trains the neck muscles to act faster and stronger so that when an individual is involved in hard contact, their neck muscles respond accordingly to prevent their head from swinging back and causing a concussion.
Versteegh is a Mustangs football alumnus and explained that his relationship with Greg Marshall, the current Mustangs football head coach, drove this innovation. Versteegh began his doctorate after coming up with his idea for the TopSpin360 and explained that Marshall was very supportive, allowing Versteegh to trial the helmets' effectiveness on Mustang football players.
The premise of the helmet is to alleviate the whiplash effect that occurs when someone is struck somewhere other than their head that may otherwise result in a concussion.
"For instance, when a quarterback gets sacked and they fall onto their back, the head whips back and hits the turf. Based on the NFL's research, this mechanism of injury actually leads to 50 per cent of concussions in quarterbacks. Having a strong, responsive neck would be able to prevent this type of concussion that occurs from direct contact of the head on a surface, Versteegh explained
Versteegh said that although the helmet will not have an impact on direct head contact, it can help prevent indirect blow concussions, when contact is made somewhere besides the head. He went on to say that there is significant overlap between whiplash injury and concussion injury, so much so, that they are difficult to differentiate from each other in a lot of cases.
Currently, the helmet has been used in Western's varsity football and hockey teams, but Versteegh and his physiotherapy students are also beginning to integrate the helmet into training programs for Western's women's soccer team. 
"Interestingly, in women's soccer, 34.5 per cent of all injuries are concussions versus about 25 per cent in football and 20 per cent in men's soccer, so relatively speaking, there's a much higher risk of concussion in women's soccer. And with that, these female soccer players are an obvious target for this type of innovation. The current understanding, based on research for why the concussion rate is so high is that women have comparatively weaker necks and because of that they are less able to protect their heads from this whiplash subset of concussions."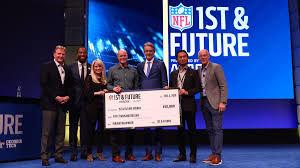 Versteegh said that winning the 1st and Future award, along with its two tickets to the Super Bowl, was a dream come true.
"We ended up going to the Super Bowl, so it was definitely something to tick off the bucket list and fulfill my childhood wish of always wanting to be able to go to a Super Bowl."