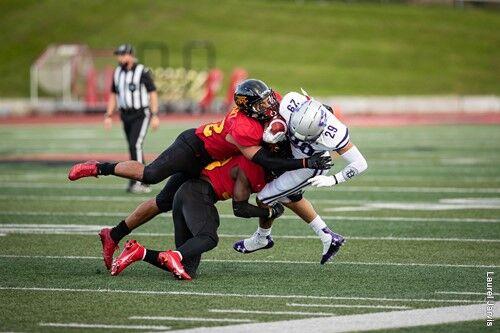 The Mustangs suffered a 23–21 defeat against the Gryphons at Saturday night's homecoming game — their first regular season loss in five years.
Despite last week's dominance, Western University struggled to get their run game going all night long. As a result, quarterback Jackson White attempted 36 passes, completing 19 for 267 yards along with a touchdown and interception.
But Western's busiest player was third-year kicker Brian Garrity, who attempted five field goals throughout the night.
4️⃣ for 7️⃣7️⃣!!!Brian Garrity with his fourth FG of the game.3RD QUARTER WES - 14GUE - 13#RunWithUs #WesternMustangs pic.twitter.com/UGRTY8a0XM

— Western Mustangs (@WesternMustangs) September 25, 2021
After having successfully hit his first four, Garrity's number was called again to kick a 49-yard field goal with less than three minutes remaining in the game. The three points would have been enough to give the Mustangs a one point lead over Guelph University, but the ball hit left upright and out.
The game seemed to be over before Western forced a fumble on the ensuing drive giving the offence another chance at a heroic victory.
The Mustangs faced a crucial third down but were stopped just short of the sticks as White completed a pass to wide receiver Griffin Campbell. Campbell was tackled by a Gryphon defender just one yard shy of the first down marker.
🏈FB HIGHLIGHT: The Gryphon's defense comes up huge to hold the Mustangs a yard short on 3rd down!#GUEvsWES #GryphonPride pic.twitter.com/mQmZdYoGht

— Guelph Gryphons (@guelph_gryphons) September 26, 2021
Western's final glimmer of hope came as Guelph punted the ball with three seconds remaining in the game, but the Gryphons eventually jumped on a bobbling ball as time expired.
The Mustangs came out strong – leading 6–0 after the first quarter – and it looked like the team would be able to run away with the game. Guelph responded with a 10-point second quarter that included a two-yard touchdown pass from rookie quarterback Shawn Lal, and the game was on.
The Gryphons would go on to win the third quarter as well before tying the fourth quarter at seven apiece.
For Western, the loss came with greater significance as the school was celebrating its homecoming weekend back in London, Ont..
Next week, the Mustangs will look to redeem themselves on home turf at TD Stadium against the Sir Wilfrid Laurier University Golden Hawks. The purple and white may have lost week two, but with plenty of football left to be played, each game will only be more important.