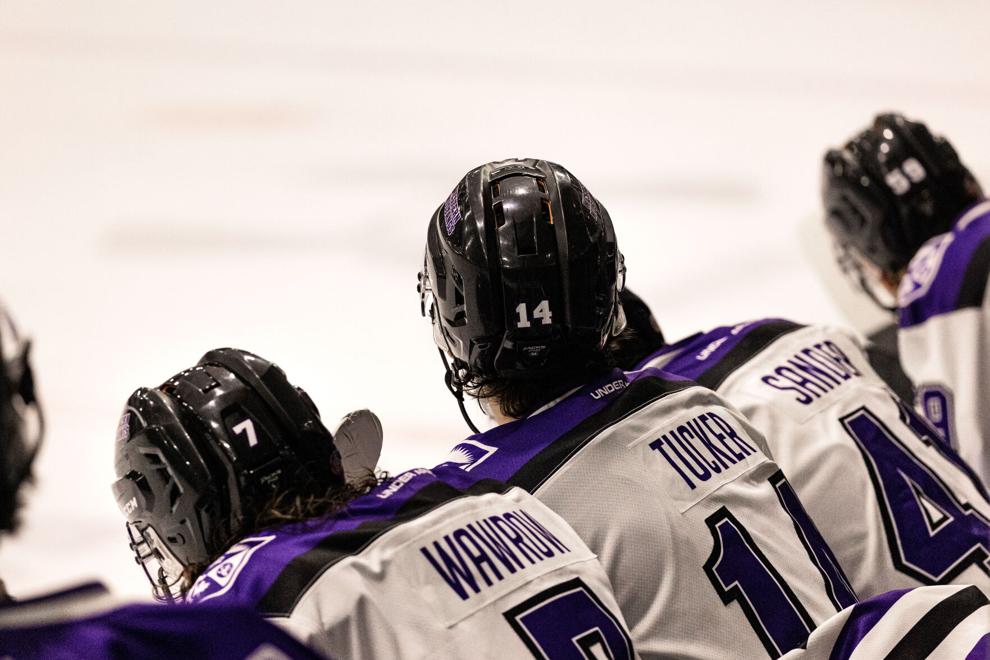 The Mustangs men's and women's hockey teams recorded a pair of wins and losses in a four-game slate this past weekend.
Western University's men's team lost 4–1 against the Toronto Metropolitan University Bold and won 5–4 in overtime against the University of Guelph Gryphons, while the women's team lost 3–0 to the Gryphons before beating the Wilfrid Laurier University Golden Hawks 3–2 on Saturday night in London.
Here are the weekend's biggest storylines:
The leading scorer for the men's team was second-year defencemen Jake Gravelle, who recorded four points in the Mustangs victory over the Gryphons.

The Mustangs women's team was shutout for the sixth time this season in their 3–0 loss on Friday night against the Gryphons — part of a season where they rank second to last in goals across Ontario University Athletics.
Thursday and Friday night blues
In their first game after the winter break, both the Mustangs men's and women's hockey teams lost in disappointing fashion.
On Thursday night at the Mattamy Athletic Centre in Toronto, the men's team lost to the Bold in a 4–1 game where Western allowed two third period goals — a recurring theme for the Mustangs this weekend.
The women's team also fell apart in the third period of Friday night's game against Guelph, allowing two goals while outshooting the Gryphons 13–9 in the final frame.
Saturday night thrills
On Saturday night, the Mustangs men's hockey team led the Gryphons 4–2 after the second period. 
Western had their lead cut in half when Guelph third-year centreman Zachary Poirier scored with six minutes remaining. Gryphons first-year forward Anthony Tabak tied the game with 50 seconds remaining in the third period — forcing an extra frame.
Less than a minute into overtime, the Mustangs rewrote the story when second-year forward Shane Bulitka scored the game's winning goal.
The women's team followed up their Friday night defeat with a 3–2 victory over the Golden Hawks on Saturday night.
Mustangs second-year forward Adeline Kristoff was the team's hero, scoring the game winning goal in the third period — one of her two goals in the match.
Western still allowed two goals in the third period but held the fort, thanks to Kristoff's first multi-goal performance this season.
Looking ahead
Western's men's and women's hockey teams now enter the final stretch of their season. 
The men's team will play a doubleheader next weekend against the York University Lions and University of Waterloo Warriors at Thompson Arena, while the women's team will play the University of Windsor Lancers and Nippising University Lakers in a matching doubleheader in London next weekend.
The women's team kicks off the weekend at 3 p.m. against the Lancers, while the men's team plays the Lions at 7 p.m..