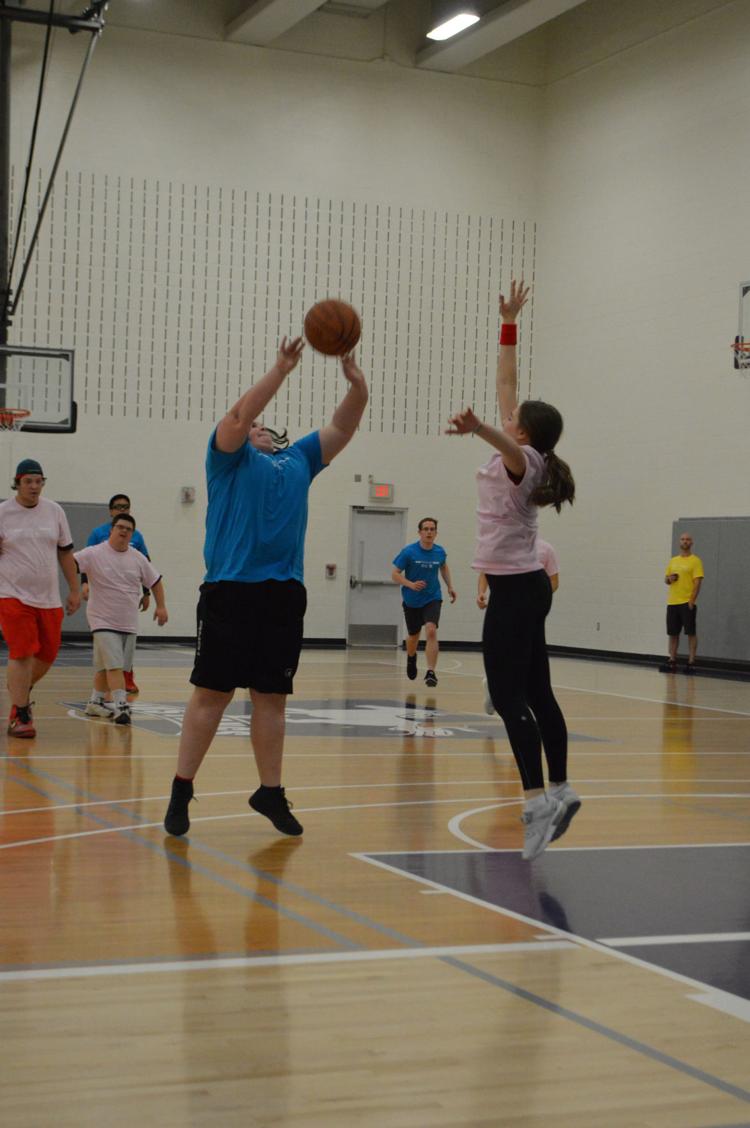 It was a day filled with physical activity, excitement and smiles. This past Saturday, Western University hosted its first ever unified basketball tournament at the Western Student Recreation Centre.  
Western recently partnered up with Special Olympics Ontario to put together a unified basketball tournament. The tournament works to bring together individuals with and without intellectual disabilities to play on the same team.
The day consisted of a round-robin tournament where the top two teams then moved on to represent Western in late May, at Ryerson University. In the next round, they will be facing off against other universities and colleges from across the province.  
Although the event was brought forward by sport and recreation services manager Jenna Smith, fourth-year kinesiology student, Megan Bulmer, took the reins of the event in terms of planning, organizing and executing such a successful day.
"I'm very passionate about getting everybody active and having inclusivity in physical activity as well as giving everybody a fair chance to participate," said Bulmer, with a warm smile. "That's why I'm so excited for this program, the unified basketball tournament, it's really bringing everyone together to play on the same team whether they have intellectual disabilities or not."
Special Olympics Ontario and many other chapters around the world are putting in great effort to expand their social impact by partnering with universities and colleges to provide access to high quality sport and recreation facilities for individuals with intellectual disabilities.
"Our partnership with Western is definitely new, we met with the recreational department late last year and decided that we wanted to get a unified program going," said Christopher Mehak, program developer for school and youth programs at Special Olympics Ontario. "The relationship has been great, the program is mainly driven by a student, it is a student led program, Megan Bulmer has done a lot of work to get this going and has done a fantastic job and that's why it's happening today."
Western however, is not the first post-secondary establishment in Ontario to partner up with this amazing organization.  Although the program has been alive and  running in the States since the 80s, the unified tournament was only brought to Ontario in 2016. In 2017-2018, they ran three pilot programs at York University, Trent University and the University of Toronto- Scarborough Campus, and since then the event has only grown.
As the day went on, all the participants enjoyed themselves, engaging with one another and showing a spirit of playful competitiveness.
"Today is the first tournament we have had, we have a very awesome team. We play hard no matter what. We are the best team ever and I think we're going to win this game," said Bradley Simdon, a member of the light pink team, grinning from ear to ear. "We did great, we score the best baskets ever, we have the best coach ever, I love this team and it's good for me."
Come the new year, Western will be holding unified intramurals every Sunday at the Rec Centre. This will call for student volunteers to act as players, referees and coaches.
"it was a great turnout and the smiles on people's faces just show me that it's worth organizing, it's going to be a great day and I can't wait for this to continue for years to come." said Bulmer.