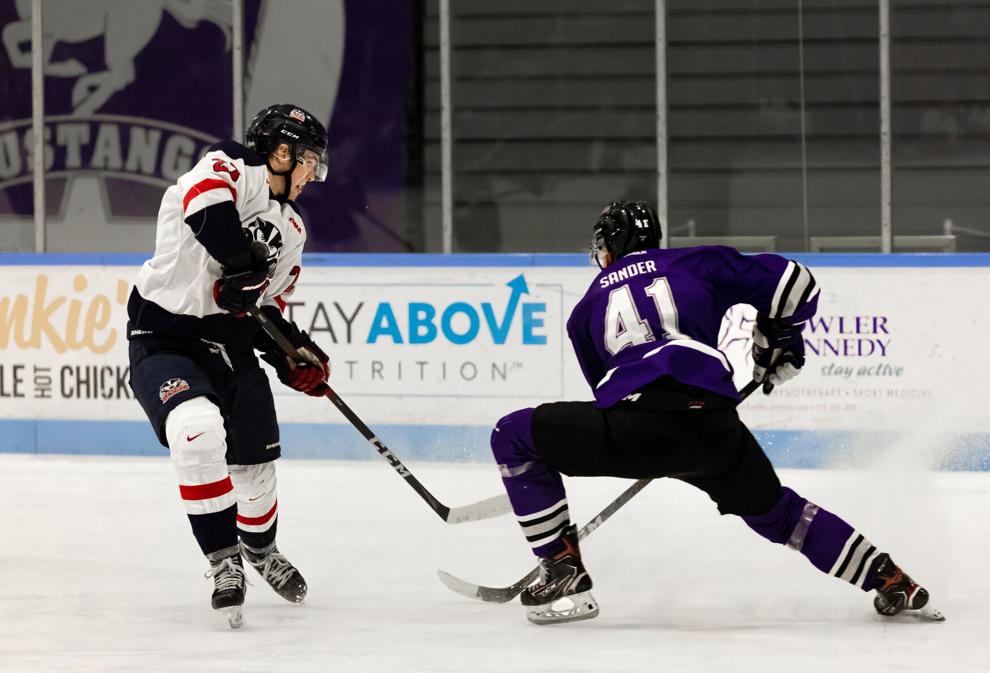 The Mustangs men's hockey team scored even in a two-game set with the Bold and the Badgers last Thursday and Friday night.
Western University won 5–4 in overtime against the Toronto Metropolitan University Bold before losing 5–2 against the Brock University Badgers on Friday night at home.
Here are the games' biggest storylines:
In first-year goaltender Jack McNaughton's fifth start of the season, he stopped 37 shots in an overtime victory against the Bold on Thursday night.
The Mustangs couldn't survive a dreadful second period in Friday night's matchup at Thompson Arena, surrendering three goals on 17 shots during the game's middle frame.
Nail-biting victory
On Thursday night against the Bold, the Mustangs turned to first-year goaltender Jack McNaughton, who allowed the game's first goal within 30 seconds of the opening puck drop. Bold first-year forward Connor Bowie streaked down the right wing before snapping a shot past the outstretched blocker of McNaughton for an early lead.
Western answered the bell with three unanswered goals in the first period to take a 3–1 lead. Despite McNaughton's best efforts to hold the Mustangs lead, the Bold scored three unanswered goals of their own and took a 4–3 lead.
Less than four minutes later, Western second-year left winger Matthew MacDougall sent the game to overtime with a one-time goal.
In the overtime frame, the Mustangs maintained possession before third-year left winger Franco Sproviero scored the game's winning goal over the left shoulder of the Bold's first-year goaltender Ryan Dugas.
Friday night meltdown
On Friday night against the Badgers, the Mustangs couldn't survive a second period that saw them allow three goals — including two powerplay markers.
Five minutes into the third period, Western's leading goal scorer and third-year centerman Sean Montgomery scored the team's second goal of the game — bringing the Mustangs within two.
Eventually, the Mustangs pulled their goaltender for the extra attacker and Badgers fourth-year centerman Frankie Pucci scored with four seconds remaining, giving Brock the 5–2 victory.
Despite the loss, McNaughton started in consecutive games for Western and made 40 saves in the match against Brock.
Moving forward
The Mustangs are set to square up against the Wilfrid Laurier University Golden Hawks at the Sun Life Financial Arena in Waterloo on Thursday at 11 a.m..
Western is currently four points behind Laurier, who owns the final playoff spot in the Ontario University Athletics west division.