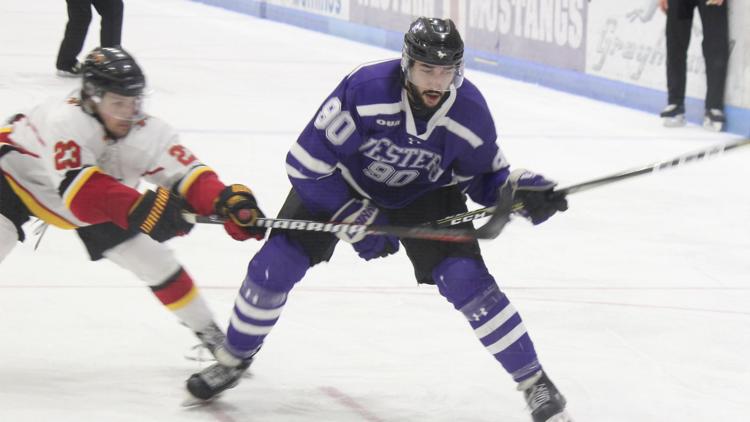 Beaten, but not dead, the Western Mustangs can still move on to nationals despite dropping their Ontario University Athletics West Division finals series 2–1 to the Guelph Gryphons.
The Mustangs won the series' first game 4–3, dropped the second 6–1 and narrowly missed a victory in a double overtime 4–3 loss on Sunday night to end their OUA title hopes.
The opening game of the series was a perfect example of how Western sought to play in the postseason, according to third-year right winger Mitchell Brooks.
"I think how we came out is exactly how we want to play and exactly what we're capable of doing," said Brooks. "We came out and played a north-south physical game and that got us off to a good start."
Brooks was one of the goal scorers on Thursday night. The game featured offence from all four lines as Brooks, Mitchell Fitzmorris, Cordell James and Kyle Pettit all scored for Western.
Pettit, who scored the game winner, has compiled an excellent postseason resume thus far with three goals in eight games. Clarke Singer lauded the efforts of his forward after the game. 
"Right since Kyle's got here he's been one of our top guys," explained Singer. "As you mention, he's so multi-purposed in what he does — plays both special teams, wins important draws, got a big goal tonight for us obviously. He's one of our smartest hockey players, which helps. He's a real leader for us and he has to continue to be one of our best players."
Interestingly, Pettit's game winner was the first time the Mustangs had the lead. Fortunately, Singer explained the group has proven an ability to battle through adversity throughout the season.
"I think our guys have, right throughout the playoffs and not only tonight, been resilient," said Singer. "I said to them, 'we've climbed almost to the top of the mountain, of course it's going to be hard. Of course the other team is going to be outstanding and they're going to play well, too.' You're going to have little valleys in the game and it's how you rebound from those valleys and try to make them as short as possible [that] are going to help you move forward."
In the second game Western wasn't able to break through the valleys, though. The team allowed five unanswered goals before Stephen Desrocher was finally able to break through on the powerplay for the Mustangs in the third.
While the defenceman's goal was not able to end the team's misfortune in game two, his marker in game three, which came with just under two minutes remaining in regulation, kept the Mustangs playoff hopes alive.  
In overtime Western was tested both physically and mentally. Tied at three, one full overtime period could not break the stalemate. Desrocher explained that after four periods the team was running on fumes.
"It's definitely tough mentally and physically," said the second-year defenceman. "The guys were still working every shift, bringing it and playing it with heart. At that point you lose your legs but if you got heart you continue to play. So, then we have a bunch of heart in that room. The guys still battled and it could have gone either way."
The game truly could have gone either way, but it was the Gryphons that eventually found the magic. Guelph's star Danish centreman, Mikkel Aagaard, picked up a loose puck in the slot and ripped home the golden goal.
Even though Western couldn't overcome the Gryphons, the Mustangs' dreams of nationals are still in sight. If the team can beat the Carleton Ravens on the road next weekend in the OUA bronze medal game, they will advance to the national championship tournament. 
Desrocher quickly summed up the resilient spirit in his team's freshly defeated locker room.
"It's definitely going to suck for a few days," conceded Desrocher. "But, we got to get back to it at practice. We can turn it into a positive and make it to nationals and anything can happen there. It's good that we still have a chance to play for a trophy."
The Mustangs will play for their playoff lives in Ottawa on Friday night against the Carleton Ravens.