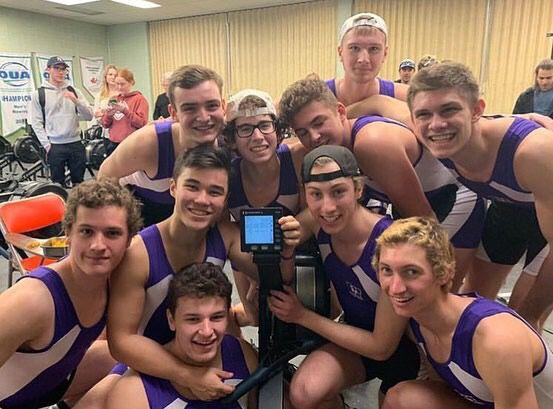 Ten Western Mustangs rowers are now world record holders. Last week, a group from the men's team collaborated to set the standard for one million metres on the ergometer (an indoor rowing machine) for an under-19 small team. 
Obviously, an accomplishment of this magnitude requires a fair amount of forethought. In fact, if you ask Nikko Northrup, one of the lead voices of the event, this challenge has been in the works for over a year.
"Since high school, I thought about doing [the one million metre challenge], but I never really had the guys that were possible to break the record until this year," explained Northrup.
"October was when I first was like, 'All right, this is possible with the boys we have.' "
Even though he and his teammate Elliot Grenier were prepared for the challenge in October, convincing others wasn't an easy task. 
"We were doing lots of weird phone calls being like, 'Hey, so, what do you think you can hold for a million metres?' " joked Northrup. "No one really knew; I didn't really know." 
While the challenge began with uncertainty, it became clear early on that this team was capable of something special.
"Twenty-four hours in, we were still over five seconds per 500 metres faster than the record," explained Grenier. "So at that point I knew we were going to be able to do it. Twenty-four hours before we finished, we could have gone at a 2:10 per 500 metres and still beaten the record. I mean, none of us even go that slow when we do low intensity training. So, we knew [we] were going to get it."
The team completed the challenge in 62 hours, 27 minutes and seven seconds. The Mustangs time defeated the previous standard by a whopping three hours. That was the goal from the beginning though, according to Grenier. 
"We wanted to crush it," boasted Grenier.
As the timing might suggest, the team could never stray far from the erg room across their 60-hour challenge. In fact, the Mustangs were forced to live in their erg room, which led to a fair amount of intimacy for Northrup. 
"For around 40 hours, I was not [farther than] 30 feet away from that erg room," said Northrup.
Making matters even more uncomfortable, with limited time and a need for quick calories, the team relied on a diet that one would not expect for a team of young athletes. According to Northrup and Grenier, the team relied primarily on a diet of white bread, Jujubes, Gatorade and Red Rain energy drinks.
The peculiar diet had a physical effect on Northrup.
"We [tried] to keep off it so we weren't crashing the first two days," Northrup said of the team's energy drink consumption. "But, last day, I think I had like six. I could feel my — I used to have heart problems, so I'm pretty conscious of my heart — but I could lie down [and] hear all my blood pumping. At this point, I was fully shaking."
As well, the team held true to their designation of student-athletes. Incredibly, despite setting a world record, no member of the team missed a single midterm or tutorial. 
In fact, Northrup and Grenier explained that about 30 minutes after completing the challenge one of the rowers was forced to rush off to an exam.
However, all of the obstacles the team overcame en route to their record-setting performance was well worth it to help raise money for the Centre for Addiction and Mental Health.
"Two of the guys who are our age on our team had close friends [die by suicide], so it was a really, really important issue to us," said Grenier. "Some of us are struggling with our mental health, and we want to do something meaningful. And, you know, if you don't have problems with your mental health yourself, you know someone who does. We just really want to bring awareness to that issue and help in any way we could." 
By the end of the challenge, the team surpassed their $4,000 fundraising goal with an impressive total of $4,380. Half of the proceeds will be donated to CAMH and the other half will be used to send a boat of eight rowers to the exclusive Dad Vail Regatta in Philadelphia in May. 
Even two days after the event, the excitement of their accomplishment still hadn't really set in for either rower. 
"I'm still riding that wave of excitement," said Grenier. "I just remember right after I was just kind of delirious. None of us had slept more than like 12 hours in the past three nights."
After a year of dreaming, three months of planning and 62 hours of rowing, Northrup, Grenier, Jonathan Cinquina, Jeremy Lagelaan, Ben Griffiths, Dan Sullivan, Luke Brodie-Brown, Connor Newell, Dustyn Veenstra and Benett Layton can rest easy knowing they are world record holders.