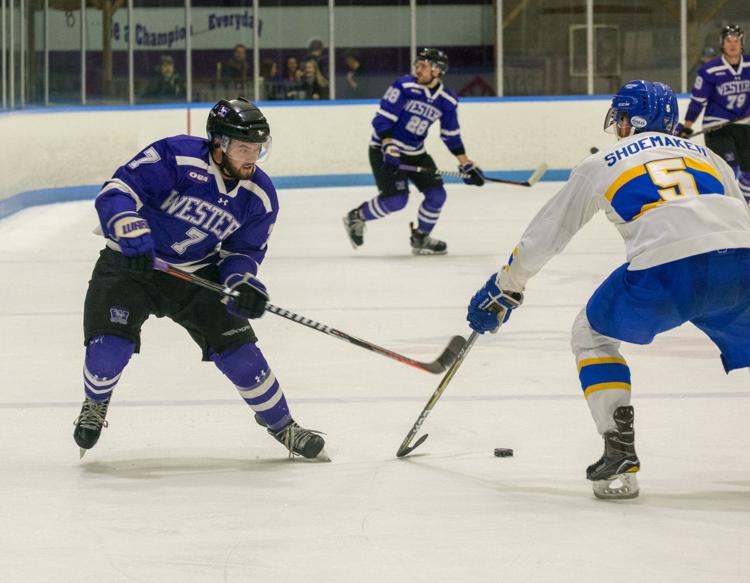 The Western Mustangs men's hockey team split a back-to-back against the Ryerson Rams and Laurier Golden Hawks this weekend.
Despite dominating the first two periods, the Western Mustangs suffered a painful 3–2 defeat to the Rams on Friday night. However, the team came back with a 5–3 victory over the Laurier Golden Hawks on Saturday afternoon. 
The Mustangs opened play tough and fast on Friday night. From opening puck drop it was clear Western was hungry for two key points over a tough Ryerson team.
The team's tenacity to start the game was rewarded early in the opening frame on a power play goal from Spenser Cobbold. The power play, which has struggled all season, has notched two goals in the last three games.
The improvement from this area of special teams was an important note amid a tough loss, according to head coach Clarke Singer. 
"Yeah, it's nice. The guys have worked hard and it has been frustrating for everybody," explained Singer. "We haven't really held up our end of the bargain on the power play. We have to continue to work on it and make some minor adjustments and keep going. But it was certainly nice to see them get a goal and Spenser has been real good for us." 
The Mustangs second goal was also a positive hidden in a loss as first-year forward Kyle Langdon notched his first goal of the year. After the game, the rookie admitted that it was nice to get the metaphorical monkey off his back, but he was still unsatisfied with the game result. 
"It was kind of weighing on me a bit too much," said Langdon. "It's been like, I don't know, 12 or 13 games since I've scored. Yeah, felt good, but too bad we didn't get the win."
The Mustangs fell apart in the third period on Friday. Ryerson tucked home a 5-on-3 power play goal 27 seconds into the final frame, added the tying marker with nine minutes remaining in regulation and completed the comeback with a game-winner with just one second remaining on the clock.
While the nature of the game was already frustrating, it was slightly more agonizing for Western given that a potential 3–1 goal was waved off by the referees for goaltender interference.
Add the disallowed goal and some other missed calls together and it amounts to a fair amount of frustration for alternate captain Cobbold.
"Yeah, pretty bad overall," assessed Cobbold. "Not much else to say." 
However, Singer was able to look past the controversy and set a positive tone for the team approaching their Saturday matinee against the Laurier Golden Hawks.
"You just got to turn the page: the sun comes up, we have to be ready to go at 2 o'clock," said Singer. "That's life, that's sport: lots of bad losses, lots of great wins; you just have to try not to ride the wave too much; have to try to be ready for a tough Laurier team who we've not matched up very well against this year."
The team responded to their coach's wishes on Saturday afternoon, ripping off an important victory over the Golden Hawks. Adam Sinclair buried his first of the year, Langdon netted his second, Ethan Szypula scored twice and Ray Huether added a goal in the winning effort. 
While it is easy to lament the lost two points this weekend, it should be noted that the Mustangs outplayed a dominant Ryerson team despite missing two key defensive stalwarts: Jonathan Laser and Stephen Desrocher.
The Mustangs will likely welcome both defensemen back into the fold next weekend as Singer expects that Desrocher will be back from a minor upper body issue and Saturday marked the final game of Laser's four-game suspension. 
All told, after splitting a weekend back-to-back, Western still sits three points up on the York Lions for third in the OUA West. However, with Brock and Ryerson ahead by seven points with four games remaining, third will likely be the highest the Mustangs can reach this season.
Western will have a chance to defend their third place position next weekend on their final regular season road trip in a Waterloo back-to-back against the Warriors and Golden Hawks.