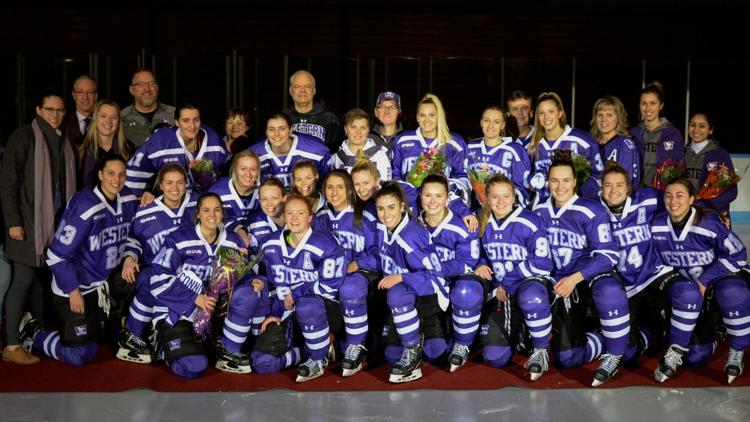 The Western Mustangs women's hockey team dropped the Laurier Golden Hawks and the Waterloo Warriors this weekend as they further solidified their second-place standing in the Ontario University Athletics West Division.
Friday's tilt in Kitchener saw the Mustangs score a pair of goals against the Golden Hawks. April Clark and Shailyn Waites potted one each, while Renae Nevills had a two-assist night. It was a game filled with many penalties, which has seemed to be the theme for Western over their past few games. This time, however, they were in the referees' better graces, as they were only shorthanded five times compared to Laurier's eight.
Sunday's game against Waterloo was a possible playoff preview, with the Mustangs currently second in the OUA and the Warriors in seventh place. However, before the game began, the Mustangs took the time to dedicate a pre-game ceremony in their last regular season home game to their five graduating seniors: Anthea Lasis, Edie Levesque, Evra Levesque, Catherine O'Connor and Waites.
The five seniors were brought onto the ice to be congratulated by the coaching staff before they took a picture with their parents, although the whole team decided to join in on O'Connor's photo.
"It was really nice. We're a close-knit group this year, so it's hard to watch some of them go," said Shana Alexander. "[O'Connor's] family couldn't be here today, so I thought it was really nice of us to all go out there and take a picture, because we are her family."
Waites, who has played for the Mustangs for the past three years, reflected on her experience with much gratitude.
"It's honestly an honour to wear the Western Mustangs logo, and I'm glad to be ending my career with the Western Mustangs."
After the ceremony, the Mustangs went on to play a tight game against Waterloo that saw their confidence build as they fended off five penalties while playing a great defensive game to help goaltender Carmen Lasis record her sixth shutout of the season.
The first period saw the Mustangs come out of the gate ready to play. Great pressure in the offensive zone rewarded them, as freshman Emma Suitor scored her third goal of the season. Suitor's own shot from the point was picked up by Brooke DiCicco in front of the net, who cleaned it up by slotting it through the five-hole.
The second and final goal of the game went to Alexander with two minutes left in the first frame. Evra Levesque tied up a couple defenders along the boards and slid the puck around to the back of the net where Clark dished it out into the slot, giving Alexander a chance for a nifty backhand to put the Mustangs up 2–0.
Despite having offensive success, it was the squad's penalty killing units and netminder Lasis that kept the game in check, as the team's five penalties could have easily let the Warriors run away with the game.
"We have a tendency to put ourselves in situations where, if I were an official, I probably would have called those as well," said Mustangs head coach Candice Moxley. "But, [with] special teams, we have to win those games, and those small games within the game itself, and tonight our girls played really hard within our [penalty kill]."
From a player's perspective, Alexander added, "We have taken a lot of penalties, and it's hard for our team, but it's something we do practice a lot because now we just kind of adapt to that. But I think we do well to recover, and when we do kill off those big kills, it's kind of motivating for our team."
Carmen Lasis' sixth shutout was definitely hard-earned due to all the calls, especially since three of the five came within the last 15 minutes of the game, when the Warriors doubled down on their offense.
"She's great for us; she had great season last season, and she's separated herself in terms of the goaltenders that we have in our lineup," said Moxley. "It's great for her to have that confidence moving into playoffs."
The Mustangs have one game left to play before playoffs start, and they're eager to get post-season play underway.
"We're super excited, going to be practicing hard this week, and we have one more game left," said Alexander. "Then we'll take our reading week to practice every day, get relaxed and be ready for playoffs."
Waites, having won the OUA title with the Mustangs last year, is looking to repeat their efforts this postseason.
"I think everyone's really hyped up. The rookies coming in know what happened last year, and all the girls that were on the team last year really want it as bad as they did, so I think we're heading into playoffs with a strong mindset, and I think teams should be scared." 
With hopes of a long post-season run ahead, the Western Mustangs regular season record has proved that a repeat McCaw Cup win is definitely not out of reach. However, they'll first look to finish off the regular season on the road next week as they go head-to-head with the Windsor Lancers.