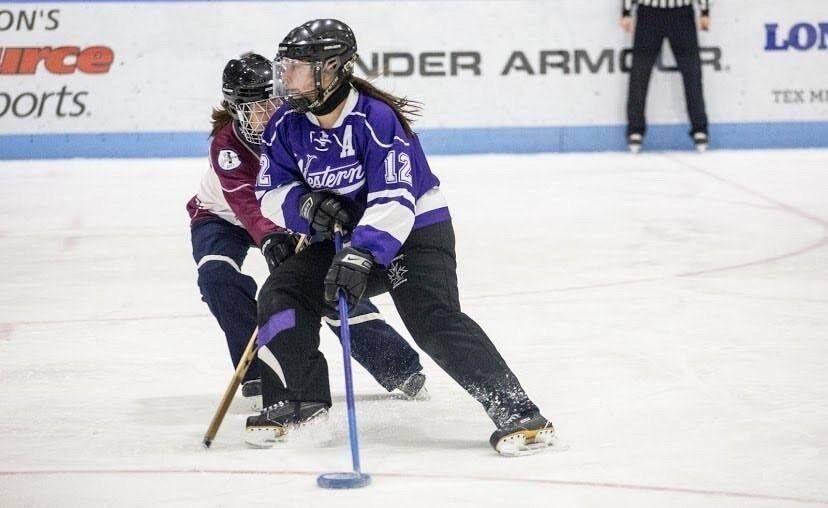 Athletes are usually prepared for the end of their season — schedules are relatively concrete and as the weather changes, the feelings of finality become more intense by the day. Then playoffs arrive and every game or series becomes a do-or-die enterprise.
The Western University Mustangs ringette team didn't have that luxury in 2020.
"The team as a whole was focused on our event more than anything else. Heading in, no one knew how bad things were about to get," explained head coach Ellen McClure.
While the coronavirus outbreak made abrupt ends commonplace in 2020, McClure and the team have an even more unique story — they played the last Mustangs game for over 18 months.
When the team departed London en route to Richmond Hill, Ont. for the Ringette Ontario Provincial Championships on March 11, 2020, the world had already begun to change.
The World Health Organization declared the COVID-19 outbreak a global pandemic that same day and it was becoming clear that the situation was more serious than most had initially thought.
"No one had a clue that this virus we heard about would end up being a pandemic," said McClure.
One year ago today: WHO officially declares COVID-19 a pandemic.Director-General Dr. Tedros: "We're deeply concerned both by the alarming levels of spread and severity, and by the alarming levels of inaction." pic.twitter.com/D0k0wOuYa2

— The Recount (@therecount) March 11, 2021
But there were still games to be played. With the team holding a 27–3–2 regular season record there were also expectations to be met.
The team lost their first of two matchups to the Brock University Badgers but bounced back later that day with a 2–0 victory over the Wilfrid Laurier University Golden Hawks, giving them momentum heading into their last four round-robin games.
The next morning was an early start for the team with a 9:35 a.m. game scheduled against the University of Ottawa Gee-Gees. A handful of Ontario universities cancelled in-person classes that day, including Western.
Even while their entire student experience was being turned upside down back home, the Mustangs still managed to secure a 3–2 win over the Gee-Gees in what was supposed to be their first of two games that day.
"We had set ourselves up to roll through the rest of the event and we were very excited at the prospect of bringing home some hardware," recalled McClure.
In the time between the Ottawa game finishing and their next scheduled game at 3:45 p.m., Ontario University Athletics canceled the tournament, abandoning the season and leaving players without a proper ending.
"I don't want to sound dramatic but it was heartbreaking," said McClure. "I had five or six athletes that woke up that day as varsity athletes but because they were in their graduating year, were going to bed that night with not only a part of their identity gone but with no ending to their story."
The team may not have known it at the time but that 3–2 victory over the Gee-Gees would be the last game for any Mustangs team for over 18 months.
On the morning of March 13, 2020, the OUA announced that all sports-related events were cancelled and any interactions with coaches, committees or athletes would be moved online to limit risk of the spread of COVID-19. After just three months under a league-wide suspension, the conference cancelled all fall 2020 sports competitions and championships on June 8, 2020. The OUA followed up four months later, cancelling the remainder of the 2020-21 athletic season.
The #OUA, under the direction of its Board of Directors, announces the cancellation of all OUA-sanctioned sport programming and championships up to March 31, 2021.Visit our website for the full announcement and related FAQs.➡️ https://t.co/NKCWeCh2Y1#WeAreONE pic.twitter.com/D7jMdtEF1v

— Ontario University Athletics (@OUAsport) October 15, 2020
But for coach McClure, the worst part was how abrupt it all ended.
"I remember having to tell them all after I received the phone call from the Athletic Department and looking at their faces, [I even] broke," she said. "It was a very difficult day. Even the recollection now is emotional."
The team has since returned. Tryouts were held in mid-September and the roster is starting to take shape for what the team hopes will be a much more normal year.
McClure credits Mustangs Athletics for getting her team back on the ice so quickly.
"Many schools didn't bother and we know how much work went into it all on the department side and we're all super grateful for what we got," she said. "Many changes and constant pivots could have made them say 'forget it,' yet they never did."
With immense support from their head coach and their athletic department, the sky is once again the limit for the players on the ice.