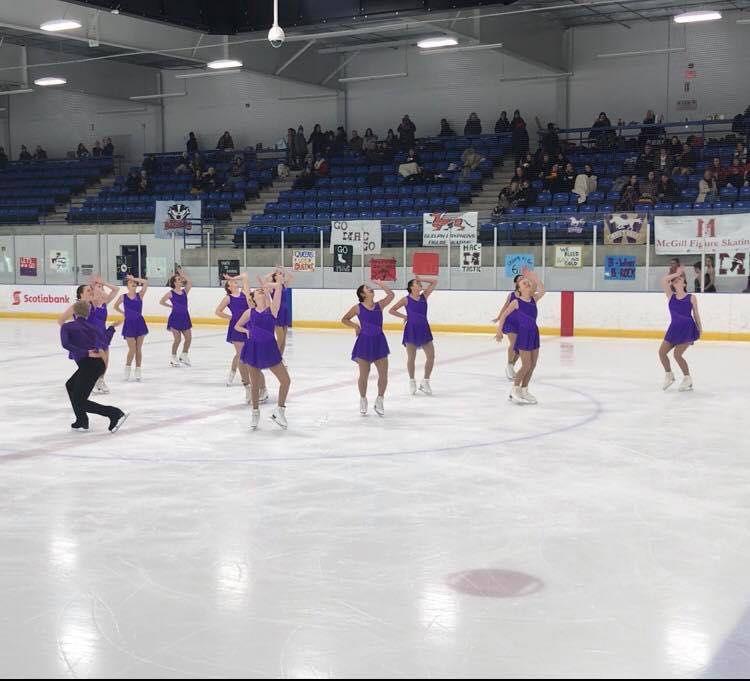 The Western figure skating team is showing extraordinary promise, as the team has medaled at every meet they have competed at this season.
On Jan. 29 and 30, the team attended the Winter Invitational at Scotiabank Pond arena in Toronto and, as could be expected, they fashioned exceptional results. Of their 34-person roster, 17 athletes competed and brought home a impressive collection of hardware. 
Some of the most outstanding performances showcased a mix of both rookies and veterans. Anna Cappuccitti, who is new to the team this year, competed in the star 10 solo dance category and handily won the event. This is an especially impressive feat considering Cappuccitti, who is characteristically a synchro skater, had long been out of practice in competing in an individual event. First-year athlete Madison Shaw executed a close-to-perfect skate that placed her third in the competitive category. However, Shaw was far from done — she was joined by teammates Paige Cooper, Natalie Li and Clara Campbell to compete in the pairs four free skate category. It was their first time competing in this event together, but that didn't stop them from bringing home yet another win for the team. 
Western's domination of the podium was not over: in the open men's free skate, third-year athlete and assistant coach Denis Margalik easily captured the gold. For the entirety of his varsity career, Margalik has been undefeated and this competition was no exception. As a former competitor at the senior international level, Margalik is an absolute asset to Western's team. Don't let his humility fool you — his free skate skills are unparalleled in Ontario University Athletics. 
Both Margalik and Chris Anthony, team manager and fellow skater, agree that there is something distinctively remarkable about this year's figure skating team. 
"We have been on the team for three years, and each year has been a different year in terms of how close the team has bonded and how strong the team has been athletically," said Anthony. "In both respects, this is the strongest team we have had in years."
Additionally, Margalik and Anthony give special credit to captain Kinsey Greenfield for taking leadership in being a unifying force for the team this year.  
Looking ahead to OUAs, though the official roster has not been set, Western's coaching staff is confident that the synchronized skating troop will be a force to be reckoned with.
"[Synchro] is definitely a crowd pleaser," said Anthony on the event. "It is a lot of personality — we have a double axel in the program, which is exceptional for synchro and this only adds to the enthusiasm level." 
The team has solidified a very successful synchro program that not only won by a sizeable margin this past meet, but also won at the OUA championships last year. In terms of scoring, the synchro category is worth the most points and because of this, the group that wins the event has a good chance of winning the overall team title.  
The figure skating team will compete at the OUA championships in Kingston on Feb. 12–13, and with the momentum they have developed over the season, only good things can be expected.