In team sports it's often easy to overlook the talent of those not recording touchdowns, goals or kills. But it's often the strength of the assisting players that allow a team to succeed.
In volleyball, the setter is the player responsible for receiving the pass and placing the ball in the perfect position for a kill. A good set makes a good play and good plays make a good team.
Katherine "Kat" Tsiofas is the starting setter for the women's volleyball team. Actually, she's the only setter for the women's volleyball team.
"Due to injury, we have only had one setter the entire season," explained women's volleyball head coach Melissa Bartlett. "[Tsiofas] has played every single point of every single match since October."
As starting setter, Tsiofas would naturally play in all games, but in this case there is no other option.
"It's definitely hard, especially in practice because I never get a break," said Tsiofas.
Not only is it hard for the third-year player, but it's hard for the team. Having only one setter places the women in a pretty precarious position. With injury being an unfortunate reality to any athlete, Tsiofas must be careful.
"We've just tried to do a really good job of keeping me healthy. I'm never in a drill where I could potentially get hurt," she said. "We're just trying to be really safe so that I can play every weekend."
A natural athlete, Tsiofas won athlete of the year in both 2009 and 2010 while attending Bayview Glen High School in Toronto. She was named to the OUA west all-rookie team when she joined the Mustangs in 2013 and became starting setter that same season.
Tsiofas may be the only option for Western at the moment but she is also the best option.
In the 2014-15 season, Tsiofas recorded an impressive 502 assists, 21 service aces, 54 kills and 24 blocks to total 93 points in 15 matches. This year, she leads the OUA through 10 games with 357 assists.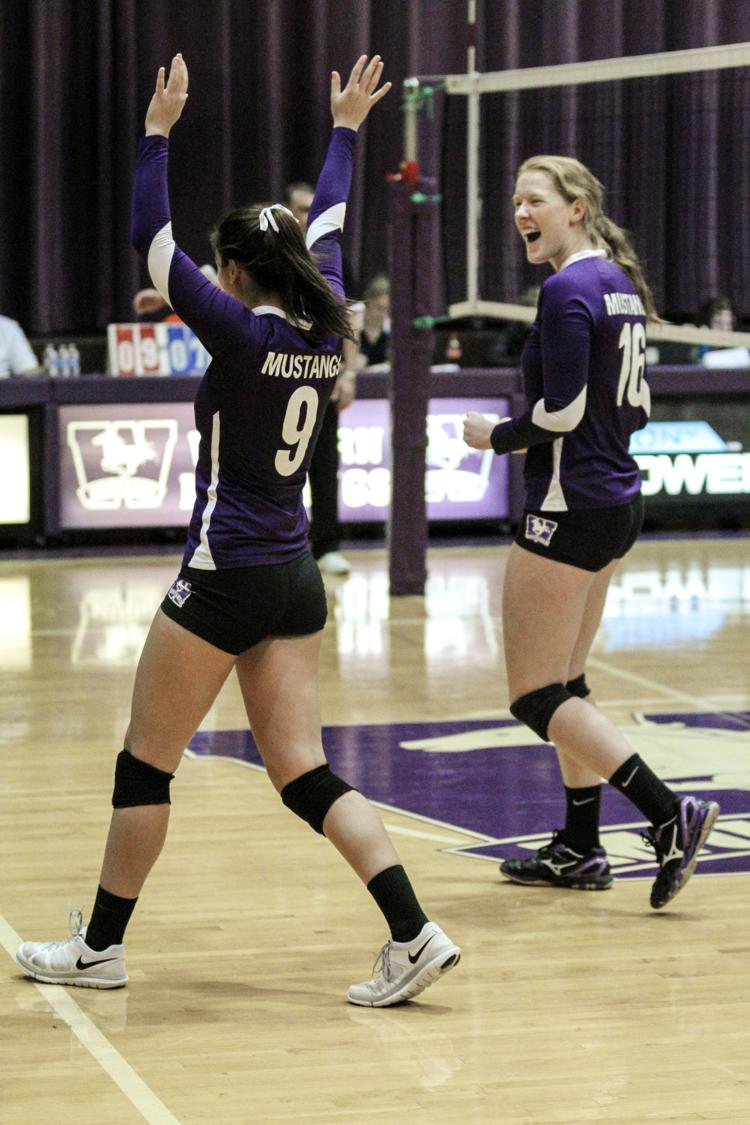 Tsiofas not only excels athletically but academically as well. She was included on the dean's honour list last year, commending her achievement in maintaining an average above 80 per cent in her business management program. This is an impressive feat for any student, let alone one balancing academic and athletic responsibilities.
It's easier, however, with support from your teammates.
Tsiofas has played on the Mustangs with hitter Kelsey Veltman for the past two years and has benefitted from Veltman's positive energy and support, on and off the court.
"She's always a good motivator and she always puts the ball away," Tsiofas said. "I love having her on the court."
Tsiofas and Veltman played together outside of Western in 2013, when they captured a National Team Challenge Cup Gold Medal with Team Ontario's indoor volleyball team. Tsiofas was even named an all-star for that tournament.
Veltman has previously talked about her desire to play professionally, but Tsiofas?
"Not really, I don't know," said Tsiofas with a laugh. "It's always in the back of my head as a possibility."
With achievements in the academic and athletic fields, Tsiofas is bound for success in whatever path she chooses.
But for now she has her head in the game and is concentrating on the rest of the volleyball season.
Western currently holds an 8–2 record, sitting in second in the OUA west division. The women are playing better than last season, where they finished with a 7–12 record before surprising many by managing to snag the OUA bronze medal.
This year, they will be gunning for gold.
Tsiofas will be a key asset to Western's gameplay, but she knows not to get ahead of herself.
"We're confident going in but we can't take the game for granted."
With this kind of mindset, the women's volleyball team will surely kill it this season.