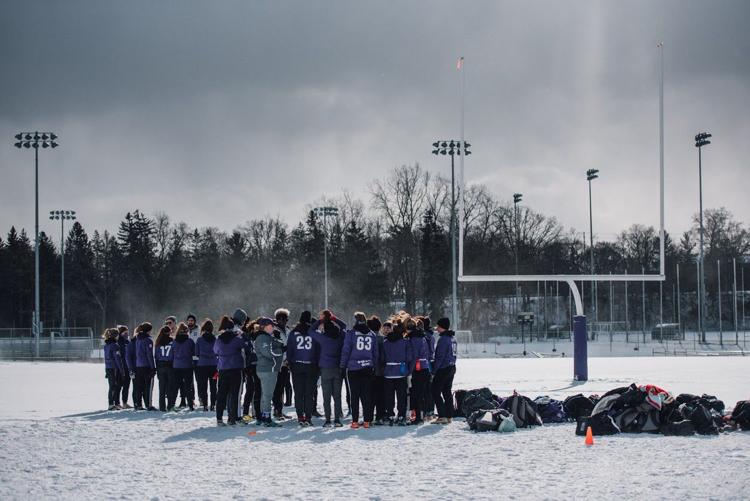 Western's women's football team expects over 100 students will try out for their team this year. But, until this week, they had no equipment to give them.
The women's football team plays contact-flag football, which is a hybrid between tackle and flag football styles. To field a successful contact-flag team, they need equipment.
Despite the overwhelming interest since the team's recent successes, they could offer just seven mediocre flags, a set of 15 cones and six hand-me-down footballs given to them by other university-sanctioned teams.
 "I wish it was an exaggeration of how little we have," said the team's president, Olivia Ghosh-Swaby.
Unlike Western University's many other successful and well-funded teams, the women's football team is not recognized by Western Mustangs Sports as a varsity team, or even as an official sports club.
To fund the costs, the team opened a GoFundMe page on Sept. 5.
Their initial fundraising goal was $800 — but in just one week's time, they have surpassed it.
"It is the community support we got out of it," said Ghosh-Swaby. "Which is way more rewarding than money alone." 
---
If you want to donate to the team's fundraiser, click here.
---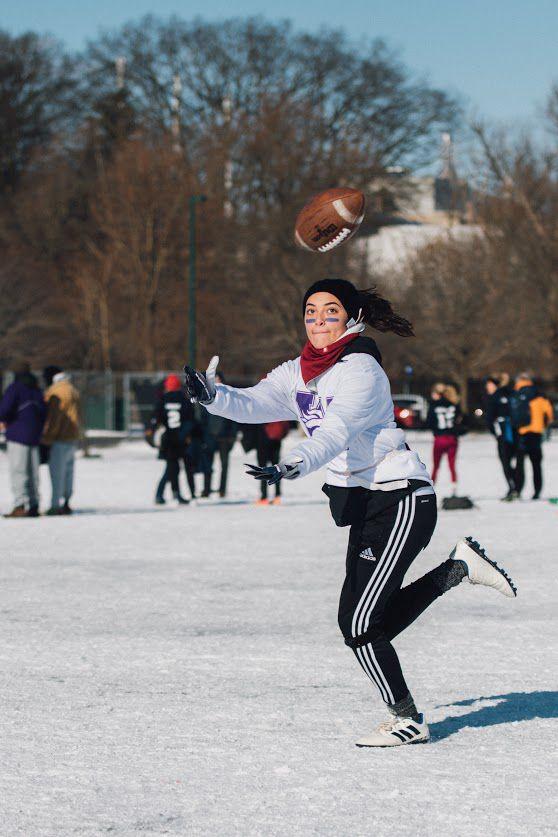 Four new local groups are interested in sponsoring the team. An important donation made by John Trevor, a flag-football coach based out of Burlington, included 44 gently used flags for the team.
While the team was excited to have met their goal, it was quite modest to begin with. As a self-funded team, financial issues will be a long-term battle. 
The money raised by the GoFundMe page is a very small amount in the grand scheme of the $17,000 budget it takes to run the team. 
Even beyond the costs they budget for, the team has to find their own rides and accommodations to attend tournaments, in which they are top contenders. 
The team's resources simply do not match their talent.  
To find their footing, the women's football team applied for varsity status last year, but Western denied them.
Obtaining varsity status has the obvious benefits of increased funding and inter-league governing, as well as the pride athletes experience from representing their school.
"Our athletes want to feel like they're representing the school, that's pride right there," said Ghosh-Swaby. "That's what we missed out on."
 While it was discouraging to have their application turned away, they have not let this verdict keep them from playing.
They continue to be a freestanding organization that has been built on the willingness of female students to step into leadership positions.
"We are not just athletes — we are advocates," said Ghosh-Swaby. "We always feel we are in a spot where we need to prove ourselves."
The team is self-run, self-funded and self-coached. Even without backing, the tenacious Western team continues to make big advances in the inter-collegiate sport of women's football.
As the team's president, Ghosh-Swaby oversees all of the administrative tasks that go behind running a team and an organization, the University/College Women's Contact-Flag League.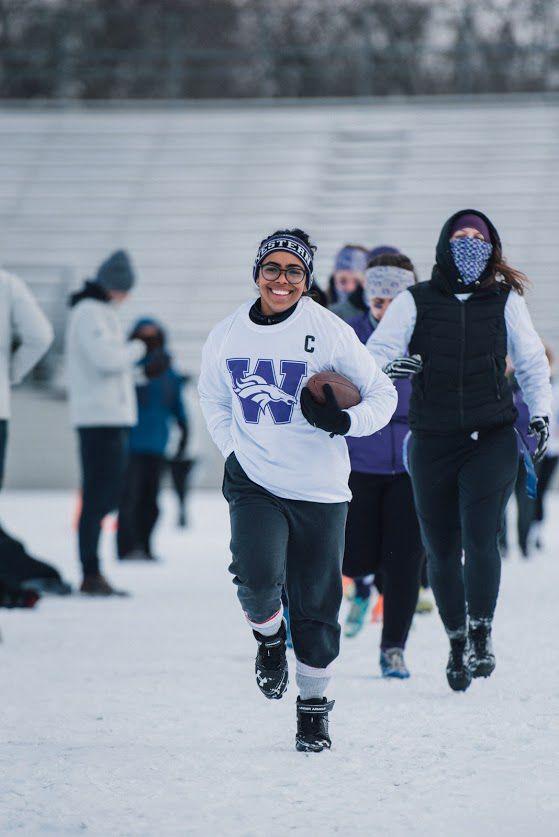 Since the Mustangs' victory in their provincial championship tournament in early 2018, Western has led the way in organizing the league. 
In her time as president, Ghosh-Swaby has stepped up in a big way to try and advocate for women's football on campus and as a sport itself.  
Ghosh-Swaby collaborated with other school's team captains to create a verified rulebook which now governs all the inter-school tournaments. She also organized Western's first invitational women's football tournament that took place in January of this year.
Despite their results and their drive, their finances remain a problem.
Although their equipment is what they started with eight years ago, in reaching out to the community, they hoped to fix that and so they did.
Tryouts for the Western women's football team will take place on Sept. 20, 23 and 27.