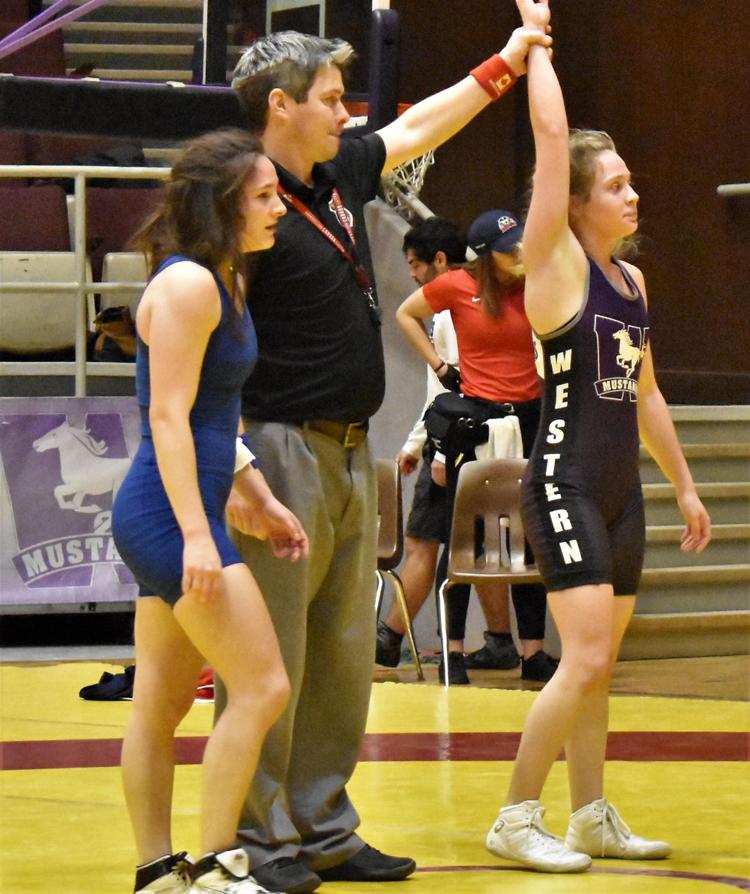 Western hosted two wrestling tournaments this past weekend, where many of the school's athletes fashioned impressive performances. 
On Saturday, the Ontario Amateur Wrestling Association held its provincial junior championship at Alumni Hall. The meet was open to athletes under the age of 20, and the competition was a mix of younger varsity athletes and wrestlers from community clubs.
Western's varsity team entered eight athletes to compete at the junior level, where many achieved notable victories. First-year wrestler Ella Doornaert came second in the 57kg weight category and has been indicated as a strong pick for the team that will be sent to the Ontario University Athletics championships. Additionally, fellow Mustangs Hassan Al-Hayawi and Adam Pacyga finished third in the 65kg and 79kg categories respectively. The junior athletes of Western's team certainly did not disappoint, and this was a feeling that would carry into the next day for their upper-year teammates.  
The school then hosted the Western Open on Sunday. The annual meet, which Western has hosted since the 1960s, featured an array of universities from across Ontario and Quebec, making for especially strong competition.  
However, many of Western's top wrestlers opted to sit this meet out to rest for the upcoming OUA championships, which will take place on Feb. 2 in Guelph.
Nevertheless, Western brought an enthusiastic group of 10 athletes who were eager to compete on their home stomping grounds. For some, it would be their last meet of the season, and for others, it was their ticket to the OUAs. Fourth-year athlete Christine Grafe had suffered an injury in November and made a spectacular comeback at Sunday's meet. In the 48kg weight class, Grafe placed second and solidified her spot on the team that would head to the OUAs. Jackson Browning also garnered a second place finish in the men's 100kg category. 
Multiple other top six finishes left Western's team in fourth place in the men's division and fifth in the women's overall team standings. It was certainly a successful weekend for Western's varsity wrestling team. 
Looking ahead to the OUAs, head coach Scott Proctor is confident in the potential he sees among his athletes.
"We have a few athletes we are hoping to win.... and a number of other athletes we feel can get on the podium and definitely do well," he said.  
Among these athletes are Julie Steffler, Brayden Ambo, and Michalia Walls. Throughout this season, Steffler has been locked in a tug of war with the reigning U Sports wrestling champion in the 59kg category, Brock's Hannah Taylor. 
"She has gone back and forth with her, she has won a couple and lost a couple, but she is surely a forerunner for upcoming weeks," said Proctor. 
Additionally, both Ambo and Walls placed third at the OUAs last year in their respective divisions and are looking to make improvements on their placings this year. 
Needless to say, Western's wrestling team is poised and ready to charge forth into the most competitive stretch of their season.