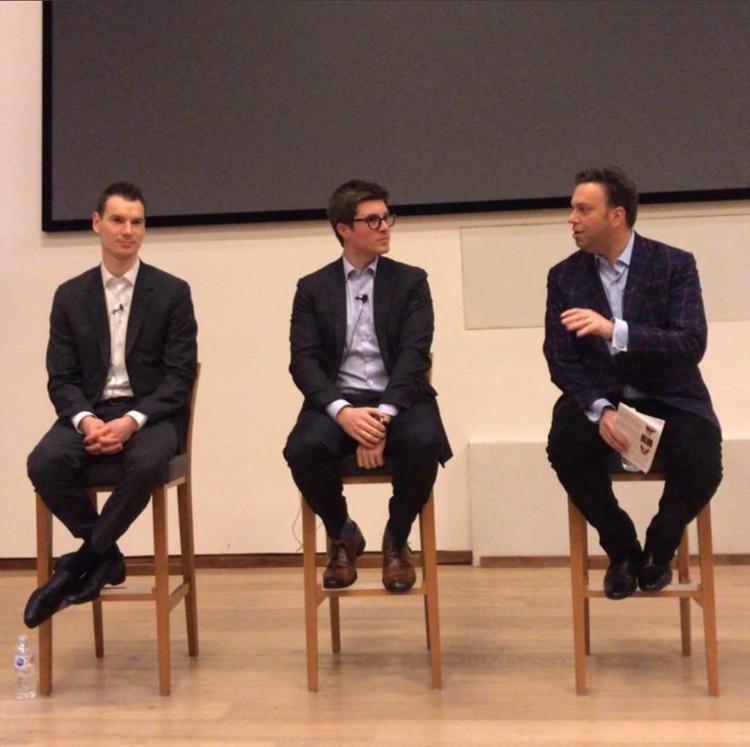 Students from universities across Ontario came together at the Richard Ivey Building to compete for a chance to intern for the Arizona Coyotes and Golf Canada.
This past weekend, Western hosted it's very first ever Ivey Sports Management Conference. The conference was a completely student-led initiative, co-chaired by two Western students, HBA2 student Kate Taylor, and fourth year BMOS student Quinn Thompson.
Applicants were asked to apply in teams of four to five members, or they could apply as a free agent, where they would then be placed on a team.
The competition ran over the course of a day and half. Starting Friday evening, and continuing throughout the day on Saturday.
Friday opened with a presentation from hockey analyst Elliotte Freedman, Toronto Maple Leafs general manager Kyle Dubas, and Arizona Coyotes general manager John Chayka. 
However, this wasn't Chayka's first time at Western or Ivey. He was a student at both schools until he graduated in 2014. Dubas graduated from Brock University, making him no stranger to the university scene either. It was an incredible opportunity for the delegates to be able to absorb information from young professionals, who were once in their exact positions.
"The most common question I always get is, you know, how do you become a GM or, how do you get your foot into sports or how do you move up a latter or a question of that kind of narrative, and for me it was just really about enjoying what I was doing and really kind of dominating that roll," said Chayka.
"Whatever I did I did to the best of my ability and had a fun time doing it and as things evolved and opportunities came up, and if you're doing a good job things kind of came together," he continued.
Saturday consisted of several presentations from a variety of professionals from a variety of different areas in the sports industry, including sport media, analytics, sport business and sport sciences.
"It was really great to see a number of female speakers presenting as well, like Jenna Tharani and Katie Strang. They were both cool to listen to," said delegate and fourth year Media, Information and Technoculture student, Sydney De Souza. "Since we were the only all girls team, we were interested to see whether or not our point of view varied from other teams considering the majority of the other teams were male dominated.".
In addition to the speakers, case competitions took place as well. Each group prepared a presentation about the expansion of the National Hockey League, and the addition of the Las Vegas Golden Knights.  By the end of the day, the top four groups presented in front of the final panel of judges consisting of Chayka, Laurence Applebaum, Cathryn Chayka and Colin McDougall.
The case competition was won by a group of four Western students, Mateo Malinaro, Hiral Patel, Aidan Jackson and Jacob Maclachlan.
"Participating in the Ivey Sports Management Case Competition is going to be one of the most memorable experiences in my life. My team and I worked extremely hard throughout the past week doing research and finding unique ways to tackle the case," said Malinaro, third-year political sciences student. "Being able to present in front of some of the biggest names in the industry was a truly remarkable moment. We received such positive feedback and it was extremely rewarding considering how much work we put into this."
The event came to a close around 5:00 p.m., with a closing ceremony rounding out an informational and competitive weekend. Overall it was a successful conference, surely to reoccur in the years to come.