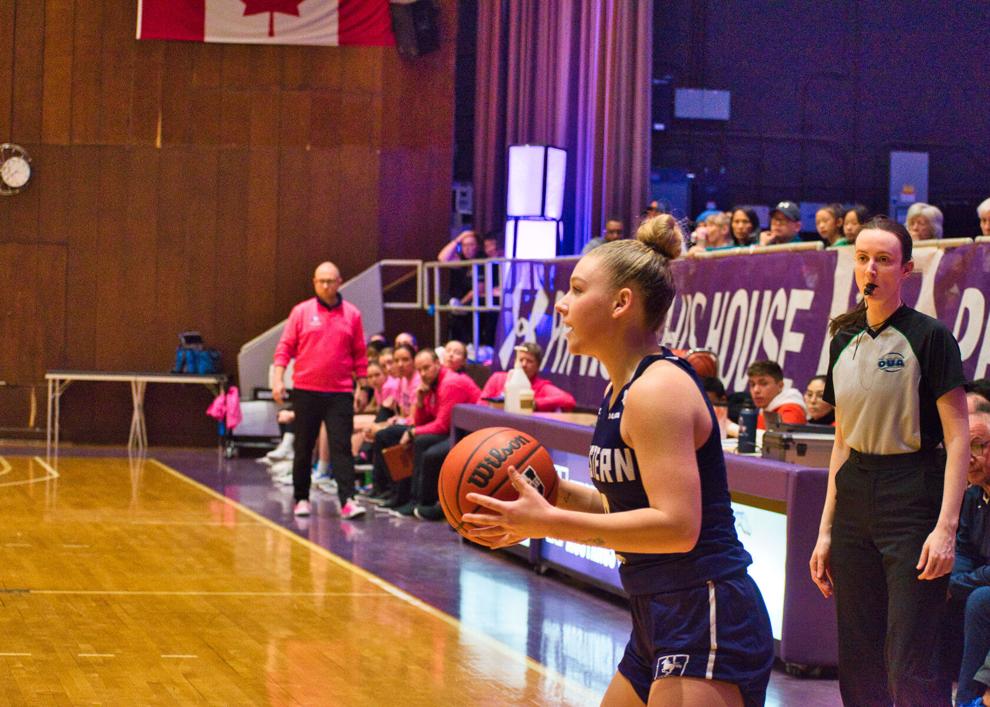 The Mustangs women's basketball team took to the road to face off against the Gryphons Wednesday night, losing 76–64.
This was Western University's second matchup against the University of Guelph Gryphons this season, with the Mustangs dropping both games.
Everything you need to know
The Mustangs dominated the second and third quarters, staying ahead of the Gryphons by scoring 26 points in the second and 17 points in the third. 

The fourth quarter saw Western fall short, scoring a total of seven points while Guelph surpassed them with 21 points.

The Mustangs next matchup will be against the Wilfrid Laurier University Golden Hawks at Alumni Hall this Saturday at 6 p.m..
Mustangs fall short after strong second and third quarters
The first quarter saw Western rack up 14 points, with fifth-year forward Brett Fischer leading the Mustangs with six points and fourth-year guard Ariane Saumure scoring five. Guelph surpassed Western by four points at the end of the first, taking the lead 18–14 going into the second.
At the end of the second quarter, the Mustangs led by five points. The third quarter proved to be equally strong for the Mustangs, with the team racking up 17 points in the frame, while the Gryphons tallied 16.
But the fourth quarter saw Western score only seven points, and become dominated by the Gryphons who put up 21.
Saumure went on to tally up a total of 21 points for Western, with Fischer racking up 13 and first-year wing Emily Capretta tallying 11.
Statistical struggles
Western gave up 20 turnovers throughout the match. The Mustangs capitalized on their three-pointers, leading with 36.4 per cent, over Guelph's 26.9 per cent, but this wasn't enough to secure the win. 
The Mustangs lagged offensively as they fell behind the Gryphons in assists, with Guelph securing 16 — three more than Western.
What's next?
The Mustangs remain fourth in the Ontario University Athletics west division standings, with a record of 10–11. Following Wednesday's loss, the women's team finds themselves in the midst of a three-game losing streak. 
Western will be back in action at home this Saturday, as they take on Laurier. Tip-off is scheduled at Alumni Hall for 6 p.m..