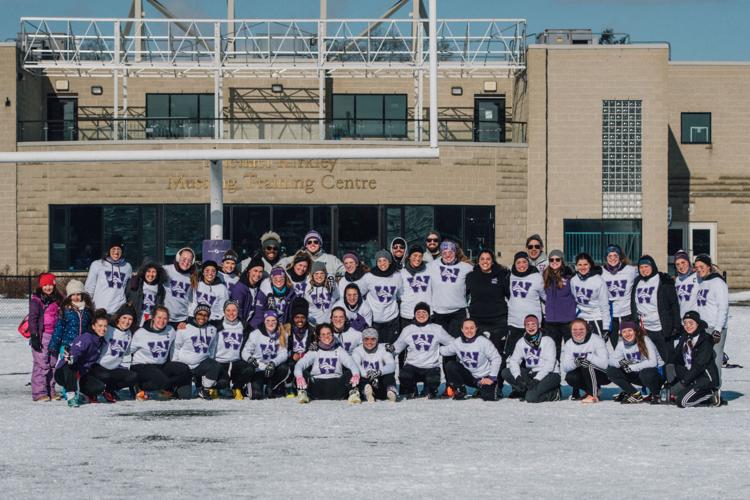 This past weekend, London was hit with some of the lowest temperatures it has seen so far this winter. But the snow and sub-zero temperatures couldn't stop Western's powderpuff football team.
Beginning on Jan. 25, Western powderpuff hosted its first-ever invitational women's football tournament. The event brought together 11 teams from universities and colleges across Ontario. Women's football is growing increasingly popular throughout the province, so much so that several of the competing schools were able to bring second teams to the event.
"Playing on home turf was something I've wanted to do for a long time," said captain, full back and running back Claire Linner. "This is my third year on the team and to see other schools come to our tournament and play on our fields was almost like justification that we are now truly part of Western women's football."
The women's football team has been around at Western since 2012. This tournament marked a huge step in moving forward with the team. The tournament was organized by neuroscience student Olivia Ghosh and criminology student Tala Muktar. Muktar acts as the player-general manager for the team and Ghosh helps lead the offence as its captain.
"I am not going to lie, being the organizer, convener, and a competitor was a lot, but damn did it feel good to watch all these teams play with heart," said Ghosh. "I was beyond happy by the turn out.... eight different school teams attended with over 300 female athletes who could show off their stuff."
Planning began back in November of 2018 and required a $3,000 investment to make it all happen. Because the team does not receive funding from the university, the money for the event was entirely self-raised and obtained with the support of sponsors.
"They did an unreal job and put on what a lot of other teams, I think, see as the best tournament," said Western's defensive coordinator, Connor Day. "Sponsors were a huge part of making it happen and just getting the word out about it so more people come watch would be great because these girls compete just as hard as every other Western team."
The coaches for the majority of the schools are male Ontario University Athletics varsity football players or students with a passion for, and extensive knowledge of, the game.
"They literally volunteer their time to coach us in the cold," said Ghosh. "But they remain our biggest fans and provide us the opportunity to play at a high level."
The tournament consisted of two groups of round-robin play, followed by playoffs. Western managed to battle through the cold and earn their spot in the final game, where they faced off against the University of Toronto. Unfortunately, Western was unable to capture the gold, falling to Toronto 14–3.
"I think that our team here at Western is affected mentally when it comes to games, especially against rivals like [Toronto]," said Linner. "We beat ourselves in the last game, we got in our heads and I hope that this weekend we can overcome that and face off against these teams stronger than ever."
Western will be heading to Toronto this coming weekend where they will fight for redemption on Toronto's home turf.