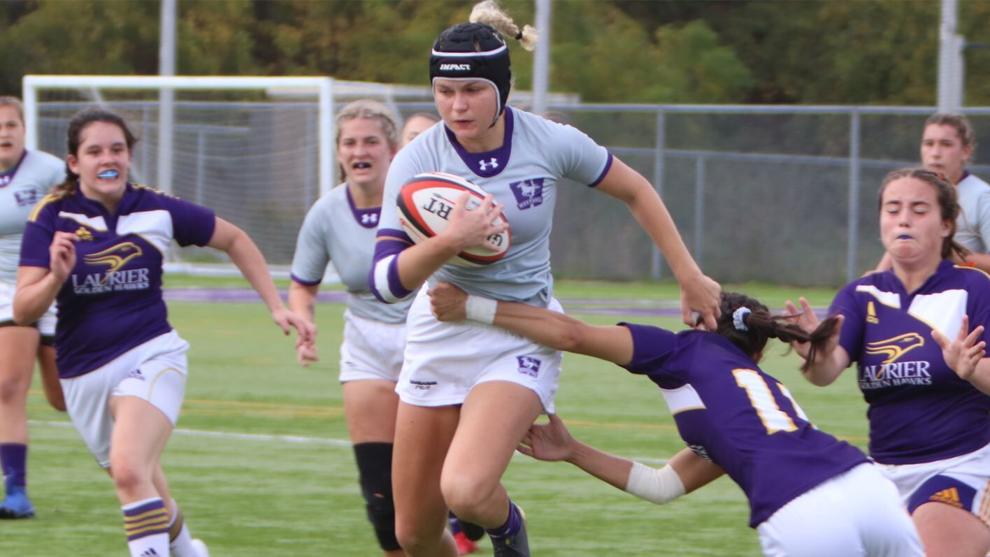 The Western women's rugby team shutout Wilfrid Laurier 36–0 at Alumni Field on Saturday, extending their undefeated streak to three games.
With an early try from Jordan Orlando, two from Taylor Hagen and another from Robyn Jefferies, the Mustangs were able take an easy win from Wilfrid Laurier University. The afternoon matchup at home was the first time the two teams have met since the coronavirus pandemic began.
"There's definitely still work to do but we're happy to finish the season with all home wins," said assistant coach Bronwyn Corrigan. "We were really happy as a team to continue our defence in the second half and also continue the offence that we know we can play."
Western University has had a historical edge over the Golden Hawks in women's rugby. Saturday's game brought the club's win streak — that started in 2006 — to 14 consecutive victories.
Emotions among veteran team members remained high as they played, potentially, their last home game.
Coach Corrigan is focused on the next game ahead but understands Saturday's tilt was significant for several graduating players.
"Having finished on a win will be a good memory for them in the long run," said Corrigan.
Fans can catch the Mustangs back in action on the road against the University of Waterloo Warriors on Oct. 22 at 3.p.m..