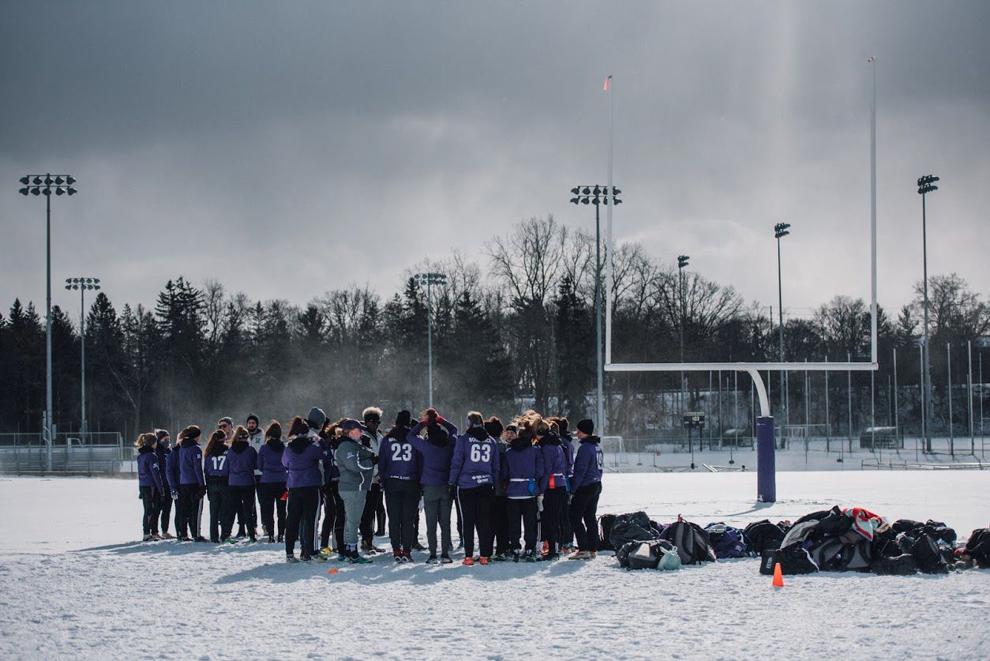 It's early morning on a cold Wednesday at the fields behind the Health Sciences Building and the Western women's football team has gathered to stretch, beginning their two-hour morning practice. Illuminated only by streetlights, they have to wait for the sun to come up midway through to start throwing footballs.
Their purple jerseys don't don the traditional Mustang logo. Instead, they wear a modified emblem, because they aren't allowed to associate themselves with the university or their athletic program in any way.
It's because they aren't officially Mustangs. 
Western Mustangs Sports has a moratorium that prevents any new varsity teams or recreational sports clubs on campus. There are plenty of sports waiting in line to join the program, but the department doesn't think there is room right now to take them on financially.
The women's football team was founded in 2012 by a group of residence sophs. They wanted to create an opportunity for players in "rez league" on campus to continue playing after they leave student residences. They started out with a team of 20 to 25 athletes.
The program has evolved rapidly since its inception over eight years ago.
This past year, the team had about 130 students participate in a three-day tryout, mostly recruited from residence leagues. Only about 60 players made the team.
"In the last two years, our program has started to adopt a more varsity style, including a large coaching staff [and] dedicated hours for training," says quarterback and team president Olivia Ghosh-Swaby. "We still stand as a bunch of Western University female athletes playing the sport we love and training and competing like any other varsity program would."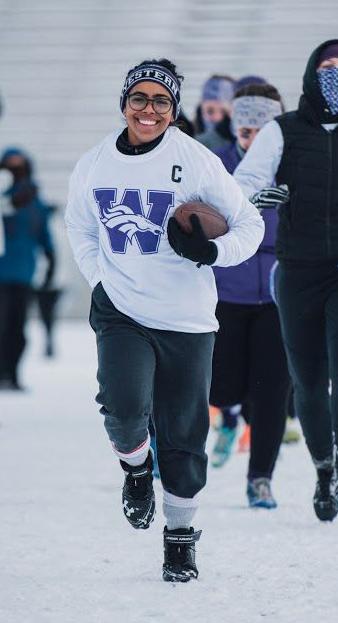 As part of their new competitive culture, joining the team now has a time commitment of up to 10 hours per week, including two 6 a.m. weekday practices, a weekend practice, lift sessions at the gym and whiteboard sessions from September until March. And that's just for training. The team competes on weekends in tournaments across the province as well.
The result of this culture change is evident. The team went undefeated before the coronavirus pandemic ended their season prematurely.
The team plays a style of football they call "contact-flag."
Linemen can still block each other within the frame of the chest. But, position players like the quarterback, running back and wide receivers wear flags instead of being tackled. It allows the team to use strategy and play designs similar to traditional tackle football without some of the safety concerns, including concussions and head trauma.
"We really are proud of the game we play," says Ghosh-Swaby. "It's very physical, it's explosive, it's just different — it's fun to watch for sure."
The team plays in the Ontario Women's Intercollegiate Football Association. Seven of the ten teams in OWIFA are affiliated with their university, but the teams from Guelph, Kingston and Western are not.
The Western team uses a modified unique logo, and calls themselves the "Western women's football team" instead of using "Western University" or "Western Mustangs."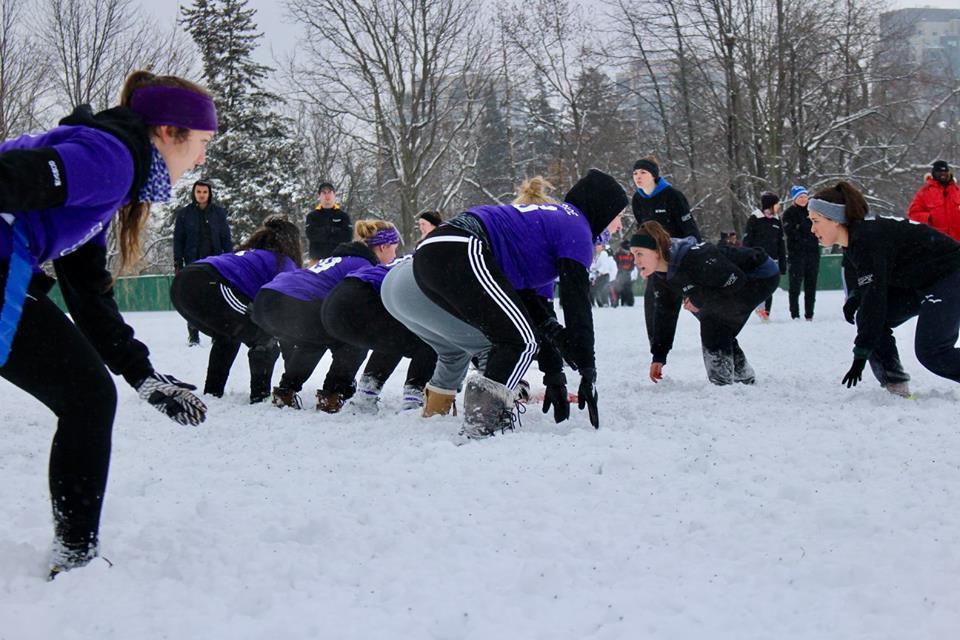 They also don't get funding and are forced to crowdsource for all the resources they need, including their equipment. The Western team is constantly searching for potential sponsors, and has a GoFundMe page. 
"It's like going fishing," says Ghosh-Swaby. "Hoping that something bites on the line and can support our program."
The team has met with Mustangs officials to plead their case as to why they should be admitted to the program. Currently, the moratorium stands in their way.
"With the number of programs and teams that we have … there's only so big of a piece of pie to be divided up accordingly," comments Mustangs director of sport Stephanie White, who joined the Mustangs in February. "Adding new teams or programs, there's no additional funding just automatically shows up through that process, which then means you have to take away from somewhere else."
The program currently has 36 varsity teams and 19 recreational sport clubs — and Ghosh-Swaby knows her team isn't the only one standing in line to join the program. 
"Unfortunately we fall in that bubble of can we really support another team, even though our asks are in my opinion fairly low," says Ghosh-Swaby. "We don't need much from the university besides a space where we can keep playing and that we can just really hold the Western name to our program confidently and with the recognition of support from the school."
However, White believes there's more to it than lights and a logo. 
White lists administrative, gameday, academic, media, strength and conditioning, medical and athletic therapy and travel support as just some of the expenses that could be associated with a new program. Some programs have full or part-time coaches as well.
"In my heart I wish we could support all kinds of varieties of sports but obviously the resourcing piece is a huge challenge for us," she says. "It's not about that athletic or sport programs don't want to add, it's just about capacity."
The athletic program is planning to undergo a remodelling in the fall that will outline a more clear set of guidelines and protocols for programs who want to apply to join the Mustangs, but it is not certain the moratorium will be lifted at that time.
In the past few months women's football got a major boost onto a bigger stage. The National Association of Intercollegiate Athletics, a United States based association, has partnered with the National Football League to support women's football programs. With NFL financial support, the NAIA is offering a $15,000 start-up stipend to the first 15 schools that register a program.
Ontario University Athletics might not have the behemoth NFL behind them, but this opportunity still had a big impact on the sport north of the border.
"This is something we've kind of had in process for years and it's crazy to see that another program in the States at least is able to get this off the ground by 2021 with an established organization such as NFL flag," says Ghosh-Swaby. "We're going to ride this wave, we're going keep moving with it and take advantage of it."
The news also gives Ghosh-Swaby hope that other large organizations might be willing to help out OWIFA and the sport, even if they aren't as big as the NFL. And although the OUA doesn't carry women's football like the NAIA soon will, it's also not out of the question.
To start the process of introducing a new sport in the OUA, eight member institutions have to be willing to participate in the sport. Only then will it go through various committees and across the desk of the CEO.
It's been a while since the OUA added a new sport, but it's not because they're stingy — it's because members haven't asked for it.
"We want to strive towards providing equitable experiences for students ... and if there were eight member institutions that decided that they wanted to add or apply for any sport, whether it's a male or female sport or both, it would be under proper consideration," says OUA Director of Sport Matthew Davies. "So it's not that there's resistance to growth within our sport model, there's just processes and our members haven't applied."
Women's football doesn't have the eight schools willing to participate quite yet, but it's a goal they're working towards
Whenever the spread of COVID-19 slows enough to let the team resume play, Ghosh-Swaby and her teammates will start their practices illuminated only by streetlights and the moonlight. They'll still wear their modified logos, and they still won't be formally Mustangs. When the Mustangs open the door of opportunity, they'll be ready. For now, they have to create those opportunities for themselves.