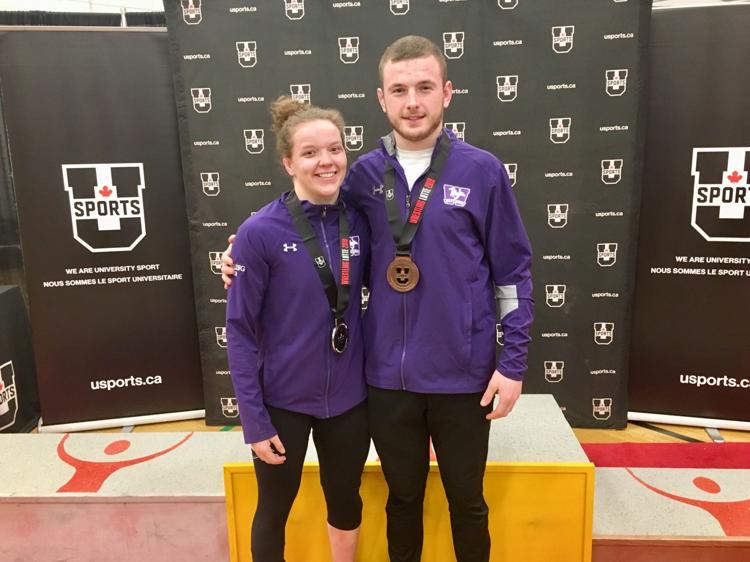 Over the weekend, 10 of Western's finest wrestlers competed at the U Sports national wrestling championships at the University of Calgary. Though the tournament was highly competitive, Western athletes walked with some very impressive performances.
Esteemed veteran Julie Steffler was Western University's top performer at the championship, capturing the silver medal in the women's 59 kilogram category. In the preliminary rounds, she won all of her matches handily. However, when it came to the gold medal match the battle was harder fought. 
In the final match, she faced the U Sports reigning champion, Brock University's Hannah Taylor. Taylor is an opponent that Steffler has gone back and forth with throughout the entire season. Despite Steffler wrestling consistently well, she fell to Taylor in the gold medal match, landing her in second place. The silver medal topped off a very successful season of progress for Steffler.
The Mustangs reached the podium for a second time with the bronze medal performance of third-year wrestler Brayden Ambo in the men's 82 kilogram division. Looking to improve on his fourth place ranking from the 2018 U Sports championships, he did just that. In the bronze medal match, he faced McMaster University's Ameen Aghamirian and attained a decisive victory. Ambo's success was especially satisfying considering he lost the gold medal match at the Ontario University Athletics championship to Aghamirian. 
Other Mustangs followed Ambo's lead, achieving redemption by defeating opponents that they had lost to at the OUAs. In the men's 90 kilogram category, third-year athlete Collin Johnston beat University of Toronto's Caleb Goodfellow for the seventh place position. Additionally, fellow Mustang Michalia Walls, who placed third at the OUAs, was able to find victory over the OUA silver medalist, Brock's Daina Armstrong. Walls' victory over Armstrong landed her in fifth place at the national championships.
In characterizing the tournament, Mustangs head coach Scott Proctor spoke to the solidity of the performances.
"Great tournament, everyone competed and really left everything on the mat," said Proctor. "A successful season overall for us, and we look forward to next season and improving on those results." 
Looking forward, Proctor is extremely optimistic about the success of the program in years to come. Almost all of the athletes that competed at the U Sports championship will be returning next year or at least have the eligibility to. Furthermore, Proctor is quite confident in the up-and-coming athletes of the team.
"We have a young team that is getting lots of high level experience, which is very positive for the future of the program,"  explained Proctor.
Though the university season is finished, Western's wrestlers will continue to train and compete throughout the spring and summer. It's Proctor's hope that they can seamlessly transition the great leaps of progress and growth made throughout this season into the next school year.