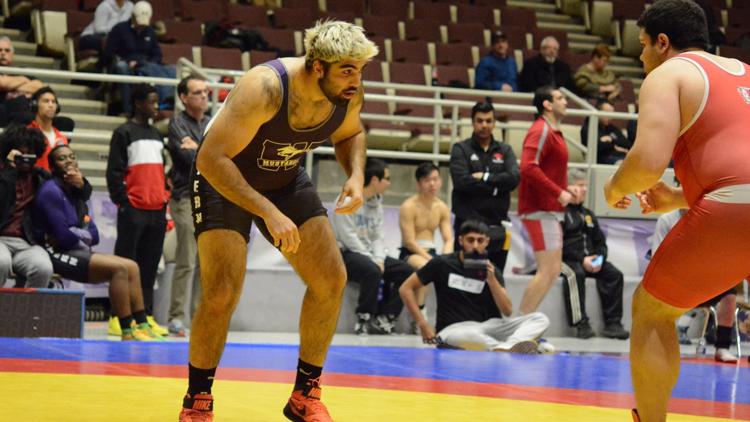 The Mustangs wrestling team proved their strength and secured a combined total of 12 medals this past weekend.  
Split between two competitions, the Mustangs athletes represented Western University at the Ontario Junior Championships and the annual Western Open, both hosted at Alumni Hall. 
On Saturday, Western had 11 varsity team members who showcased their talent at the Ontario Juniors. 
In order to qualify as a junior athlete, wrestlers must be 19 years old or younger. Accordingly, those who competed on Saturday were first and second-year athletes. 
The troupe was led by first-year athlete Tyanna Soucy who grabbed Western's first gold with a stellar performance in the 82 kilogram women's division. 
In the spirit of close competition, teammates Faith Telford and Paige Baynham had strong performances in the women's 72 kilogram weight category. Telford came second, and Bayham third among a field of tough opponents. 
In contrast, second-year athlete Ella Doornaert was the only competitor in the women's 55 kilogram class. However, instead of taking the default win, Doornaert decided quality competition was more important. 
Doornaert decided to compete up a class in the women's 57 kilogram category, and came out with impressive results. 
"[Doornaert] actually weighed in at the 55 kilogram weight class, but there weren't any competitors there," said Mustangs head coach Scott Proctor. "So she moved up to the 57 kilogram weight class and wrestled really well against some heavier opponents and managed to come third."
Not only was she rewarded with a third-place finish, but Doornaert gave herself the opportunity to work on her technique coming into championship season.
After a day of exceptional performance, the Mustang women took second overall in the women's division at Ontario Juniors. 
On Sunday, another 13 Mustang wrestlers took to Alumni Hall with the intention of dominating the competition. 
In total, Western took eight medals that consisted of one gold, five silver and two bronze. 
With the gold, Madison Parks took the win as the only competitor in the 51 kilogram weight class. 
Second-year athlete Jennifer Nwamadi finished second in the women's 72 kilogram category.  
"[Nwamadi] has had a very successful season so far," said Proctor. "She has been in four tournaments so far and had medaled at all four." 
Indicative of her consistency this season, Nwamadi will be one to watch coming into the team's championship stretch. 
Other silver medal performances included, Arjun Sahota in the men's 100 kilogram, Anthony Parker in the men's 125 kilogram, Tatum Levesque in the men's 72 kilogram and Hannah Vanderslagt in the women's 48 kilogram. 
In other top finishes, rookies to the team Tejas Petal and Matthew Larsen took bronze in the men's 54 kilogram and 72 kilogram. 
In the end, the team placed second overall in the tournament. 
On Feb. 1, the team will travel to University of Guelph to compete at the Ontario University Athletics' Championships.
With under a week left of preparation, the Mustangs are honing in on their basic technique and skills.
"This week we are tapering and getting ready for Saturday. Workouts will be short and intense, just focusing now on the wrestlers strength," said Proctor. "We are just focusing on good fundamentals. Having the athletes stay strong and healthy."