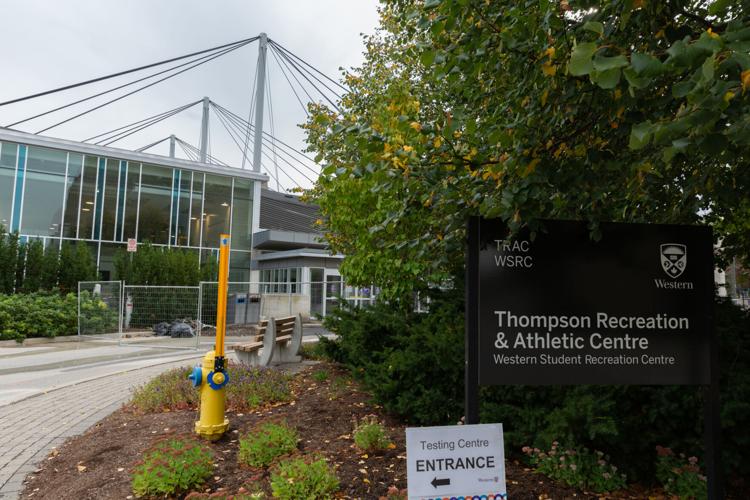 It's time to dust off your dumbbells — Western has reopened its sports and recreational facilities once again.
The Nov. 2 opening was announced in an email sent by Western University president Alan Shepard months after the closure on Sept. 17 due to coronavirus outbreaks among Western students.
The rules and regulations governing the reopening of the Western Student Recreation Centre are similar to those in place at the beginning of the academic year — weight room and cardio equipment will be organized by "pods," which require advanced booking online. The facility will be cleaned between workout time slots and change rooms will remain closed, although washrooms will be available. 
But, this time around, some of the rules about gatherings have changed. Intramurals and in-person group fitness classes, which ran in September, are no longer offered.
For many Western students, the Rec Centre constitutes a large part of their on-campus life.
"We know that our sport and recreation programming is an essential part of the student experience at Western," said Jennie Massey, associate vice-president of student experience, in an interview conducted in Oct. 28. "When we made the decision to temporarily pause some of the in-person programming, we were concerned about the potential impact on student overall health and wellness and that's why we set up and increased some of our digital programming."
Around 1,500 students participate in digital programming each week, complementing in-person opportunities.
Varsity athletes can also begin in-person workouts this month. They will continue with digital fitness programming provided by the athletic department and coaches, but will now augment their workout regimen with limited in-person training.
All training is in line with Middlesex-London Health Unit guidelines and happens exclusively within team bubbles. Coaches also received additional training to ensure health and safety protocols are followed and that the safety of the athletes is not compromised.
The future of sports and recreation at Western remains unclear.
"I think that this academic year is going to be characterized by a series of decisions. [To open or close the Rec Centre is] not a simple decision, a yes or a no, it's not a light switch we can turn on and off," explains Massey. "At this time, there is a confidence that Western has all the protocols in place. We are well equipped to open our sports and recreation facilities and we also have all the resources and plans in place to manage an outbreak should one occur."
Students can consult the Western Campus Recreation's FAQs on their website for more information and can reserve workout pods online.
Update: this article has been updated to clarify the interview date with Jennie Massey.