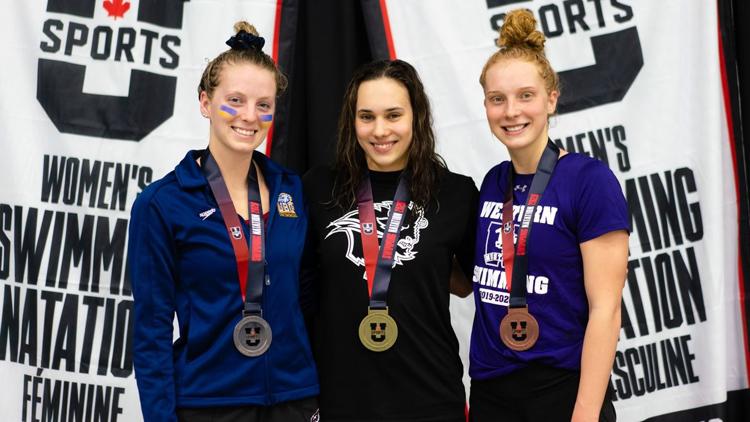 The Mustangs swim team had a number of successes at the 2020 U Sports Championships this past week. 
Topping the team's ranks was rookie Megan Deering who grabbed the Mustangs only podium finish of the meet. 
In the women's 200 metre breaststroke, Deering captured bronze quite convincingly with a time of 2:33.49, a very impressive feat for a first-year athlete. Deering also came fifth in the women's 100 metre breaststroke and seventh in the 50 metre breaststroke. 
"Our women's breaststroke has come a long way. It had been a weak event for us for four or five years," said Mustangs head coach Paul Midgley. "I think that this is our first national FISU medal in a women's breaststroke event."
Fellow teammate and steadfast competitor Ella Rennie came eighth in the women's 200 metre breaststroke. Rennie followed up with a fourth place performance in the women's 400 metre individual medley (IM). 
Having attained a combined six medals at the Ontario University Athletics championship and followed it up with strong performances at the national level, Deering and Rennie have had exemplary rookie seasons. 
"Particularly at the rookie level, they can go to the first championships and be a little intimidated and not get the performances they were capable of," said Midgely. "But what I saw this week is that they were able to convert their OUA performances into comparable if not better performances on the national stage, that is a really good sign going forward." 
As for the team's veterans, many had strong performances that left them just shy of the podium. 
Prized veteran Sebastian Paulins finished fourth in the men's 200 metre butterfly narrowly missing the chance at bronze. 
"Sebastian had a 3.5 second improvement in his 200 metre fly to come fourth. A little bit of a disappointment because he missed [the podium] by tenths, but it was a tremendous effort and a tremendous move forward," said Midgley. "He sets himself up very well next year for the varsity season and to take a run at the FISU games."  
In other strong performances, Matthew Loewen was fourth in the men's 50 metre breaststroke event. The competition was close and with a time 29.11 seconds, he tied for fourth with a competitor representing the University of British Columbia. Further, there was a mere 0.05 seconds between them and the bronze medalist. Needless to say, the medals were anyone's for the taking. 
Loewen was also eighth in the men's 100 metre breaststroke with a time of 1:05.63 which improved on his OUA finals time substantively. 
Fellow Mustang Matthew Fox was sixth in the men's 50 metre backstroke with a time of 26.97  the finals. 
The Mustangs also had a number of impressive top eight finishes with their relay squads. Most notably, their seventh place finish in the men's 4x100 metre freestyle relay that consisted of Paulins, Fox, Elias Chappell, and Ethan Placek. 
In overall team standing, the women's team placed eighth and the men's team was tenth. Demonstrating progress, this is up from ninth and twelfth respectively from the 2019 championships. 
But this doesn't quite tell the whole story. In overall points, the Mustang had a substantive increase from 377 points in 2019 to 581.5 this year. 
More to this, the women's and men's teams were equally dominant in their points acquisition.
"It was my most balanced men's and women's team," said Midgley.  "We scored 290 points on the women's side and 291.5 on the men, so pretty balanced attack all the way through, quite pleased with that." 
A season of great progress, the team is currently recruiting to build on this. With few national level athletes graduating and strong commitments already secured on the women's team, it would seem that the Mustangs swim team will be an even greater force to be reckoned with next season.