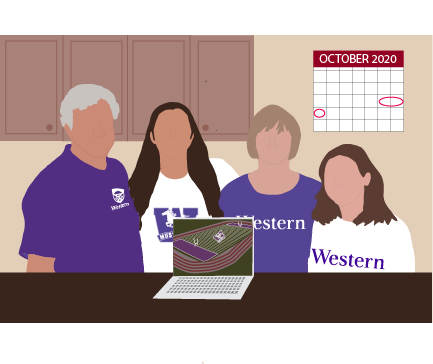 Western hosted its first-ever virtual Homecoming last weekend, reminiscing Mustangs games from previous season and featuring a number of notable alumni.
Despite cancelling the 2020 U Sports fall athletic season due to COVID-19 — meaning no classic Homecoming game — students, staff and alumni were still able to watch Mustangs football.
Donnovan Bennett, Mustangs football alumnus and current Sportsnet broadcaster, and Brodie Lawson, Western alumna and current Gameday Host at the Canadian Football League, hosted the online Mustangs Gameday Live last Saturday.
With commentary from Mustangs football coach, Greg Marshall, the celebrations were like never before.
"There's nothing that replaces the atmosphere here on Homecoming Saturday afternoon and I know for our players who are in the program right now, we can talk about tradition of Western football and what it's like and how proud they should be to wear the Mustang uniform but seeing the atmosphere at Homecoming brings it all home for them," said Marshall as he discussed with Bennett prior to the Mustangs TV rewind kickoff.
On a weekend where campus would typically be packed, Western University is a ghost town. @BrentLaleCTV reports:https://t.co/zwHqZs8ANV

— CTV London (@CTVLondon) October 17, 2020
The online event consisted of live coverage, including a performance by the Western marching band, activities for "Mini Mustangs" and students' favourite tailgating recipes. 
While the spotlight was on alumni athletes, Western also looked to past, present and future Mustang teams.
The first rewind was women's soccer in the Ontario University Athletics semi-final game against Queen's University.
Starting in the morning, viewers watched the Mustangs defeat the Golden Gaels by a score of 3-2. Although the game took place in 2018, this was an intense matchup between the rival schools, as Julia Crnjac scored two goals after returning from a 10 game absence with a clavicle injury.
This game pushed the Mustangs into the finals, where they fell 1-0 to the University of Ottawa on Western's home turf.
With a rewind from last season's win against the University of Ottawa, the Mustangs celebrated their 30th consecutive regular season win as Western dropped the GeeGees 32-23.
Although he did not spend this year's Homecoming on the sidelines at TD Stadium, coach Marshall provided insight for viewers through live commentary during the game.
At halftime, guest speaker and former Mustang kicker Lirim Hajrullahu joined the broadcast to discuss his journey from winning the CFL's Grey Cup to joining the National Football League's Los Angeles Rams.
Ending the evening with a multi-genre storytelling and singing showcase, Western used their platform to provide students and alumni with an entertaining Homecoming despite these unprecedented times.
Although this weekend was more of a "stay-home-coming," the university successfully pulled off events while maintaining strict COVID-19 safety measures to commemorate the school's 71st Homecoming celebration.
"As I said to our players, we're going to get through this," said coach Marshall. "We're going to get through it and it's going to test our resolve and mental toughness but we're going to get through this and be ready in 2021."
Western continues to remind the community that, although Homecoming has passed, the Adopt a Mustang program is always open for donations. Even though the 2020-21 athletic season has drastically changed, the program continues to support student-athletes.