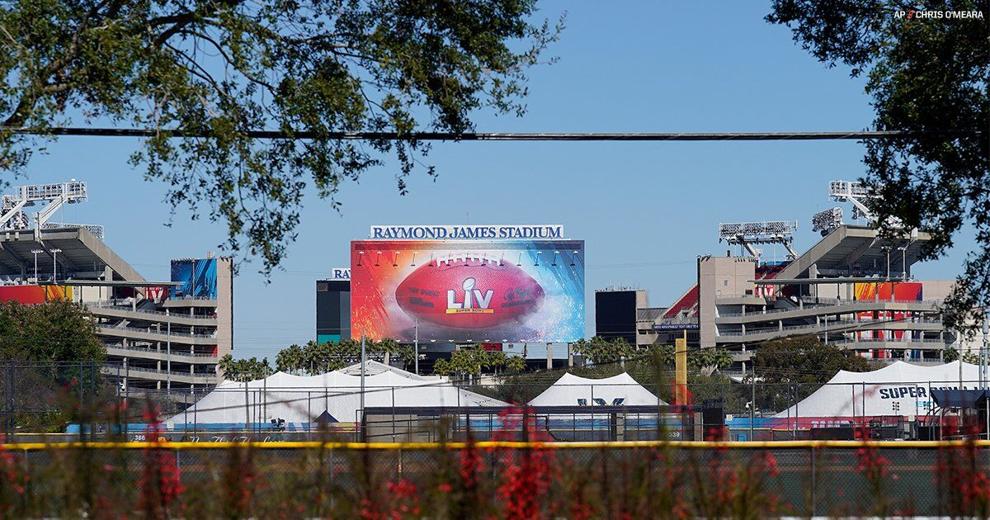 It's that time of year again. The day that is reserved for hot wings, cold drinks, socially distanced family tailgates and million-dollar commercials — and of course, football.
It's the weekend of Super Bowl Sunday.
The Tampa Bay Buccaneers will host the defending Super Bowl champion Kansas City Chiefs Sunday night at 6:30 p.m. at Raymond James Stadium. This is the first time in National Football League history that a team will host a Super Bowl in their own stadium.
The Super Bowl rings of the @Chiefs and @Buccaneers.Who adds another one to their collection on Sunday? pic.twitter.com/4hIhldFcV6

— Sunday Night Football on NBC (@SNFonNBC) February 3, 2021
The Buccaneers and six-time Super Bowl champion quarterback Tom Brady are coming off a close National Football Conference championship victory against the Green Bay Packers 31–26. The Chiefs, on the other hand, handily won the American Football Conference championship game against the Buffalo Bills 38–24.
Put your bets in Mustangs, but before you do — read the Gazette's Super Bowl predictions. Here's who we think will be taking the Lombardi Trophy home.
Alex McComb, Sports Editor: Chiefs 28, Buccaneers 21
Although you can argue that Tampa Bay has a better all-around receiving corps, Tyreek Hill and Travis Kelce will be the biggest receiving threats in this game. That's discouraging to Buccaneers fans who know their defensive secondary allowed more than 240 receiving yards to the Packers top three receivers in an NFC championship game that almost slipped through their fingers. Tampa Bay will have to rely on their aggressive front seven to get to a mobile Patrick Mahomes like they did with Aaron Rodgers two weeks ago if they want to give Brady his seventh ring.
About last night... pic.twitter.com/Pdci7RCth7

— Tampa Bay Buccaneers (@Buccaneers) January 26, 2021
If we're talking fate, it's worth noting that the three teams who have beat the Packers in the NFC championship game since 2014 — Seattle Seahawks, Atlanta Falcons, San Francisco 49ers — have all lost in the Super Bowl. If this "Packers curse" is still alive, it doesn't look good for Tampa Bay on Sunday.
Jordan Bloom, Sports Editor: Chiefs 27, Buccaneers 20
Many sports fans mistake this Super Bowl to only be about Mahomes versus Brady — but we should keep another matchup in mind. The strength of the Buccaneers defence is their pass rush, and they'll be going against a Chiefs' team missing their two Pro Bowl tackles — out due to injury. If the Buccaneers can get in the backfield quickly, it'll take away the time needed for the Chiefs to weaponize their strength: the deep ball.
Highest passer rating when targeted this postseason:1. Travis Kelce - 145.72. Stefon Diggs - 119.23. Tyreek Hill - 118.8 pic.twitter.com/X6bRVBgKnS

— PFF (@PFF) February 2, 2021
That said, I have a rule when I'm making predictions: there are certain teams you simply don't bet against when they're on a roll.
Since Mahomes began starting for the Chiefs three seasons ago, the team has only one playoff loss and it came in an overtime thriller where Mahomes and the Kansas City offence never had the chance to see the field as New England scored a touchdown on their opening possession. Brady has experience, but the Bucs haven't made the playoffs since 2007 — five head coaches ago. Mahomes is the best quarterback in the NFL playing for the team with the most established track record in the league. Their injuries and the Buccaneers' pass-rush means take the under, but have faith in Chiefs' head coach Andy Reid's ability to take his team to the promised land for the second consecutive year.
Sarah Wallace, Culture Editor: Chiefs 31, Buccaneers 28
The last time the Chiefs played Brady and the Buccaneers in week 12, the Chiefs only won by three points. Knowing the bombs that both Mahomes and Brady throw, I'm guessing it will be a high-passing game with higher scores.
.@tonyromo called a @TomBrady vs. @PatrickMahomes #SBLV matchup back in Week 12. 🔮👀@Buccaneers | @Chiefs pic.twitter.com/2WUJQnv7hE

— NFL (@NFL) January 26, 2021
That said, Mahomes and company are Super Bowl LIV champions and have played consistently well this entire season. Tampa Bay may have Brady and Gronkowski added to their roster and it might come down to the last drive — but nothing is going to stop Mahomes from getting Super Bowl MVP for the second year in a row and adding another ring to his collection.
Bianca Collia, Sports Intern: Buccaneers 37, Chiefs 28
I genuinely think that this is Brady's first chance to prove critics everywhere that no matter where he is — he can win. With the New England Patriots missing the playoffs for the first time since 2008, he's already proven a lot by carrying the Buccaneers to the NFC championship. Mahomes has seasons ahead of him to win many rings so I see this as Brady going to come in clutch — as he always does in the postseason.
Highest-graded QBs in the 4th quarter this season:1. Tom Brady - 89.52. Kirk Cousins - 87.03. Patrick Mahomes - 86.44. Baker Mayfield - 86.0 pic.twitter.com/fxOXuaorfH

— PFF (@PFF) February 2, 2021
John Wang, Sports Intern: Buccaneers 35, Chiefs 28
While the Buccaneers are underdogs, I believe the return of the Brady-Gronkowski duo will help them take home the Super Bowl LV. They were the underdogs against the Packers and managed to still come out on top. Not to mention, homefield advantage will also give them an extra edge.
Home for #SBLV pic.twitter.com/D4A7eBMz70

— Tampa Bay Buccaneers (@Buccaneers) January 31, 2021
Kamryn Mackie, Sports Intern: Chiefs 21, Buccaneers 14
Tampa Bay doesn't have the offensive line or receivers that Kansas City does and in my opinion, Mahomes is a younger quarterback who is just as good as Brady. I think Kansas City will take it — but it will be as close as by seven points. 
Huge news: Nick the Dolphin in Clearwater, FL picked the #Chiefs to win the Super Bowl. Nick started picking Super Bowls 6 years ago ... and is 6-0 all time. So, it's over. pic.twitter.com/fpMRNpUKiE

— Harold R. Kuntz (@HaroldRKuntz3) February 2, 2021