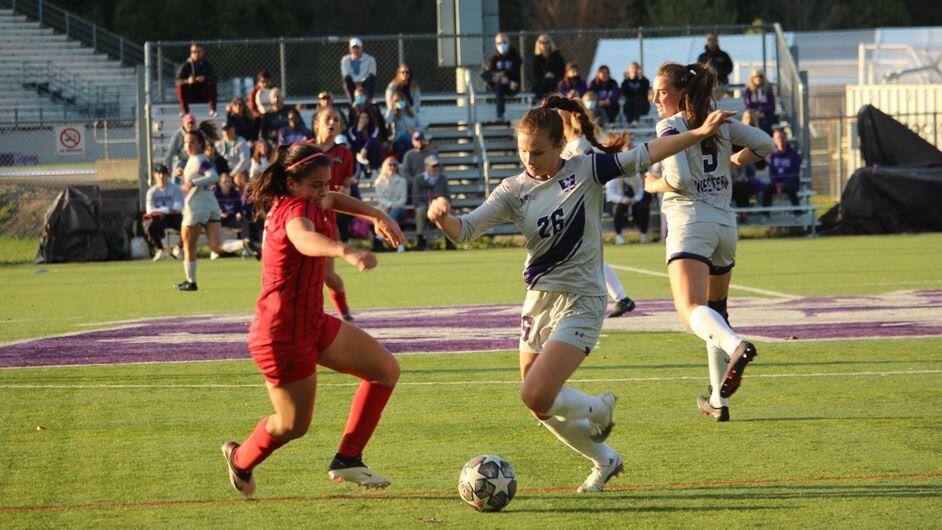 The Western women's soccer team opened up their season with a 4–2 win against the Brock Badgers while the men's team tied Brock 1–1 at home.
The women's team found themselves in a tie game after an own goal by Brock University with 20 minutes remaining in regulation.
This mishap set the stage for Western University's comeback as veteran midfielder, Kiera Grein, gave the Mustangs their first lead of the match.
"Absolutely nothing, I blacked out," laughed Grein as she explained what went through her head as she scored the go-ahead goal. "I was like, 'I'm just going to throw my body into this keeper.' I started cheering and I was like, 'No way did that go in.'"
In the 89th minute, Natalie Abbate stretched the lead, helping earn the team the victory.
"It wasn't what I expected," said head coach Martin Painter. "Credit to Brock, [they're a] very good team, really dangerous in transition with a lot of speed. They made us work for everything. [I'm] really proud of the team for finding a way to win … The players came back, fought hard, showed some resilience and character. It's a massive three points."
Western comes out of a home opener thriller with a win, 4-2 against the Brock Badgers. Western faces the Badgers once more away at Brock on Sunday Sept 26, at 1pm. Thanks to all of the fans who made their way out Friday night to show their support. #mustangs #runwithus pic.twitter.com/X8PHvJfJeB

— Western Women's Soccer (@mustangsws) September 25, 2021
Western started the first half with second-year goalkeeper Abby Valiquette between the posts. She has big shoes to fill, replacing the decorated Meghan Girardi, who led Ontario University Athletics in goals against average in 2019.
Valiquette and the Mustangs let in the first goal of the season midway through the first half. The goal set the tone for the game as Western entered half-time down 1–0.
After 57 minutes of play, Western's Nathalie Hoppe responded with the equalizer to make it a 1–1 game but it did not last long. The Badgers managed to pot in their second goal of the match courtesy of Sabrina Bisante.
"I thought we didn't play poorly," said Painter. "When we were down ... I thought, we want to be more composed on the ball. We need to be a little better when we have to defend, but we had a lot of ball today, especially in the first half."
Though the women's team had something to celebrate, the men's season opener wasn't as victorious but didn't end in a loss.
In the final minutes, Western's Anand Serjeant took a shot on net but couldn't capitalize as he was stopped by Brock goaltender Alexander May.
The final whistle went off, sending the men's soccer team off the pitch with one point to add to their season standings. Mustangs rookie goalkeeper Samuel Spoelstra made two saves on his opening night. 
Painter said he was happy to see him and other first-year student-athletes showcasing their talents in the purple and white for the first time in almost two years.
"With 10 players making their Western debut, I thought the chemistry and quality they showed [was great] in some moments. [We] just got to refine a few things and tune up a couple of details but there's a lot to be positive and optimistic about," said Painter.
Hard fought season opener results in a 1-1 draw against Brock.https://t.co/iuhjLm7ext#RunWithUs #WesternMustangs pic.twitter.com/WZwNhKo6FF

— Western Mustangs (@WesternMustangs) September 25, 2021
The rookies came out firing as Ehsan Hirji – a first year from Toronto, Ont. – gave the team a 1–0 lead within the first four minutes of the match.
"It's one of the best goals I've seen. It was incredible," recalled Painter. "Great way to make [Hirji's] debut. He's a special player [with] a lot of potential and ability."
The Badgers responded not long after in the first half with the tying – and final – goal of Friday night. 
Within a minute after the tying goal, Brock midfielder, Christian Ferraro, received a yellow card. The Mustangs only goal scorer, Hirji, was also handed a yellow card just as the first half came to an end.
During the start of the second half, Brock midfielder Michael Fernandez was also given a yellow card, combining for a total of three cards among the two teams.
The women's and men's teams had lost key veteran players during the extended offseason due to the cancelled 2020-21 year. Both squads come into this fall season with new, developing rosters.
The Mustangs remain undefeated as both teams head to St. Catharines, Ont. for their second game of the weekend series against the Badgers on Sunday. The women's team will play at 1 p.m. with the men following at 3:15 p.m..