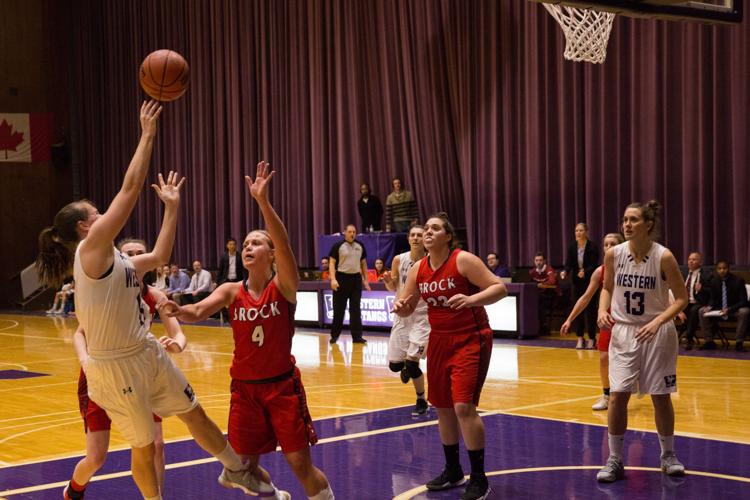 The Western Mustangs women's basketball team largely dominated en route to a 71–45 victory over the struggling Brock Badgers who have now lost five in a row. The Mustangs' win puts them at 17–11 on the season, with one game left to play prior to the playoffs.
Last night's rematch against the Badgers showed a sharp turnaround from their last match on Oct. 25 where the Mustangs fell 62–53.
"I think they've gotten a bit better, but we've gotten a lot better. So that bodes well and gives us positive feedback that we're doing the right thing," said Mustangs head coach, Brian Cheng. 
Following Western's loss to McMaster University on Feb. 10, their performance against the Badgers showed a renewed energy.
The Mustangs controlled the ball for most of the game. The first quarter in particular saw Brock almost entirely unable to break through Western's' defence, ending at 24–5. In the second quarter, however, the Badgers came back with a much more defensive game and were able to narrow the gap slightly with the score being 39–27 at the end of the first half.
Fifth-year guard Mackenzie Puklicz led all players in the first half with 13 points and four rebounds.
Cheng attributes the flip-flop from the first quarter to the second quarter to Brocks' inability to consistently complete shots.
"We held them down, but they also missed some shots too so it was a combination of both," said Cheng. "Then we started just missing shots and that wasn't a great response so it's something we want to grow on."
Fortunately, the second half saw the Mustangs' dominating style of play return. This time, third-year guard Maddy Horst led the scoring with 14 points and one rebound, but Puklicz wasn't far behind with 11 points and five rebounds.
With three minutes left in the final frame, Puklicz drew a foul when she was knocked to the ground. The game was temporarily stopped as she was escorted off the court with an apparent injury. Despite the setback, the Mustangs pushed on and took the game, 71–45.
Puklicz returned at the end of the game end as part of the Senior Night celebration where she and two other teammates, Victoria Heine and Alex Van Heeswyk, were presented with flowers and a framed jersey. Puklicz finished her final regular season home game as the Ontario University Athletics ninth-ranked all-time scorer. This season, Puklicz is ranked fourth among all Ontario players in points-per-game.
With the penultimate match of the regular season over, the Mustangs look to carrying this winning energy forward to the final game of the season, a road game on Feb. 17 against the Guelph Gryphons.