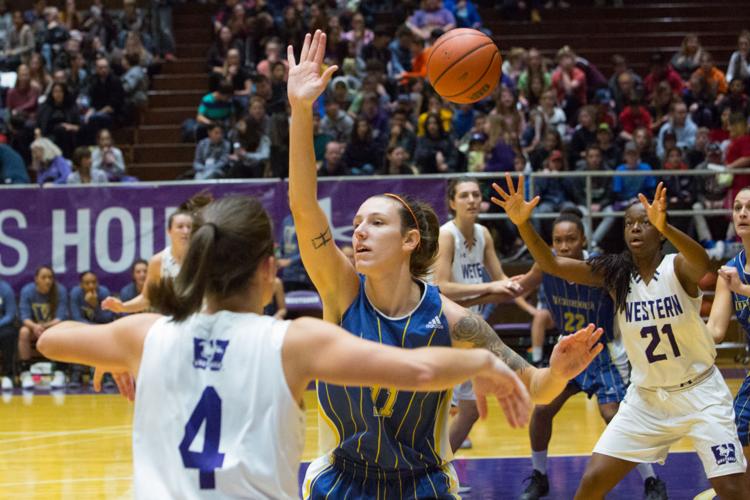 The Western Mustangs women's basketball team currently has a 6–5 record, good enough for fifth in the West division. They are in a good position to move up in the standings heading into the second half of the season.
They will carry a two-game winning streak into the new year after sweeping their weekend series. The Mustangs beat Laurentian University 78–74 and Nipissing University 58–42 on Dec. 1 and 2, respectively. The team was able to come away with consecutive victories due to strong fourth quarters.
According to head coach, Brian Cheng, part of their fourth-quarter strength came from feeding off a high-energy home crowd.
The energetic crowd at Alumni Hall will be critical for the Mustangs when they open 2018 with a five-game home stand. They have only lost one game at home so far.
"The travel definitely puts a toll on our bodies," said guard Maddy Horst. "I think having those games and having the home support will hopefully help us."
In addition, the team has also had several rookies playing important minutes and finding success on the court.
Cheng praised the team's younger players after the win against the Nipissing Lakers on Saturday.
"[Kamba] has earned her opportunities early, and she just keeps getting better as the season goes on," said Cheng. "One thing that I can count on with [Johnson] ... she's always ready to go, and she's always showing us something."
The winter break comes at an ideal time for Cheng. He sees it as an opportunity to work on the team's flaws.
One of the problems for the Mustangs is long-range shooting. They currently sit ninth in three-point percentage in the Ontario University Athletics standings, making 26.2 per cent of their three-pointers.
In the game against Nipissing, the Lakers employed a zone defence. The Mustangs struggled against this and went 4–16 from behind the line. This problem is a mental one, according to Horst.
"I think the thing that's hard for us is the mentality that you've just got to keep shooting," said Horst. "If teams are continuing to put us into zones, we've got to be ready for that and make sure that we're prepared to shoot those shots."
Another problem that the Mustangs have had this season is rebounding. The team currently has a rebounding margin of -1.4.
However, the team out-rebounded their last two opponents by a combined margin of 17. This shows an improvement from earlier in the season.
"We're working hard, the girls understand what we need to do to move from storming, to norming and eventually performing," said Cheng.
The second half of the season starts on Jan. 5 with a home game against Wilfred Laurier University.